"Can you hold this chair for me? I want to show you what's underneath". Together with curator and collector Patrick Seguin we carefully observe sixty rare pieces by Jean Prouvé on show at Château La Coste, Southern France. "As you see there is one point of welding here, one here and one here, but you have the illusion it is one solid piece. C'est magnifique."
Displayed in the recently-built pavilion by Renzo Piano, half buried in the vineyards in Provence, the exhibition "Jean Prouvé, l'âme du métal" puts together objects collected for over 30 years by Laurence and Patrick Seguin (founders of Galerie Patrick Seguin). The pieces, for the most part prototypes, limited editions or extremely rare pieces, range from chairs to desks and original prefab architectural elements from the 40s and 50s.
"People think that Prouvé is everywhere, but when I get asked 'How many Prouvé chairs there are?' I would say only a couple of thousand," Patrick Seguin explains. Not as many as one would think. The main focus is the extraordinary achievements reached by the French designer with metal. Through the perfect formula function=shape he would use the same design principles for a table frame or for a prefabricated house.
When asked what is the legacy left by Prouvé, Seguin says: "Before Prouvé everything was tubular; he introduced in buildings and furniture the technology used at the time to build a plane or a car. He would use his typical compass shape both for the structural element of a building or a chair: actually, his bent metal shape gave him problems with the aluminium company he was working for, as it used very little material."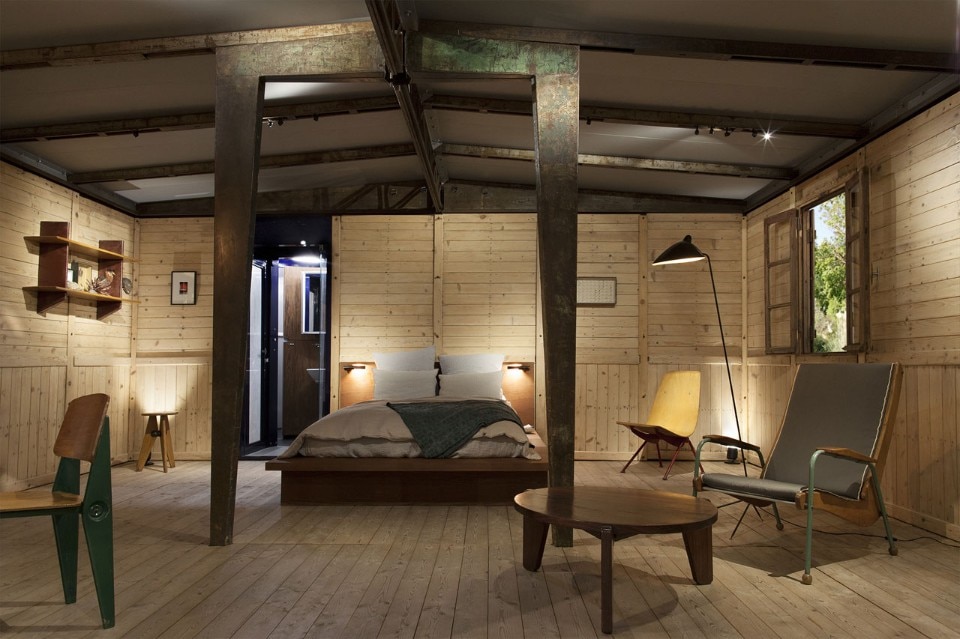 Among the iconic furniture we find the Présidence desk (1955) and the Standard chair (1934-1953), along with prefab elements. One, in particular, is the panel used on the facade of the Fédération Nationale du Bâtiment in Paris, built in 1949.
"It was the first courtain wall in aluminium ever produced, with prefab panels realized in Pruvé's factory. Trucks would come early in the morning and build it very easily. In 1991 it was decided to tear it down for 'insulation problems'. It was such a shame."
Added to the exhibition, there is a chance to visit the 6x6 Demountable House by Prouvé that was firstly exhibited in Renzo Piano's pavilion. The building is now adapted by Richard Rogers into the Suite n°30 of Villa La Coste, a luxury hotel set on top of the hills in Chateau La Coste: on rent for architecture aficionados.
"Did you know that Prouvé was the chairman of the competition that prized Renzo Piano and Richard Rogers for the Centre Pompidou? There is a direct affiliation between the three.."
Title:

Jean Prouvé, l'âme du métal

Curator:

Galerie Patrick Seguin

Museum:

Renzo Piano pavilion, Château La coste

Opening dates:

25 November – 5 March 2018

Address:

2750 Route De La Cride, Le Puy-Sainte-Réparade, France