She has Italian design from the 1950s to the 1980s, with a special emphasis on Gio Ponti. A few Ikea pieces are on proud display, joined by vintage items found at flea markets and on eBay. Contemporary objects include a cushion by Nathalie Du Pasquier for Hay and a stool by Anton Alvarez. Above all, there is colour – bold, unexpected and contrasting. Until not long ago, decorators considered such vivaciousness unwise for small living quarters. We are talking about a 57-square metre apartment in East London. The living room is painted green (Crocodile by the home-improvement store B&Q). The study is Café Pink by Sanderson Paints. Hicks' Blue by Little Greene Paint & Paper adorns the bedroom walls.
Laura Fulmine is the lady of the house. An interior decorator, stylist and consultant, she has been living in London for 15 years. After having worked in the fashion business with Giles Deacon and Luella Bartley, she found her true vocation in interior design. Her clients include Sé Collections, Tom Dixon, Adidas, Loewe and Bvlgari. We asked her about her work.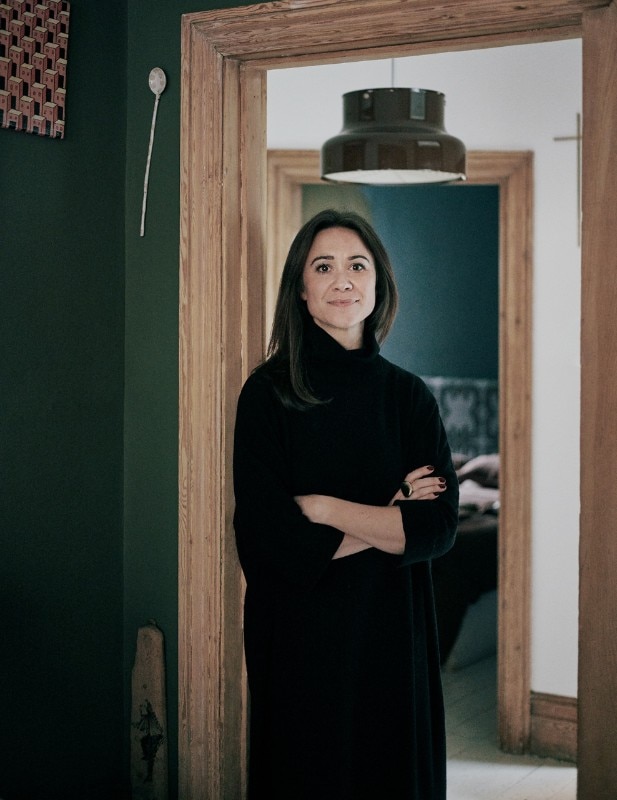 When you design interiors, what is your aim?
When designing any interior, my aim is to listen to the brief, understand what people want from a space, and design it with real living in mind. I like my interiors to reflect all sides of someone's personality, which helps achieve an eclectic result.
What is the difference between working for a client and working for yourself?
I can be too indecisive when working for myself, but when working with a client I know exactly what will work. 
What do you think of the current interior-design scene compared to the past?
In today's creative environment it is almost impossible to be original. We all see the same things, no matter how offbeat we think our Instagram account is or our Pinterest boards are. We all have instant access to so many references of the past, so its hard not to feel overwhelmed and try to think of something new. I enjoy designers who look to the past and are inspired by it but then turn that idea on its head and create their own unique version for the present. 
A good tip you learned doing your work?
Your first idea is generally the best idea.
Do you have any advice for someone who wants to become an interior designer?
If you believe in what you do, then other people will believe in you. There can never be too many people trying to make this world a more beautiful place.