John Bock is back in Milan. Fondazione Prada and its Collections are now showing one of the most extensive chaos' theatre ever realised by the German artist in Italy, introducing a site-specific partitioned imagery installed in the Podium exhibition space.
In 2004, invited by Fondazione Nicola Trussardi, Bock presented the European premiere of his first full-length film: Meechfieber (Milk Fever, 2004). A unique, fanciful encyclopaedia of characters who live in Bock's deranged world, projected in the elegant, austere setting of the royal waiting room in Milan's central railway station. Nowadays, and once more in Milan, in his last project, The Next Quasi-Complex, logic seems strangely befuddled, while nonconstructive worlds show how everything is both connected and isolated.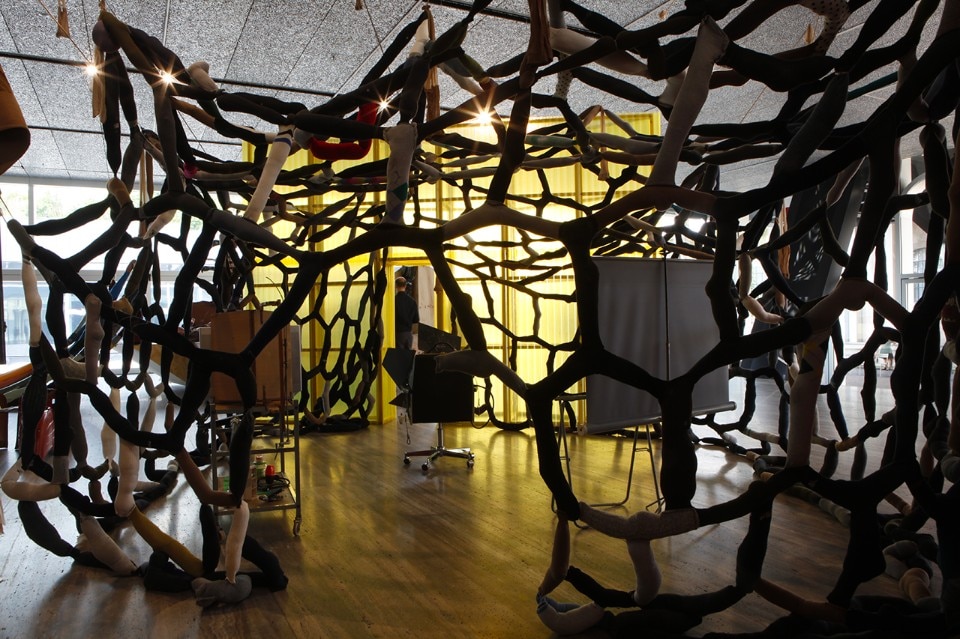 Born in 1965 in Gribbohm, in northern West Germany, John Bock studied sculpture at the Hochshule für Bildende Künste (HfBK), Hamburg. Bock is known for his lectures that parody academic activity, which he enacts in impermanent environments crafted from household objects, detritus, furniture, wood, and other generally inexpensive and often found items. His non-comprehensible language and actions frustrate any clearly prescribed exchange, serving as a wider metaphor for the precarious communication between contemporary artist and audience. Also in Fondazione Prada, Bock's exhibition will culminate in a live lecture, scheduled for 8 September 2018, in which the artist and the actors Lars Eidinger and Sonja Viegener will activate the mobile stage of When I'm looking into the Goat Cheese Baiser, navigating around the installations "like a fly around a carcass".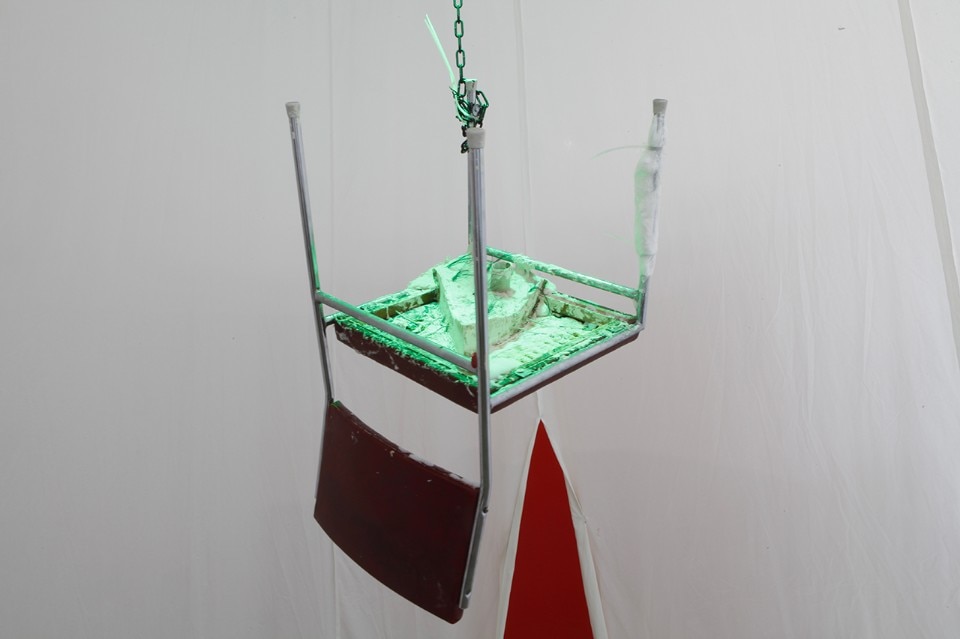 Bock, indeed, transformed the ground floor of the Podium into a grotesque series of ephemeral architectures.
At the center of this new exhibition are two large installations. The mobile stage of When I'm looking into the Goat Cheese Baiser (2001) and the living room of Lütte mit Rucola (2006) which originates from the correspondent film. In the video the artist himself plays a crazy killer cutting up his victim alive. In the Podium, the film set is turned into an installation, essentially consisting of the living room where the torture took place.
Housed in its own newly built room, the audience witnesses the relicts of the bloody scene from a balcony overlooking the space. When I'm looking into the Goat Cheese Baiser (2001) is a mobile set that Bock used in one of his live events, an assemblage of kaleidoscopic props waiting to be animated by the artist, encompassing a video documenting the lecture held by Bock in New York in 2001.
Around the small plaza, other constructions find place, all accessible through stairs, tiny doors, curtains, tunnels. A tent room made out of a grid of stuffed socks houses an assemblage of "dead equipment." Another room hosts an installation consisting of two vitrines, both displaying and hiding their heterogeneous and surreal content at the same time. Inside a cylindrical tent, a chair is hanging from a chain, bearing physical attributes.
Exhibition title:

John Bock. The Next Quasi-Complex

Opening dates:

18 July – 24 September 2018

Venue:

Fondazione Prada – Podium

Address:

largo Isarco 2, Milan