The indomitable and de-monumentalized Gelitins' giants have definitively left three Cisterna halls in Fondazione Prada, Milan. A grey sky follows through three brand new obscure presages, three structurally esoteric installations by Laura Lima (1971, Brazil) which represent the fourth passage – of thought and action – related to an exhibition project conceived for Fondazione Prada by a curatorial trio, named Thought Council (Shumon Basar, Elvira Dyangani Ose and Dieter Roelstraete).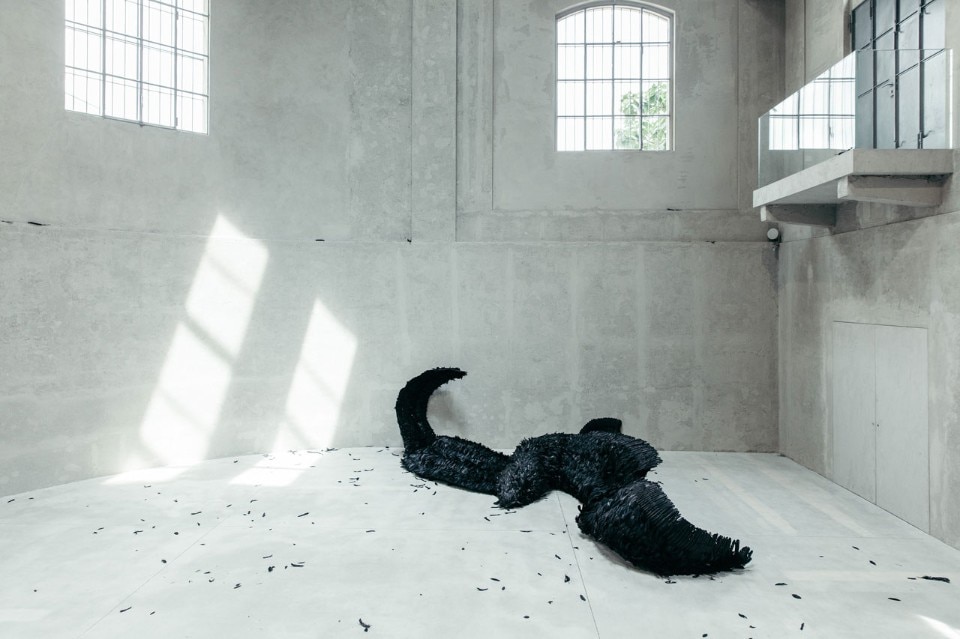 For the fourth time, under the title "Slight Agitation", it opens a brand new curatorial and artistic chapter. Over the course of several months, assuming the quote "une légère agitation", by the French historian Fernand Braudel, the Thought Council selected artists paradoxically connected by extremely different practices, in philosophical and compositional terms, but invariably linked, one to the others, by the purpose of interfering with the sensorial attitudes of visitors. Artists who showed how subverting physical and perceptive horizons could become so essential for peculiar spaces within Fondazione Prada's complex.
After the emancipatory policy of Tobias Putrih (Slovenia, 1972), after the perceptive forcing of Pamela Rosenkranz (Switzerland, 1979) and the antinomian implications, including the mocking architectures, conceived by the Austrian collective Gelitin, the interior space of the Foundation's courtyard sets, once again, a negative limit, putting its defences up in front of an artist's mind monumental potentiality.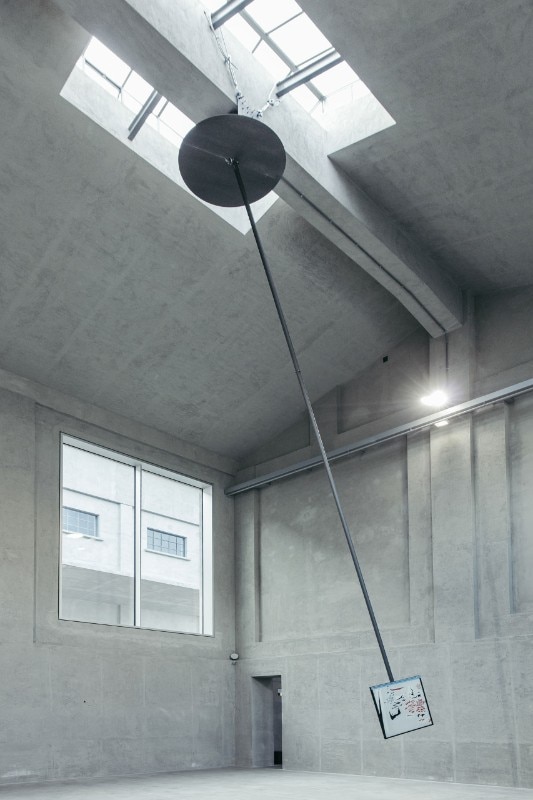 In the case of "Slight Agitation 4/4", a shamanic artificer was evoked to bring her forefront practice in a constant, continuous struggle against gravity, intensely theoretical and physical; conflicts against forces governing invisible laws, formulas that dominate the appearance of the organic and inorganic world. Laura Lima has been based her works for decades on the universal degrees reversibility related order and causalities, of madness and decadence. Dimensions categorical processes between creation and destruction, certainty and fragility, suspension and reaffirmation of human presence on earth. Moreover, her works are not directly composed in order to assume a performative validity, as they are inserted in every place as primers of rituality and traces of an apotropaic humanity.
In Slight Agitation 4/4, a shamanic artificer was evoked to bring her forefront practice in a constant, continuous struggle against gravity
Not differently, in Milan, the Cistern spaces allow Lima to instil a matter continuity, a consistency here apparently made eternal – and for this reason, perhaps, occult-interstitial within the perimeter's fissures of the spaces. Restrains strengthened by their thick, concrete walls. The final landscape enveloped round a birth of three interventions, at the service of absurdity, of the Fate's epic. So, it all funnels towards the impenetrable Bird (2016), the unstoppable Pendulum (2018) and the insurmountable Telescope (2018). This tryptic presents not only three different imaginary masses, within the relative environments that separate them, but also three different ways of approaching/crossing the installations, inviting the observer to elaborate what in astronomical terms is called syzygy, a straight line configuration of three celestial bodies in a gravitational system. Each of the elements represented take the form of an analogy: the bird becomes a huge feathered horse, the class of astronomy is transformed into a space, dedicated to collective investigation; while the pendulum has been fixed a painting that does not know its origin.
Lastly, on the first floor of a Telescope's precarious structure (2018), it is recommended to follow, twice a day, at 12.30 or at 17.00, two astronomical half-an-hour seminars, curated by the Planetarium of Milan scientists. The, it's also suggested to reach a higher level, looking through a telescope, not properly modified for distinguishing what really exists.
Opening image: Laura Lima, photo Ugo Dalla Porta, 2018
Title:

Slight Agitation 4/4

Artist:

Laura Lima

Museum:

Fondazione Prada

Curators:

Thought Council

Opening dates:

15 June – 22 October 2018

Address:

Largo Isarco 2, Milan, Italy