NaMora in Portuguese has two meanings: on the one hand it indicates the location of the intervention, "in Mora" ("Na Mora"), from the name of the site where the property is located; on the other it means "flirt" ("namora"). It is around this play on words that architects Filipe Pina and David Bilo have designed, in the small village of Gonçalo at the foot of the Serra da Estrela, the extension of a rural dwelling with which the new construction dialogues "flirting" amiably, in harmony with the surrounding landscape.
The pre-existing building is a granite construction with a double brick pitch dating back to the mid-20th century and located within an 18-hectare agricultural property with which two new bodies of the building relate, lying in the irregular orography of the terrain.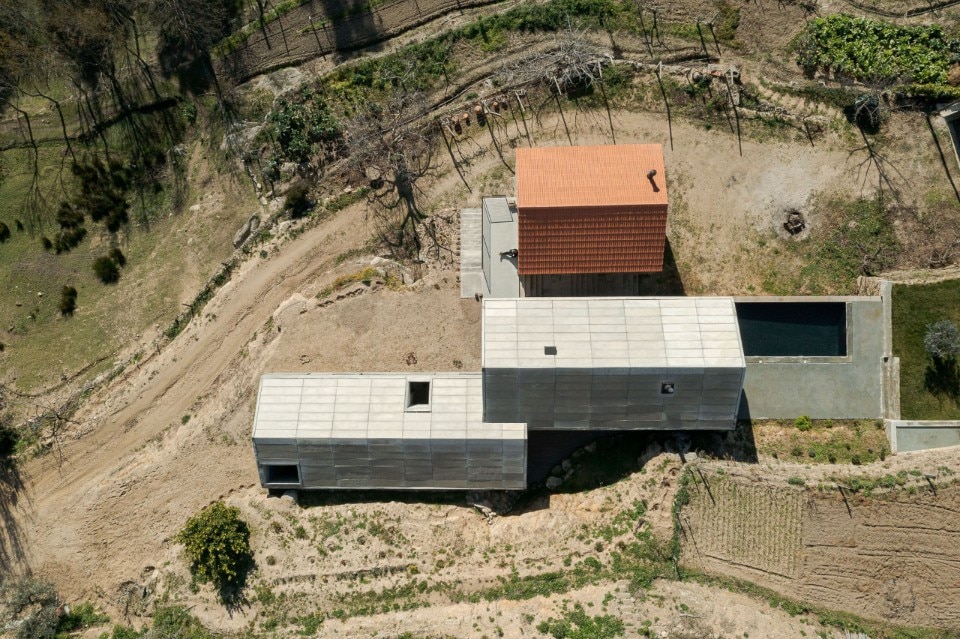 The essential and rigorous volumes with gabled roofs evoke the silhouette of the original body immediately adjacent; the historic building houses the traditional functions of the farm (the warehouse, technical area, services and kitchen) while the new part of the dwelling includes the living room, bedrooms, suite and outdoor recreational space.
The choice of rough and natural materials lends a straightforward and functional aura to the architecture, which renounces any rhetorical and decorative surrender to embrace a bare language with a "brutalist" flavour: the rough cement surfaces of the elevations and roofing and the local stone of the basement dialogue with the granite masonry of the rural building, creating a vibrant colour and texture palette.
The interiors are characterised by an essential appearance: white plastered walls, austere exposed concrete surfaces and soft natural wood finishes give the rooms a simple yet refined aura. Large windows open the view to the outdoor landscape where the open-air relaxation area, with a pool of water reflecting the sky at its centre, "flirts" with the surrounding dense pine forest.
Project:

Casa NaMora

Architects:

Filipe Pina + David Bilo

Project team:

Filipe Pina, David Bilo, Diana Cruz

Construction:

MPS

Location:

Gonçalo, Guarda, Portogallo