This article was originally published on Domus 1068, May 2022.
On the limestone cliffs of Faqra, Karim Nader Studio has designed a private residence inspired by the particular geology of the place. Famous for its ski facilities and majestic archaeological site with Roman and Byzantine ruins, the area is located at 1,700 m above sea level and is characterised by the unique rock formation typical of Mount Lebanon, sculpted by millennia of rain and snow.
The characteristic landscape, known in the local tradition as the "ghost houses", has therefore been used as a formal reference, camouflaging the architecture among the jagged contours of the rock and its typical light grey colour. Placed on a slight hill to favour the perspective on the landscape, the dwelling positions its entrance to the west, through a staircase that cascades down towards the road, meanders between the rocks and reaches the access platform-terrace, where a swimming pool juts out towards the panorama. The south-east corner, with the existing circular rock formation, becomes a solarium with a fireplace and a terrace covered with lavender, small rocks and pebbles. The volume is then topped by an 18-metre long zinc roof, creating a space that is only apparently introverted.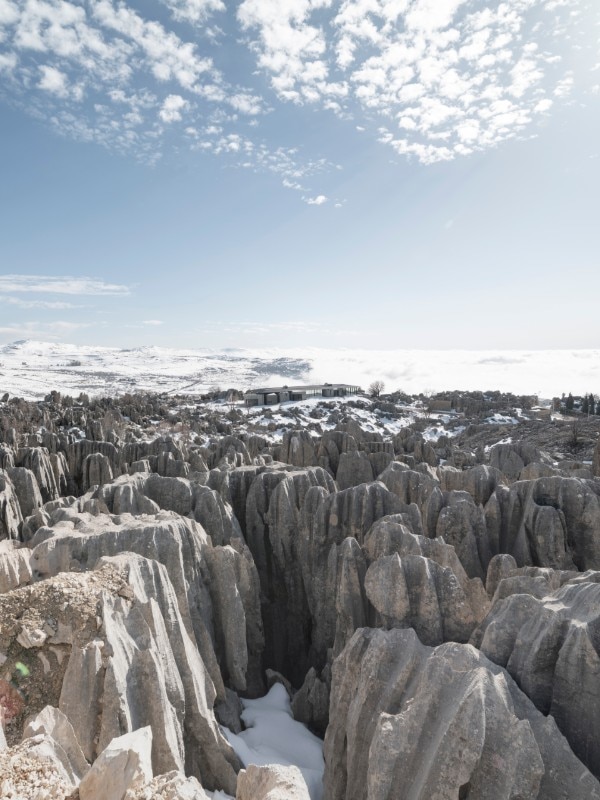 While the entrance is defined by glass partitions, the main rooms are delimited by thick walls, defined by exposed concrete volumes. Here, the interiors are materially characterised by wooden wall cladding to promote a warm atmosphere. Each one overlooks a small patio with a tree, a rock and a framed perspective of the outdoors. In the portion that corresponds to the living room, the roof seems to become a bridge connecting the concrete cores: it is bordered by fully openable facades to the north and south, offering a sheltered outdoor space in the warmer months.

The markedly horizontal elevation characterised by the roof describes here an architecture with a markedly monumental presence, but, as the studio itself writes "it is as if nature takes over".
Project:

On the Rocks

Architecture studio:

Karim Nader Studio

Project partner:

Roula Assaf

Design team:

Karim Nader with Roula Assaf, Elie Christian Naameh, Yasmina Baladi, Omar Faress Darwish, Elias el Hage

Structural engineering:

Elie Turk

Mechanical and electrical engineering and plumbing:

EAK Signature

Contractor:

MAK Builders

Site area:

450 m² (residence), 400 m² (parking and services)

Design phase:

2018-2019

Construction phase:

2019-2021