If you are looking for a "buen retiro", a place where you can get away from the noise of the city, live in contact with nature and enjoy the dry climate of the desert, the place of your dreams is Palm Springs. This town at the foot of Mount San Jacinto, about an hour from Los Angeles, was in the middle of the last century a catalyst for the stars of the golden age of Hollywood, who here wanted their luxurious residences, among golf courses, palm trees and swimming pools: iconic architecture in the name of Californian Modernism, characterized by rigorous volumes with large glass surfaces and immersed in the landscape. Today, the prestigious mid – century houses and the pleasant atmosphere are still a strong attraction for a new generation of VIPs and celebrities.
The Desert Palisades single-family residence designed by Woods + Dangaran is located in a hilly area of Palm Springs in transformation. The spirit of the place – the dazzling light, the rugged nature, the rocky terrain, the radical contact with Nature – inspired the design choices: the house is surrounded by boulders and oriented in relation to the presence of two arroyos and according to the views towards San Jacinto to the west, the mountains to the east and the valley floor to the south.
The building, arranged on one level with a bare volume with a marked horizontal trend, consists of two wings (east and west) slightly raised from the ground and connected to a central core and includes, in addition to the spacious living area, four bedrooms and their services, a terrace with swimming pool and outdoor spaces planted with native plants.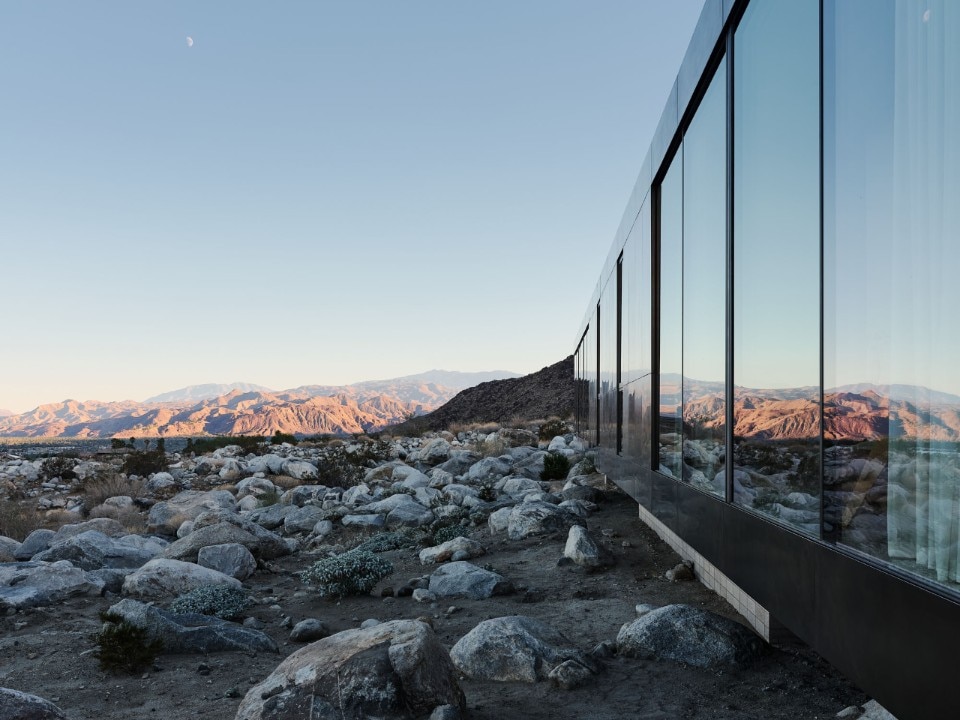 The choice of materials, from the CMU blocks (concrete masonry units) of the walls, to the raw patinated brass coatings, to the earth-colored plasters, gives a material texture and a color palette that allow the work to blend harmoniously into the context. Large windows with sliding doors create a seamless interaction with the spectacular surrounding landscape.
As in a "gesamtkunstwerk" (total work of art), the studio has personally overseen not only the architectural design but also the interior design. The spaces, both in the coverings and in the furnishings, are characterized by sage green and dusty pink tones, mixed with sandy and brown colors that evoke the palette of the desert landscape and enhance the rough but familiar and welcoming character of the house.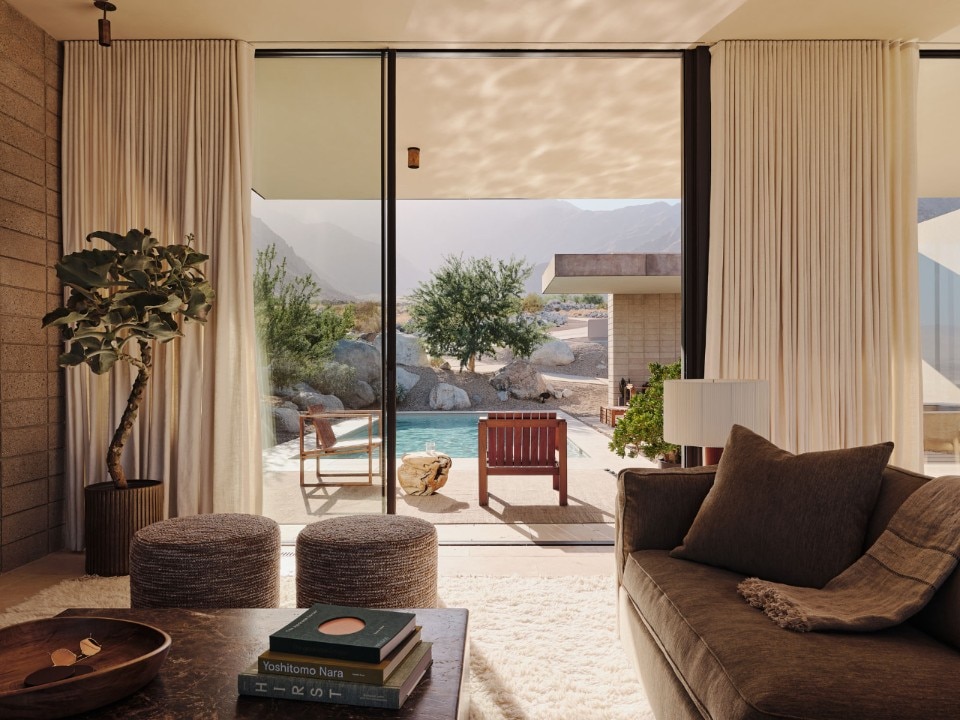 A work that revives Modernism in the essential geometries and in the perceptive and fruitive relationship with the context but that perhaps transmits, more than a flashy "glam" patina, an aura of more intense domesticity and warmth.
Project:

Desert Palisades

Architectural project:

Woods + Dangaran

Interior design:

Woods + Dangaran

Lighting project:

Woods + Dangaran

General Contractor:

HJH Construction

Soils engineer:

Landmark Consultants, Inc.

Structural engineer:

Labib Funk + Associates

Civil engineer:

Labib Funk + Associates

Fire sprinklers:

AFP Systems, Inc.

Plumbing engineer:

California Energy Designs, Inc.

Title 24:

Solargy