In the Yaghan language, one of the oldest tribes in the southern part of Tierra del Fuego, now almost extinct, "anoka" means "moon". And giving this name to an aparthotel, which accommodates guests in flats equipped with the services of a hotel, suggests an intimate and evocative welcome in an area of extraordinary natural and anthropological value.
Located in the area of Frutillar Bajo in the Lagos Region of Chile, facing Lake Llanquihue, the building projected by AM Arquitectura is situated in a fringe area between urban sprawl and the hills, in a context rich in an architectural heritage of consolidated construction typology and subject to restoration and enhancement.
The building, located on a slightly sloping triangular lot, conforms to the morphology of traditional dwellings with a simple, functional rectilinear layout, pitched roof and balconies.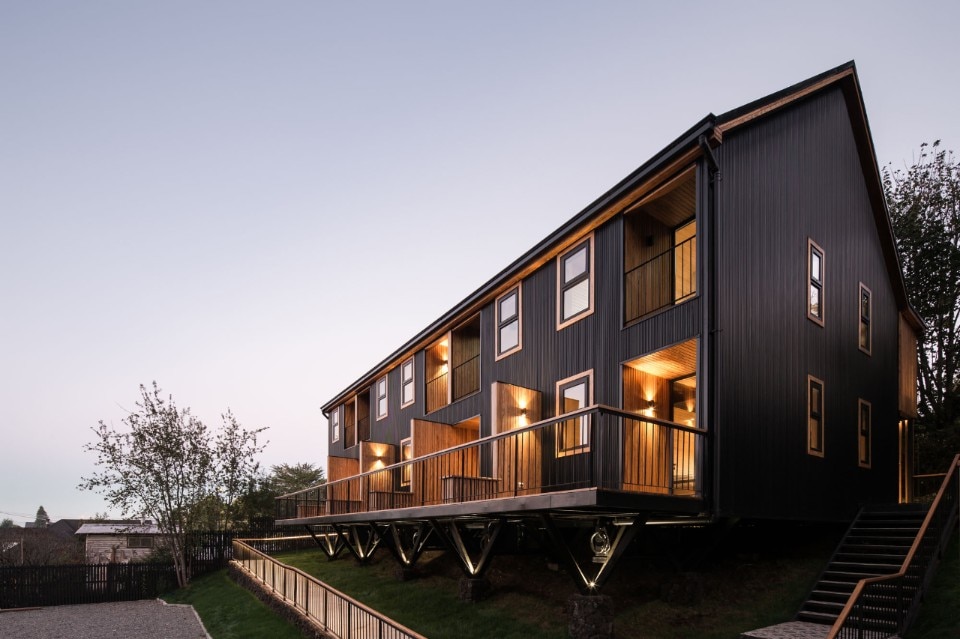 The key principle of the project was to define a relationship between the architecture and the landscape characterised by the presence of volcanoes and the lake: to guarantee a privileged view of Lake Llanquihue and the Osorno volcano from all the flats, the building is raised on pillars arranged in the form of an inverted pyramid which also insulates the building from the ground.
The structure is built using mixed technology consisting of wooden walls with metal reinforcements; steel and wood, the predominant materials in the area, are used for the exterior cladding, while the preferred material for the interior is wood, giving the rooms a warm, welcoming aura.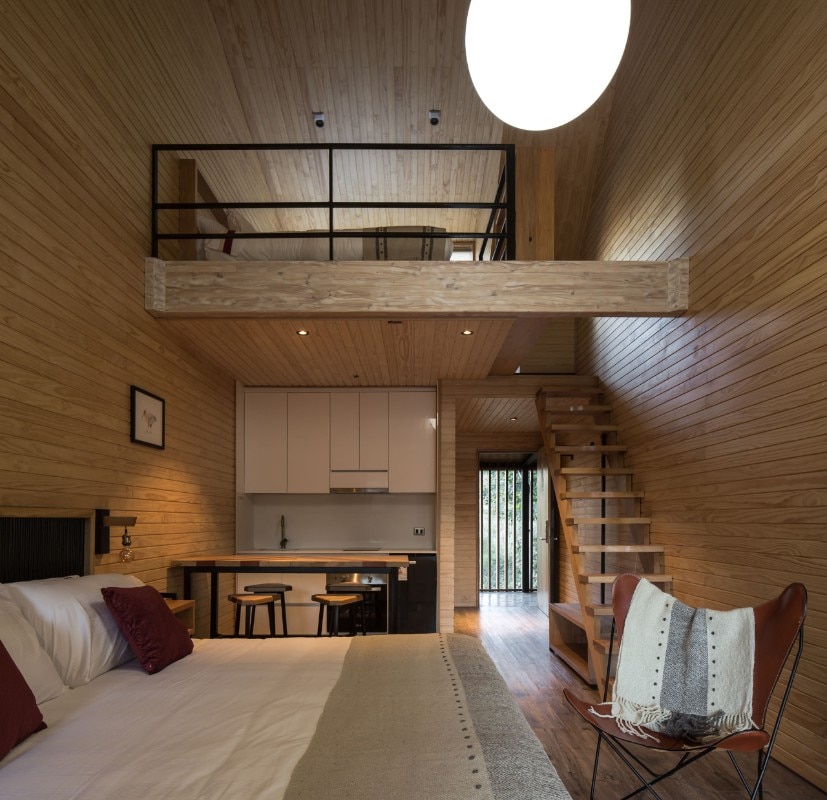 The two-storey building houses ten north-facing flats, each with private balconies and comprising a living-dining room with kitchen, a double bedroom and bathroom; the flats on the second level have a habitable attic which increases the spaciousness of the space.
Access is from the south, through a covered gallery connected to a ramp that follows the contours of the land and connects to the first level and to a staircase that leads to the upper level; a vertical wooden slat screen protects the distribution space to the south, allowing light to filter through with vibrant chiaroscuro effects during the various hours of the day.
Project:

Anoka Apart Hotel Boutique

Architectural project:

AM Arquitectura

Location:

Frutillar, Cile

Lead architect:

Rodrigo Araya Manzanares

Collaborator:

Alexandra Walzer Kuncar

Structural engineer:

Sebastián Reyes Parancán

Construction:

Ruperto Pineda Cabello

Lighting project:

Katerina Jofré