When arriving from the busy via Roma, a travertine anthropomorphic volume emerges from the edge of the road. This is how the new residential complex of Álvaro Siza, built together with COR Arquitectos, presents itself.

At times it looks like the via Panorâmica in Porto, where the buildings of the Portuguese master's Faculty of Architecture (1985-1996) and the street are aligned. But here, we are in Lombardy, in the listed territory of the Ticino Park, where the smallest building of the new residential complex jets out. The second, designed from the same module and with the same depth (15 m, plus the two meters of the terraces), develops southwards to via Postporta and the old town centre. These two bodies, each with four floors and a total of 20 flats, rise above the two underground floors of the garage.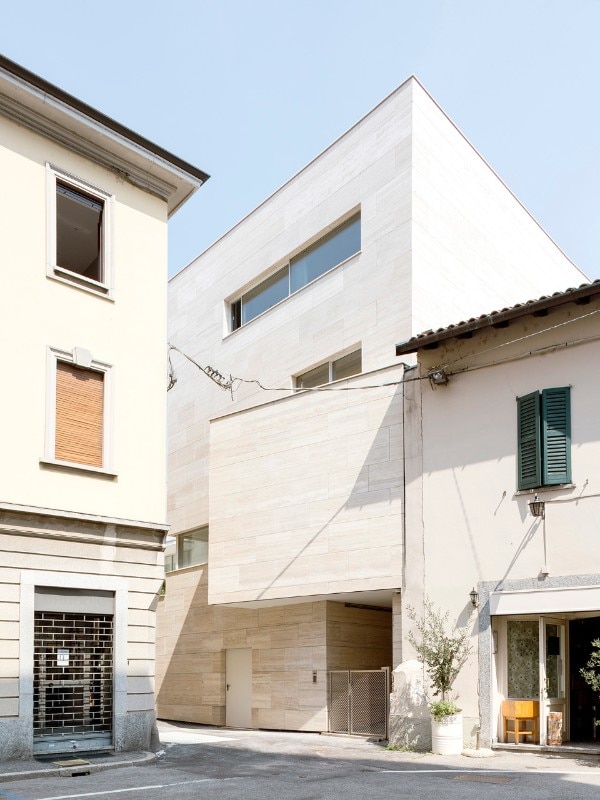 Starting with what was an empty lot, the project strengthens the relationship between the town centre and the less dense urban fabric of the Liberty period. Part of the latter is also the twentieth-century Borgomaneri factory, opposite to the complex facing via Roma.
The two buildings of the ensamble reinterpret contrasting typologies characterising these urban layouts, respectively the Lombard courtyard and the isolated villa. Despite this combination, the lot succeeds in the difficult task of speaking a single language while "solving the city for its people," as Roberto Cremascoli of COR Arquitectos says.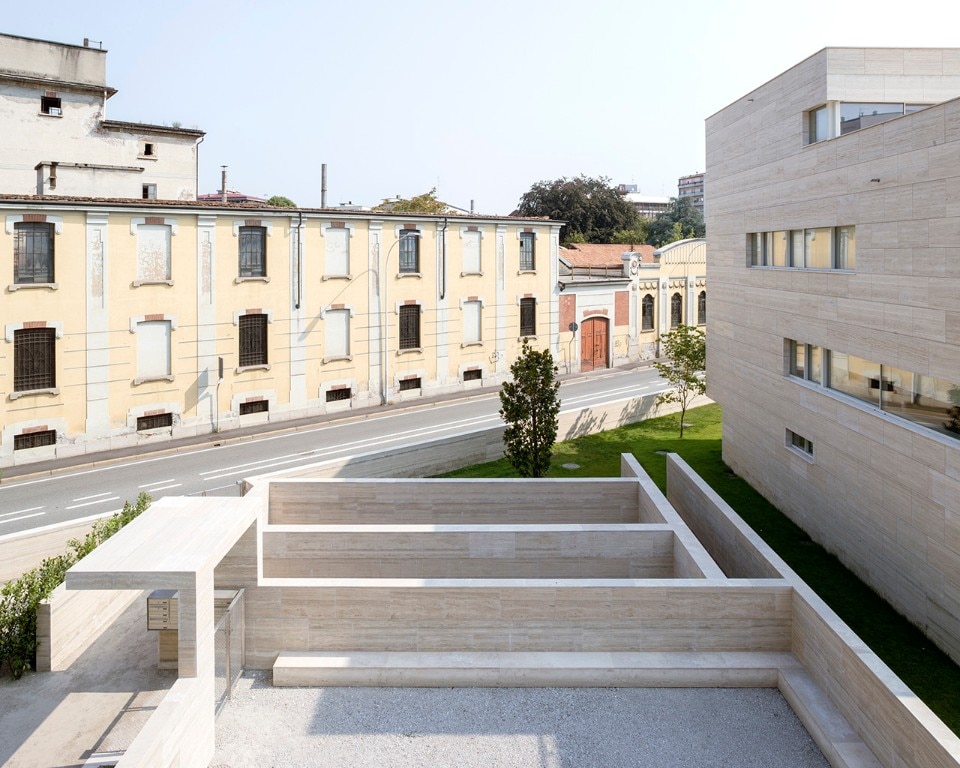 This is evident when walking along the passage that connects via Roma and via Postporta, inside the condominium. The path, together with one of the two floors of the garage, is available to the public. This connecton incorporates a pre-existing loggia, almost like a tiny ruin. The sensation of being in a small segment of the city is emphasised by the elements that articulate the ground floor: from the portals marking the entrances to the volumes rising up from the basement floors, where the architects manage to bring in natural light.
The Siza that confronted the theme of the social housing is well present in these high-end residences: there is no hierarchy in living with dignity, there is no space of secondary importance, there is no neglected detail. From the very beginning, in 2012, the design has been nurtured by visits to cornerstones of Milanese architecture: from Asnago and Vender to Gio Ponti, from Ignazio Gardella to Piero Portaluppi. Not least Aldo Rossi and his nearby XX Settembre residences, to which the triangle that stands out in the private courtyard is reminiscent of.
"The clients were the owners of the land but also the builders" says Cremascoli and "when the relationship with the client works, the work comes out well". The complex, which Siza called a "happy project", seems to owe its success (at least in part) to this very relationship.
Project:

residential complex

Location:

Gallarate, Varese, Italy

Architects:

Álvaro Siza and COR arquitectos (Roberto Cremascoli, Edison Okumura, Marta Rodrigues)

Construction supervision:

Luca Morganti, Alessandro Bonicalzi

Structures:

Alberto Battioni

Structural calculations of the post-tensioned floors:

Piero Perucchini

Static test:

Pietro Boerio

Thermotechnics, electrical engineering, acoustics:

Gamma Progetti

Safety coordinator:

Claudio Grimoldi

Collaborators:

Andrea Alberio, Massimo Bassani, Francesco Beia, Alessandro Fontana

Contractor:

Bonicalzi Costruzioni

Site area:

3.248 sqm

Completion:

2020