The most distinctive elements of P+0 Arquitectura's design for Casa Bedolla, which is in the mountains of the Mexican region of Nuevo León, are undoubtedly the cantilevering, concrete bearing structures supporting the two main blocks. They remind of the image of a much grander and iconic overhang, the one extending over a ravine Marcel Breuer's well-known La Flaine hotel, completed in the Sixties in Haute-Savoie, France.
Continuing with this somewhat haphazard comparison, it is not without interest to notice that, whether brutalist Breuer threw into the void a "consistent", multistory slab of fair-faced concrete, P+0 Arquitectura rather adds to each box beam a simple prism built according to traditional construction systems and made of local stones. The project's surprising "consistency" stems from the unusual juxtaposition of ancient and modern materials, with their specific colors and textures.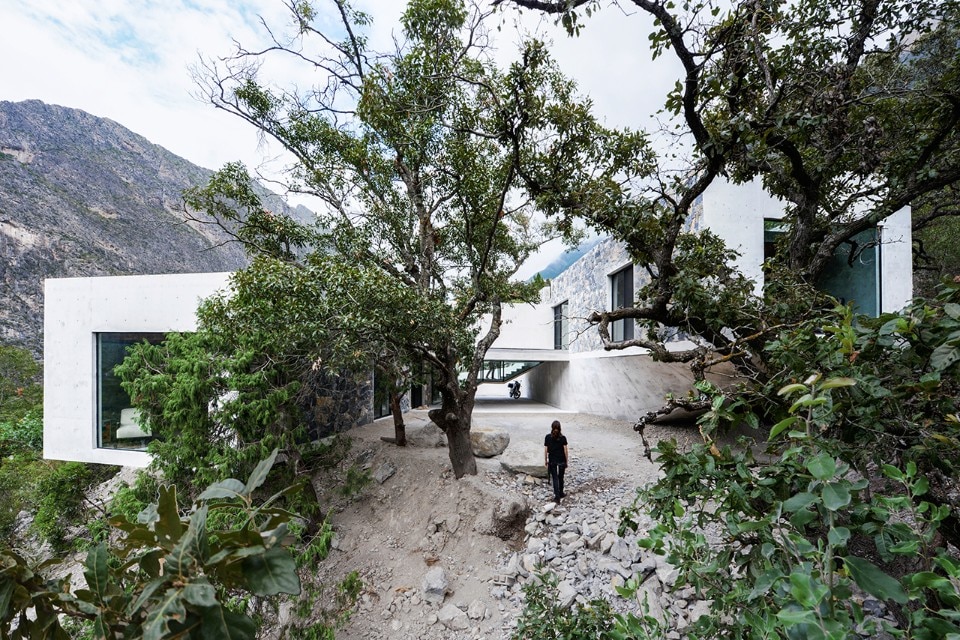 The open-air, covered lobby also functioning as a garage and leading to the patio, opening on the forest of cedars and oaks, the open space living room, the more articulated sleeping area, as well as the unobstructed rooftops are all conceived as promenades through the lush nature surrounding Casa Bedolla.
The visitor's gaze towards the landscape is framed by the perspective of the diverging buildings, "trained" and discontinued by the uneven layout of windows and ultimately directed towards the sky, through the glazed openings carved out of the hardwood ceilings.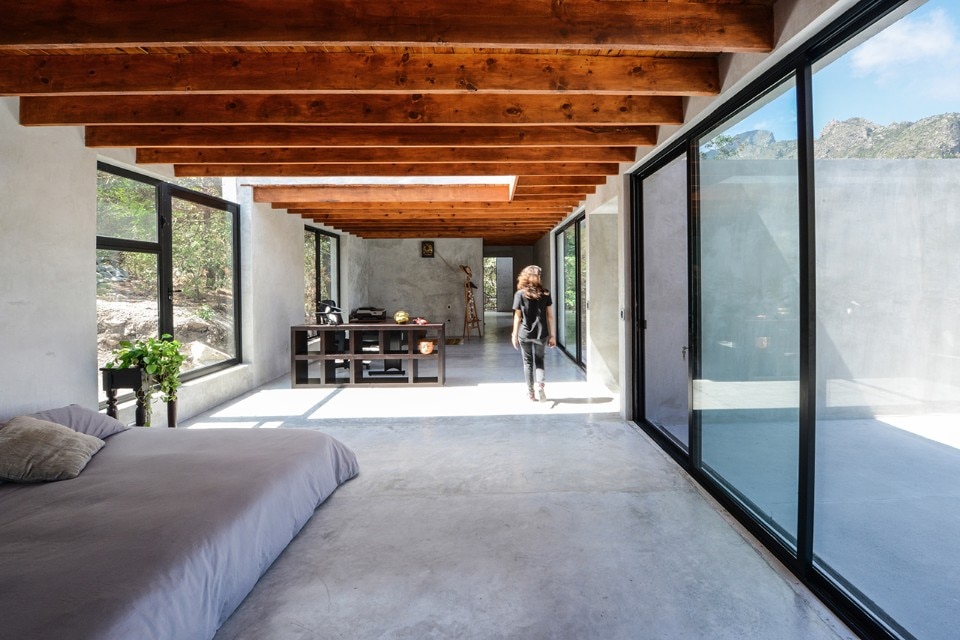 Project:

Casa Bedolla

Program:

house

Location:

Nuevo León, Mexico

Architects:

P+0 Arquitectura

Project leader:

David Pedroza Castañeda

Project team:

Ileana Luna Peralta, Luis Villareal, Yannick Strickler, Oscar Rodríguez

Contractor:

P+B Arquitectura y Construcción

Area:

245 sqm

Completion:

2017