Main Office – Sima Agisheva, Dante Borgo and Isabella Eriksson's firm based in Guadalajara and Göteborg – recently unveiled the second out of three residential commissions in the seaside town of Sayulita.

Following Casa Galeria, a tourist complex, and in anticipation of Casa Reavis's upcoming completion, the project for Casa LT operates on a steeply sloping lot, directly overlooking the sea and occupied by three tiny houses dating back to the fifties. In Borgo's words, Main Office aimed at "keeping the idea of a small village nestled within the site," a concept which is further enhanced by the addition of the newly constructed blocks – a main building and a guest house.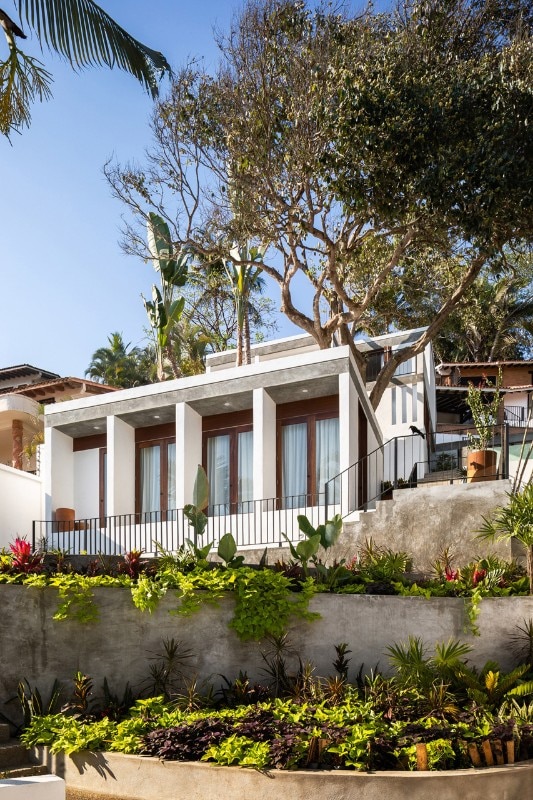 Design strategies are mainly intended to fine tune the relationship between building and landscape: architectural volumes, almost entirely oriented towards the coastline, are split in order to adjust with the sloping terrain; a series of platforms at different heights, including accessible rooftops and an infinity pool, provide privileged viewpoints to the ocean and the sunset; the extension of the buildings' imprint is conditioned by the existing trees – a lush subtropical vegetation including palms and almond trees, plantains and ferns –which at the same function as frames contouring panoramic views.

Please, configure the gallery
Casa LT is an effective belvedere-tool, but it proves to be less convincing when looked at from the beach. Flattened against the hill elevation, its blocks seem to disproportionately fill the available space, and without any apparent logic; for its part, the unintentionally overt jagged silhouette of the plot's perimeter wall stresses its boundaries rather than the sought-after continuity with its surroundings.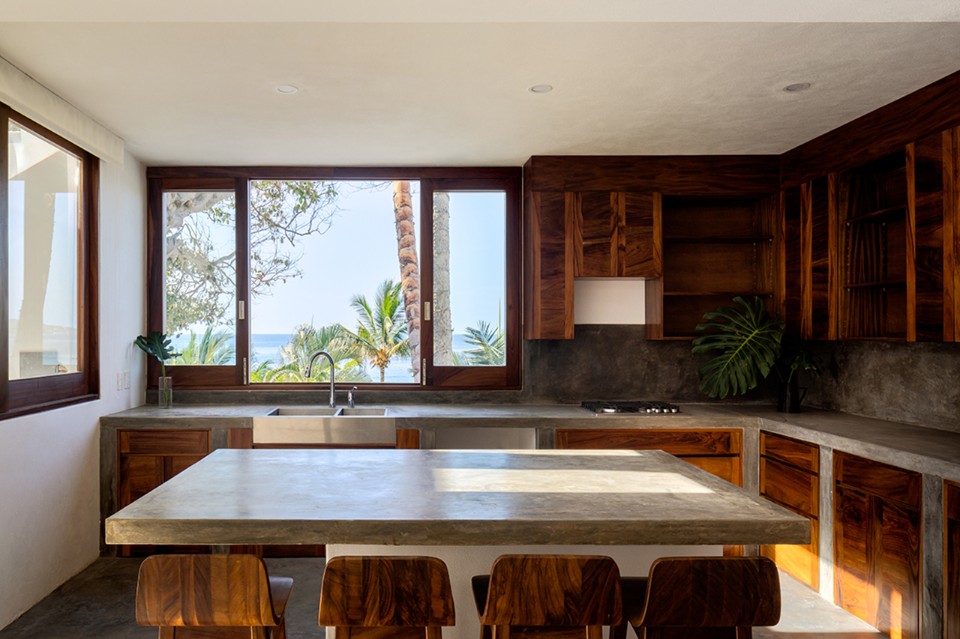 Project:

Casa LT

Program:

house

Location:

Sayulita, Mexico

Architects:

Main Office

Partners Main Office:

Sima Agisheva, Dante Borgo, Isabella Eriksson

Project team:

Pablo Alemán, Montserrat Bucio, Brenda Cibrian, Rodrigo de la Torre, Luis Gordian, Manuel Guerrero

Contractor:

Terraza Construcciones

Completion:

2018