Each year, one million visitors trek to the 3000-metre
summit of the Titlis peak, overwhelming the exisiting facilities – a gondola station built in 1967 and a 50-metre antenna tower constructed in the 80s. These buildings, spaced 200-metre apart on the mountain, are linked by a tunnel. 

Herzog & de Meuron was asked to repurpose the lower levels of the tower to create a viewing platform for visitors, but the expense of renovating it outstripped the cost of errecting a replacement. 

The architects came up with a new cruciform tower suitable for both purposes. The intersecting steel structures will be sheathed in glass to enclose a bar, restaurant and lounge with panoramic views over the Alps.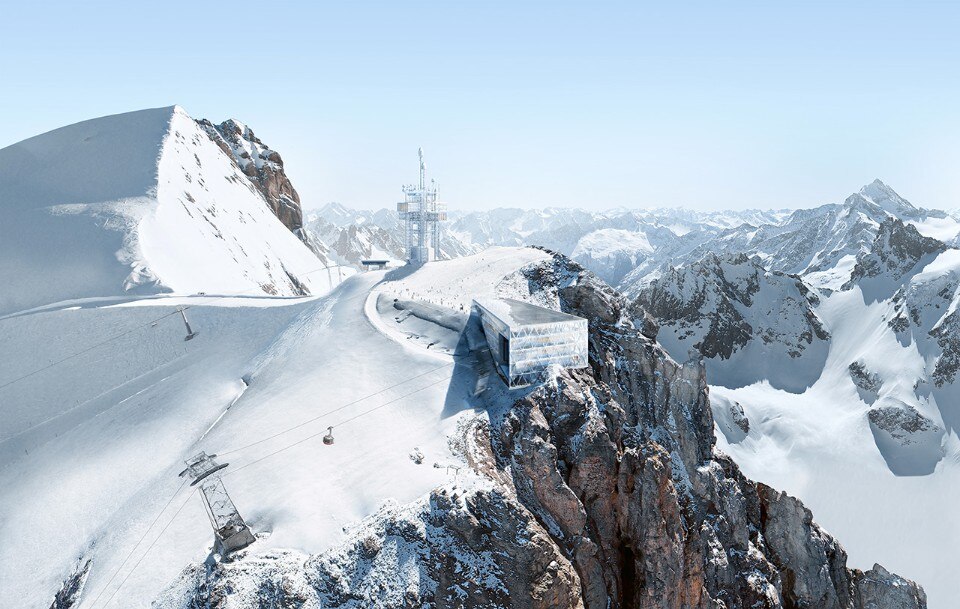 The tower will stand on its predecessor's concrete base, providing a link to the tunnel that sheids tourists from the weather as they travel towards the gondola station.
Glass encases the station in Herzog & de Meuron's vision to create a low-lying crystalline form in keeping with the location, where visitors flock to enjoy winter sports and spectacular vistas. 

"It is taken for granted in Switzerland that practically every square inch of the country is accessible by car or train, by gondola or bicycle," says the practice of the Titlis 3020 project.

"As a rule, however, our beautiful high-altitude outdoor locations have been fitted with purely functional buildings for the transport and catering of visitors. Rarely do they display any architectural ambitions."
"Our project on the Titlis belongs to a new generation of Alpine architecture that aims to do justice to the breathtaking landscape." 
Project :

Titlis 3020

Location:

Architect:

Herzog & de Meuron

Partners:

Jacques Herzog, Pierre de Meuron, Michael Fischer

Project team:

Michel Frei, Hamit Kaplan Anna Jo Banke, Antoine Berchier, Leif Buchmann, Jakob Fischer, Tizian Hirsig, Konstantinos Katsas, Nele Riecks, Annabell Wol

Engineering:

IFI Windkanal

Area:

10,000 sqm

Client:

Titlis Bergbahnen