In the joint development zoneof Rives de la Haute Deûle in Lille, the Paris-based Atelier Tarabusi completed an office building for start-ups which facades are built in 1500 self-supporting gigantic hollow bricks.
Doge is a 5.100 sqm structure situated in the heart of Eura-Technologies district where the common trait of most of the existing buildings – large industrial buildings, small scale strips of workers housing and newly built intermediate-size structures – is the use of terracotta.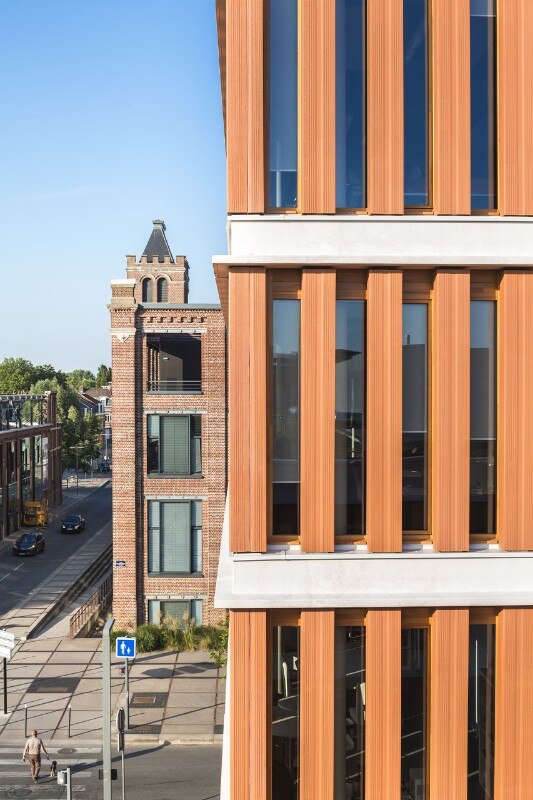 In order to avoid the use of the material as a cladding, the choice of the studio fell on self-supporting gigantic hollow bricks in combination with glass panes. The bricks were specifically designed for this project to correspond to the floor-to-floor height of the building: 33x20x280 cm.  The pieces were installed mechanically allowing for a quick and dry building process, without the need for mortar nor supporting framework. The general design of the facades evokes the traditional use of the material where the rhythmical array of gigantic hollow bricks is completed with prefabricated slabs of white concrete.
Project:

Doge

Program:

office building

Location:

Lille, France

Architects:

Atelier Tarabusi

Design team:

M. Del Gaudio, A. Benarroche, I. Feltrin, M. Kopecky, A. Raffaelli

Structures and technical installations:

Projex

Area:

5100 sqm

Completion:

2017