Dutch architecture firm GAAGA recently finalized a residential building in the Bosrijk forest park in Eindhoven, the Netherlands. The building features a distinctive facade, wrapped in colonnades of tree trunks used instead of columns. Called Forest Bath, the architecture is inspired by the Japanese practice of shinrin-yokuku, or forest bathing, which is a therapeutic act centered on staying in nature.
GAAGA's goal for the building structure was to embody the principles of circular economy. According to the study, in fact, "at least 85 percent of the weight of the applied materials is circular, that is, recyclable or suitable for direct reuse." This means that the structure is also demountable at the end of its life, including the cladding and concrete elements of the superstructure.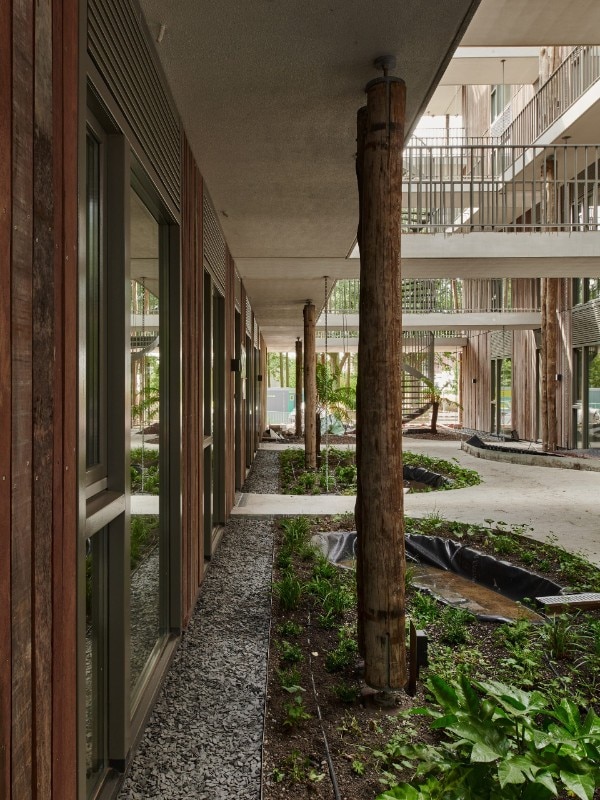 The rectangular building is set in a gently sloping site that is located in a clearing among trees. Inside are three different types of apartments – ranging in size from 80 to 143 square meters – while the basement contains facilities that include parking spaces for cars and bicycles. The heart of the building is an open, planted courtyard, toward which all the apartments face, connected by a spiral staircase, balconies and walkways. To further the feeling of the building's connection to the park, a path winds between the surrounding trees and this protected outdoor space. This green passage is planted with an array of ferns and other plant species capable of living in the shade, such as climbing plants that will be encouraged to wrap around the structure.
This shared space also features corner stools, bird and bat boxes, and rainwater chains, which channel rain into a small stream that runs through the passageway and into the landscape. The project is complemented by a landscaping strategy developed with landscape architect MAAK Space, which includes plantings of pine, oak, birch, cherry, and willow trees.