Almost a century after its construction began, the Sagrada Familia remains one of Barcelona's most important pieces of architecture, but as of today it is still unfinished. Dutch duo Studio Drift have used it as a scenery to present the improvements of their drone software, that creates life-size, real-world visualisations of famous architectural monuments in the event of restoration or completion. The company of Ralph Nauta and Lonneke Gordijn reimagines the face of architecture with the help of illuminated drones with these area sculptures.

The buildings used as scenery range from speculative architecture to monuments yet to be completed, to buildings now in ruins such as the Colosseum in Rome. Studio Drift creates these installations in collaboration with the companies Drone Stories and Nova Skystorie. The aim is to help architects realise their future projects in a hypnotic yet sustainable way by visualising what they look like on a life-size scale.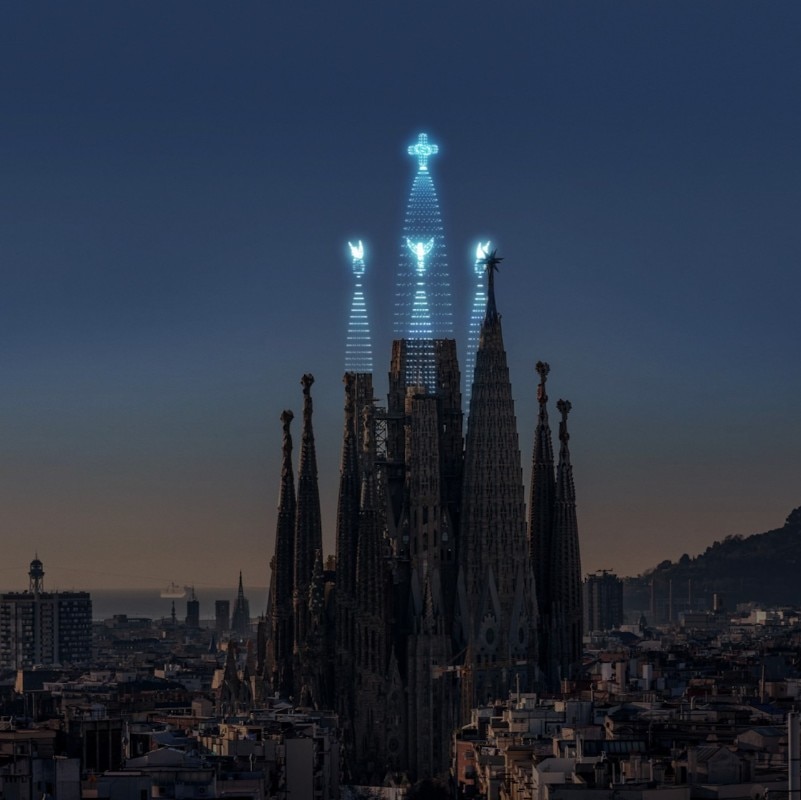 The Amsterdam-based studio had also recently attended the Burning Man event, where with the use of 1,000 drones they presented a crazy art event with light sculptures ranging from a hyper-realistic blinking eye to gigantic, hypnotic geometric displays, to a giant mask-like figure looking out at the crowd and spinning around, apparently observing the festivities. Drift made their first performance art installation back in 2017, with a drone show entitled "Franchise Freedom".