Designed by the Swiss firm Rollimarchini Architects and the international firm G8A Architects for a Swiss company - Jakob Rope Systems, which specialises in the production of stainless steel wire - Jakob Factory Saigon is mainly characterised by its elevations that are completely enveloped by plants. The 30,000-square-metre site is located in an industrial park about 50 kilometres north of Ho Chi Minh City, Vietnam's most populated city, in a region that has seen enormous commercial development in recent decades.
The building is a response to the other manufacturing buildings, all made of concrete, that have been constructed in recent years in the vast areas of the region. The architects have proposed a more ecological alternative to the typical single-storey factories that dominate the industrial park, also from a soil footprint point of view. Instead of extending horizontally and taking up an excessive amount of land, the Jakob Factory consists of two perpendicular main wings containing stacked concrete slabs. The vertical arrangement of the factory reduces the overall footprint of the building, providing space for attractive and functional landscaped gardens within an inner courtyard.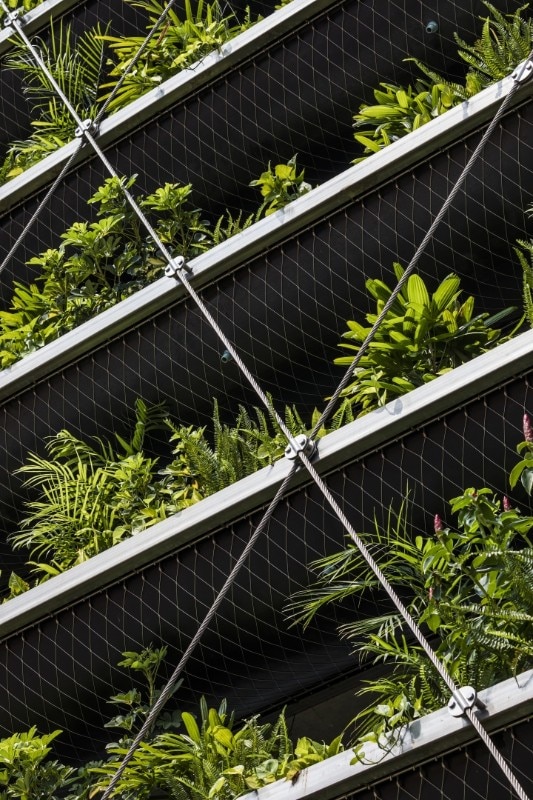 The arrangement of two- and three-storey buildings enclosing a courtyard refers to the organisation of typical Vietnamese villages. An L-shaped structure with a curved roof provides sheltered parking spaces next to the production areas. The work areas have been enclosed by facades incorporating horizontal geotextile planters filled with plants that filter the sun and rain, while offering a pleasant green view from the inside, while the production sheds are ventilated by breezes entering through porous façades inspired by the region's traditional tropical architecture.