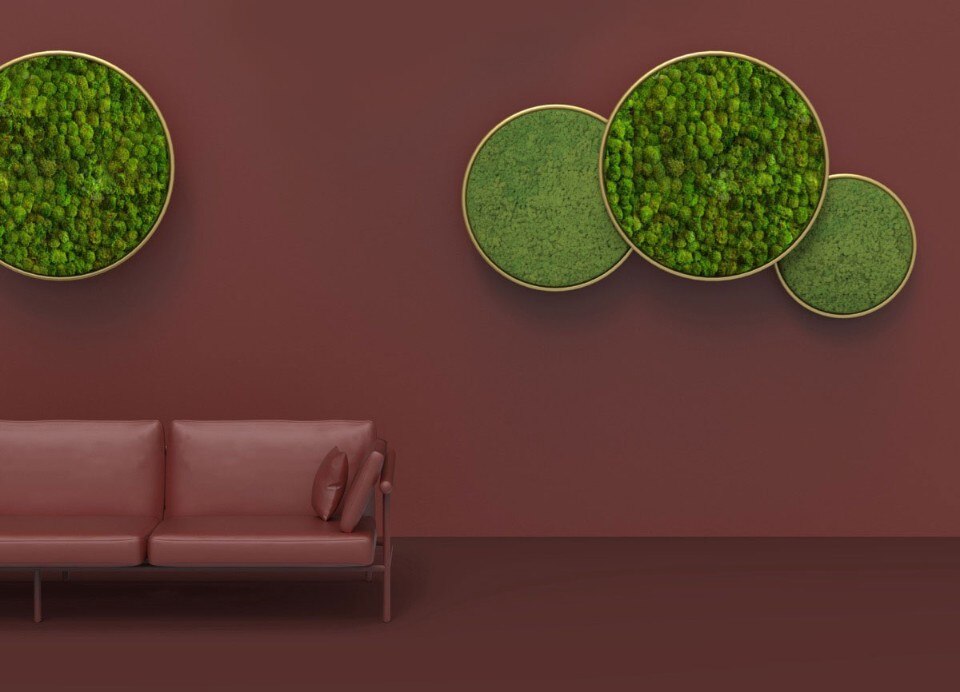 As never before, the arena of office design is an exciting place to  be. Decades of stagnancy have exploded into rampant change – and as  with most revolutions, absolutely everything is up for negotiation.  On domusweb we recently published an op-ed piece written by Tim Harford on a hot topic in  office design: the personalized workspace verses the open office and  its contentious hot desk. The article makes the case that "people are  really creative in disorderly and chaotic environments, which they  have the ability to customize."

However, judging from Orgatec – perhaps the best place to glean what the  future has in store for the workplace – no matter what came out of one  such example at MIT, a personalized cubbyhole is not the vision of  tomorrow. Held every two years in Cologne, the office design trade  show ran October 23–27, and drew some 63,000 visitors from 142  countries, with workplace products from some 750 exhibitors. Prowling  the halls, it was clear: the open office and the hot desk – that  latter is terminology now avoided – are here to stay, and for a few  very good reasons.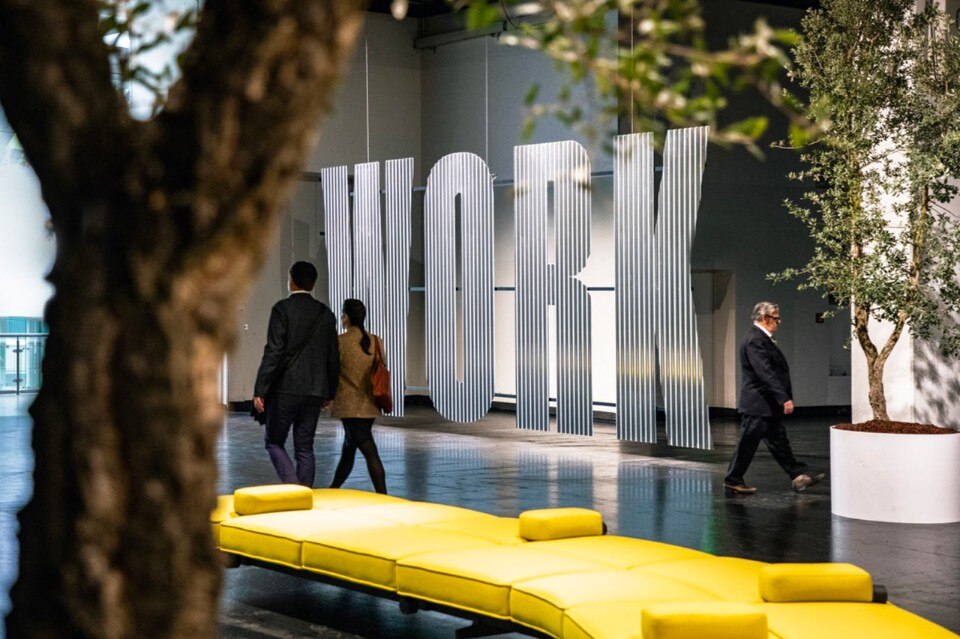 Digitization
In the driver's seat of all this change: digitalization. These days,  putting the word 'agile' in a resume earns consultants day rates four  figures and up, as companies scramble to meet all these new  developments. "We've now been working on our phones for 15 years,  tablets since 2008, and laptops have been around 30 years,"  says L.A.-based designer Jonathan Olivares. Then there's the work from home  option and the freelance economy – that's 20 percent of the workforce  in the US, Olevaries continues. We simply do not work in the same way  that we did 10 years ago. Our devices and our work are portable. Sometimes we come to the office purely for collaboration. Sometimes –  in co-working spaces for example – we come for human interaction or  the excuse to change out of pajamas.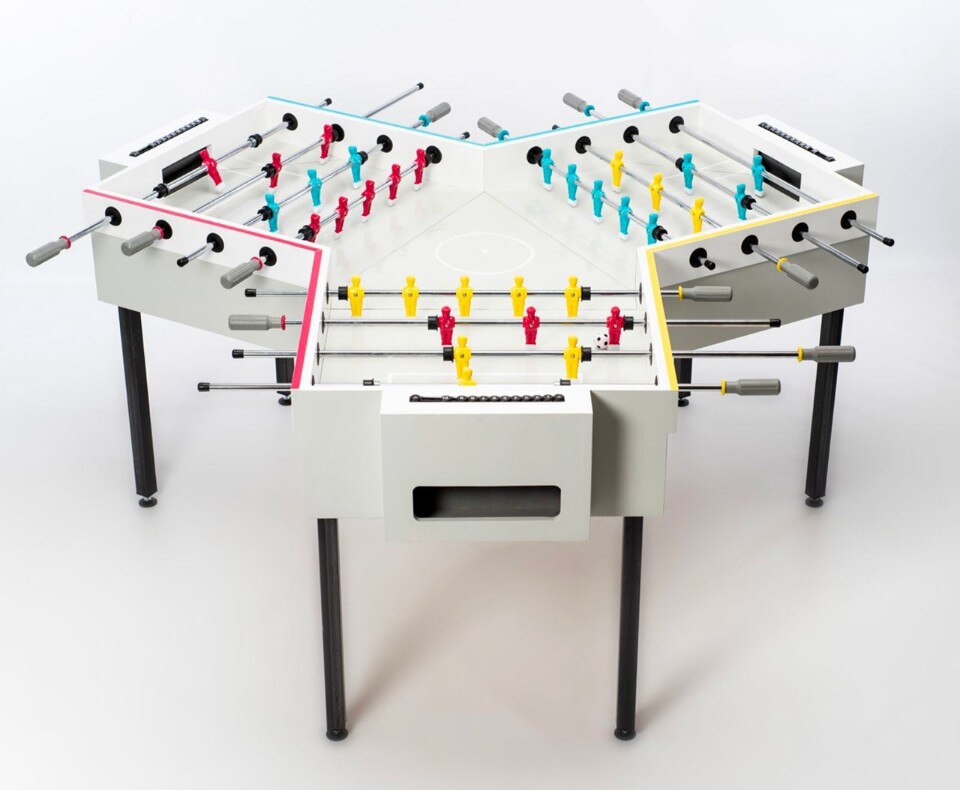 Merger of the Workplace and the Public Realm
Parks, cafes, hotel lobbies, airplanes – all serve as 'office' for a  workforce moving around the globe more than ever. As a result, public  areas and the workplace have developed a symbiotic relationship, each  feeding the other. As Nora Fehlbaum, CEO of Swiss furniture manufacturer Vitra  explains, "We believe that the workplace  and the public realm are merging."     
Demonstrating this merger at Vitra's Orgatec booth were an urban park  and a cafe, presented as part of a hypothetical urban headquarters in  the installation "The Company Home" by architect Sevil Peach. While today's offices should absolutely  provide private workspace for concentrated work, this space is not  private, personal workspace. As Peach explains, "You don't let your  daughter put Kylie Minogue posters in the kitchen and the living room.  In the bedroom they can do whatever they want. The office is communal  space – I don't quite understand what this fixation is about 'me me  me' in an office."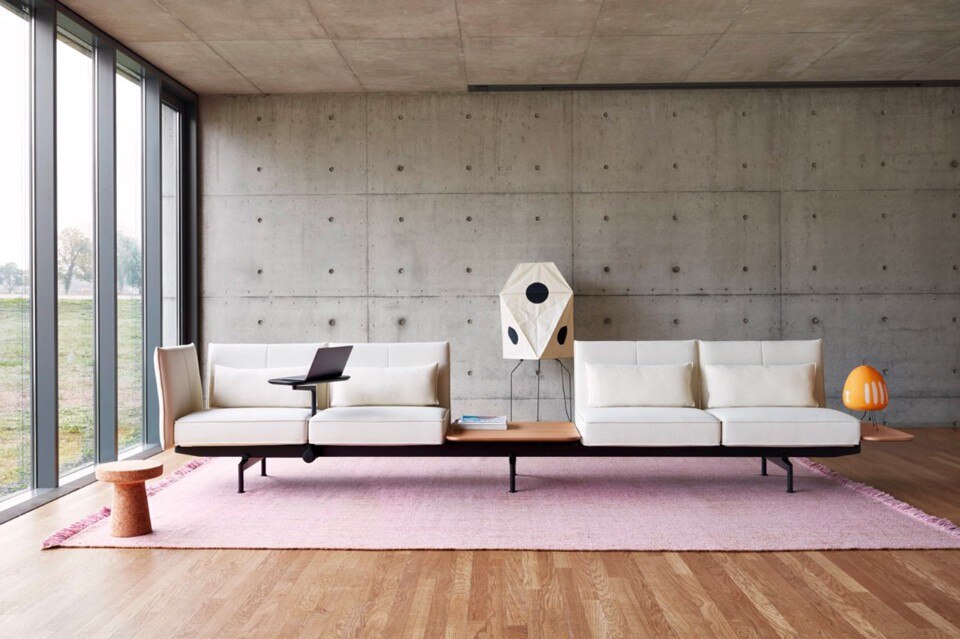 Maximizing Space Benefits Everyone
In the early days of digitalization, there was a time when an abundance of dedicated desks sat empty. Now, from pools to gyms to  events spaces to games areas or a running track – Google's planned  London headquarters will have all of these – flexible working environments reclaim this lost space. These new zones are geared  towards both attracting and keeping a workforce and productivity. Through a wide variety of corners to put your coffee cup and laptop  down, staff is able to control how they work. Choice and the resulting healthy and essential empowerment have been reintroduced with, 'where  should I sit today?'     
Zones geared towards creative thinking are also increasingly the norm. The Y-Kicker by Ben Beyer, for example, showcased in Orgatec exhibit "Plant 10.1" is a foosball table drawing a  double take. It calls for six players, shooting on not two but three different goals – a nod to team building and thinking outside the box. 

However, lessons have been learned – and today's companies have realized that making staff feel disposable doesn't benefit anyone. The problem – that feeling of being just a cog in a machine – can and should be solved with design.
A Kinder, Gentler Working Environment
Designer Alain Gilles once worked in  finance, and he remembers the switch away from personalized cubicles.  "JP Morgan was one of the first companies doing all this hot-desk  stuff, and every evening you removed all your personal stuff and put  it in a little trolley. When you left for the day, you'd go park your  trolley – it was stressful because you had the feeling that the  company could just say, 'You're fired!' and you could just pull the  stupid trolley and take your life away." However, lessons have been  learned – and today's companies have realized that making staff feel  disposable doesn't benefit anyone. The problem – that feeling of being  just a cog in a machine – can and should be solved with design.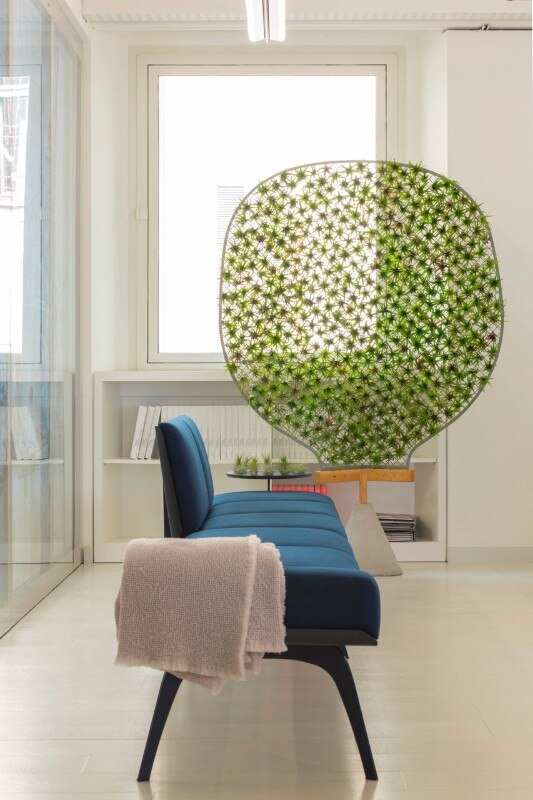 The homey office
Which brings us to the homey office. With work increasingly taking place at both home and the office, it was only a matter of time before the home came to the office. Several manufacturers are betting hard that the homey office – the most visible trend at Orgatec – is here to  stay.     
One of the most talked about launches at the fair makes working on the  sofa official. Soft Work is a modular sofa system by Edward Barber and  Jay Osgerby of design studio Barber & Osgerby for Swiss furniture manufacturer Vitra. "We  strongly believe that the conventional office desk and chair are now  dead and our system will replace that," Barber says. Kinder, gentler  and inherently more comfortable, the sofa has been a work destination  since the invention of the laptop. However, more than just a sofa,  Soft Work offers lumbar support in its back, with a higher, slightly  firmer seat. Laptops and tablets can be placed on built-in table  surfaces, while charging takes place from USB and power outlets below  the seat.     
Another clever way to tackle the home to office trend – hire  residential designers. Plenium is Spanish artist and designer Jaime Hayon's first product for the contract  market, designed for Danish furniture manufacturer Republic of Fritz  Hansen. Consisting of one-seater,  two-seater, and three-seater units cocooning from three sides, the  soft seating system is "not so squarish, a little bit more round and  more feminine," when compared to traditional office furnishings, says  Hayon. With each new residential-styled office product, there seems to  be the same adjectives: emotive, femininity, materiality – but this is  exactly the way to make us feel more secure, more embraced, and less  dispensable.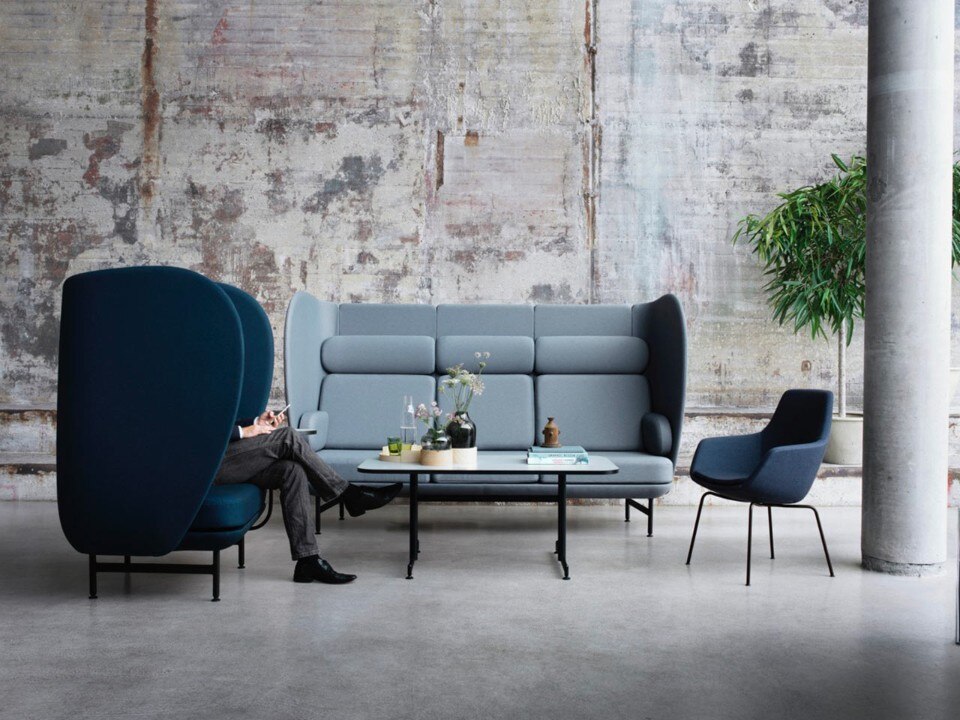 The green office
Nature makes us happy, studies repeatedly show.  Facebook's solution, a 3.6-acre rooftop garden with more than 200  trees at its newly expanded headquarters in Menlo Park, California, is  one way companies (with no cash-flow breaks) can go. However, new  products are now emerging that make cultivating a taste of nature in  the office easier and more cost-effective. Earlier this year, Gilles  launched G-Screens for Green Mood – which are  sound absorbing panels incorporating real moss. An Orgatec  showstopper, True Design and Michieli Floricoltura's Pocket Garden accessories—part  of the True Green collection—frame the evergreen Tillandsia. Unless  the environment is particularly dry, all necessary nutrients and water  are absorbed through the air plant's leaves.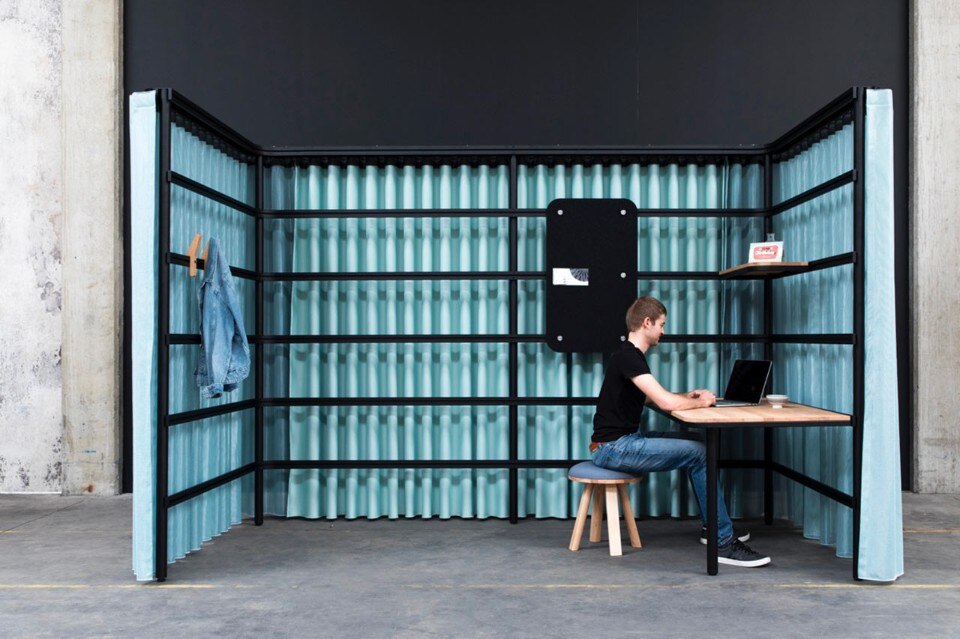 Privacy Rediscovered
Collaborative sounds wonderful – but if it includes listening to all  of your coworker's one-sided phone calls, something failed. Offices  have learned that acoustical microenvironments solve the biggest  fallout from the open office: noise. Hayon's Plenium seating units are  also acoustical shelters. BuzziBracks, which Gilles designed for Buzzispace, is a system of of sheltered  microenvironments for the open office created from panels of  sound-absorbing fabric. Nesting and cocooning, these semi-transparent  protective zones provide a comfort "kind of like sunglasses," Giles  notes.
Top image: iG-Circle circular panel, part of the G-Line acoustical range by Alain Gilles for Green Mood. Photo courtesy of Alain Gilles.