One of the numerous anecdotes told by Frank Lloyd Wright in his 1945 autobiography is a long paragraph about Hibbard (the Hib) Johnson, the third-generation owner of the S.C. Johnson Wax company founded in Racine, Wisconsin in 1886, when Samuel Curtis Johnson bought the parquet flooring business from the Racine Hardware Company. "Hib's father, so they say around Racine (the old home town), was famous for his 'hunches'. Not only did Hib inherit the ancestral factories, but the ancestral hunches. This now world-famous modern office building to house the administration of the ancestral wax-manufacturing company was one of Hib's hunches," writes Wright, who designed the futuristic Johnson Wax Administration Building (1936-39) as "a socio-architectural interpretation of modern business at its top and best," aiming for it "to be as inspiring a place to work in as any cathedral ever was in which to worship".

Wright described the building as "an experiment in design and construction". It is an introverted, curvilinear structure cladded externally with a continuous brick surface lightened by the use of Pyrex glass tubes that diffuse natural light inside without the interiors being visible from the outside. [...]
Frank Lloyd Wright, Johnson Wax Administration Building, Racine, Wisconsin, 1936
Frank Lloyd Wright, Johnson Wax Administration Building, Racine, Wisconsin, 1936
Frank Lloyd Wright, Johnson Wax Administration Building, Racine, Wisconsin, 1936
Frank Lloyd Wright, Johnson Wax Administration Building, Racine, Wisconsin, 1936
Frank Lloyd Wright, Johnson Wax Administration Building, Racine, Wisconsin, 1936
Frank Lloyd Wright, Johnson Wax Administration Building, Racine, Wisconsin, 1936
Frank Lloyd Wright, Johnson Wax Administration Building, Racine, Wisconsin, 1936
Frank Lloyd Wright, Johnson Wax Administration Building, Racine, Wisconsin, 1936
Frank Lloyd Wright, Johnson Wax Administration Building, Racine, Wisconsin, 1936
Frank Lloyd Wright, Johnson Wax Administration Building, Racine, Wisconsin, 1936
Frank Lloyd Wright, Johnson Wax Administration Building, Racine, Wisconsin, 1936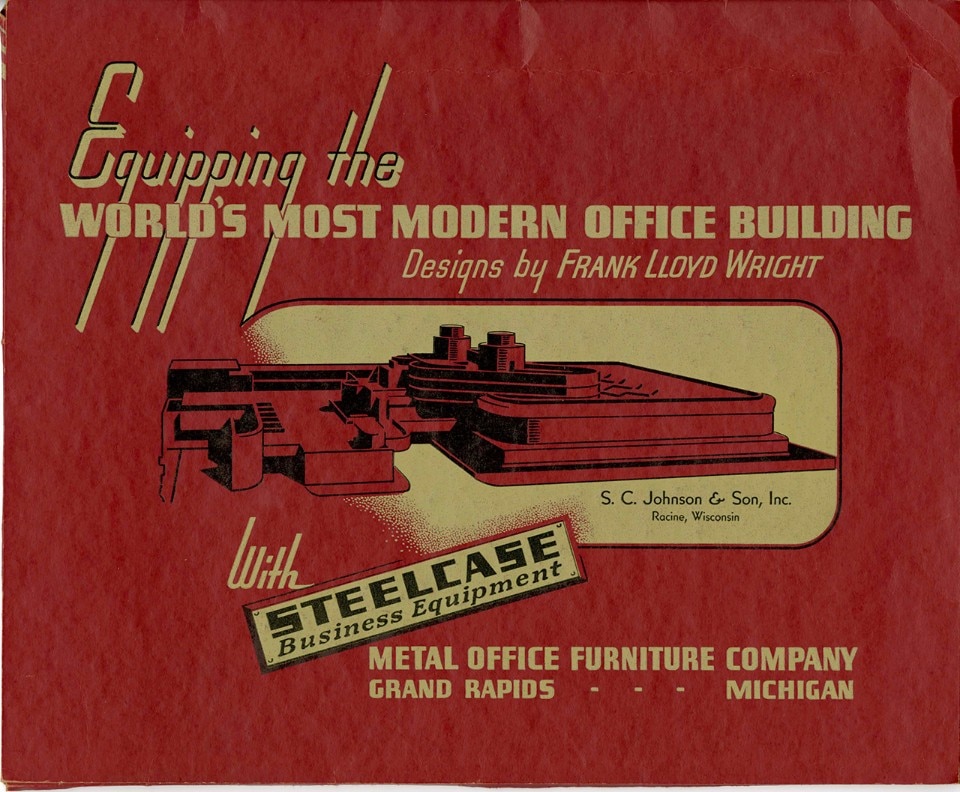 Frank Lloyd Wright, Johnson Wax Administration Building, Racine, Wisconsin, 1936
Frank Lloyd Wright, Johnson Wax Administration Building, Racine, Wisconsin, 1936
Frank Lloyd Wright, Johnson Wax Administration Building, Racine, Wisconsin, 1936
Frank Lloyd Wright, Johnson Wax Administration Building, Racine, Wisconsin, 1936
Frank Lloyd Wright, Johnson Wax Administration Building, Racine, Wisconsin, 1936
Frank Lloyd Wright, Johnson Wax Administration Building, Racine, Wisconsin, 1936
Frank Lloyd Wright, Johnson Wax Administration Building, Racine, Wisconsin, 1936
Frank Lloyd Wright, Johnson Wax Administration Building, Racine, Wisconsin, 1936
Frank Lloyd Wright, Johnson Wax Administration Building, Racine, Wisconsin, 1936
Frank Lloyd Wright, Johnson Wax Administration Building, Racine, Wisconsin, 1936
Frank Lloyd Wright, Johnson Wax Administration Building, Racine, Wisconsin, 1936
Frank Lloyd Wright, Johnson Wax Administration Building, Racine, Wisconsin, 1936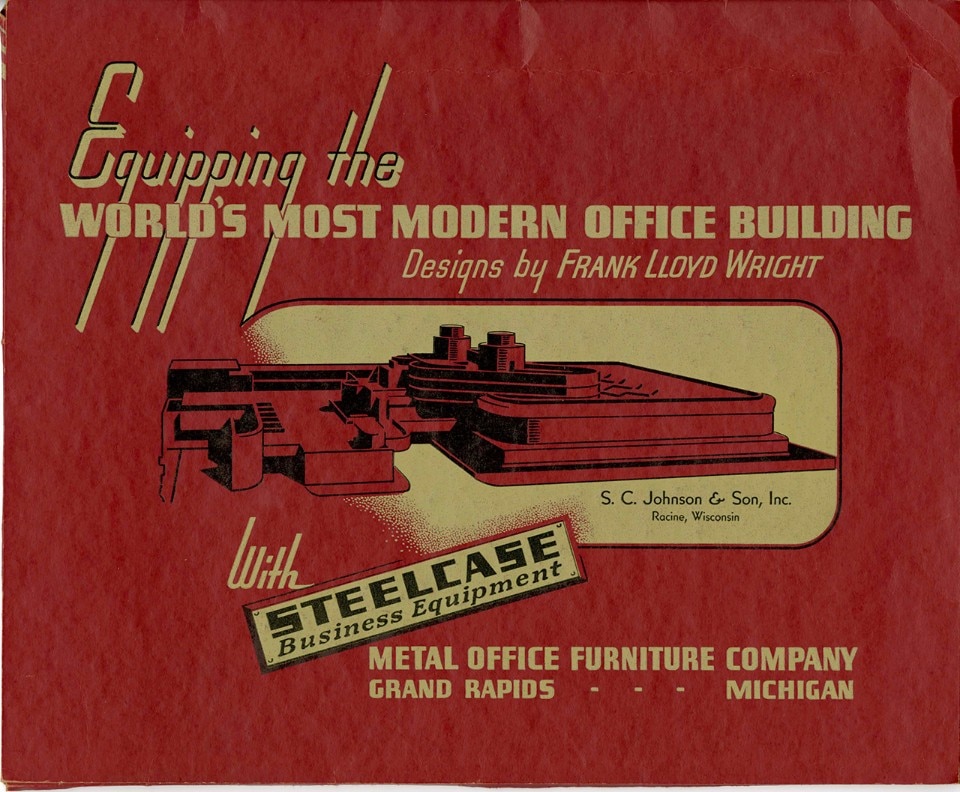 Frank Lloyd Wright, Johnson Wax Administration Building, Racine, Wisconsin, 1936
The most challenging part of the experiment was the vast workroom, a large open space 40 by 60 metres in plan and 6 metres tall upheld by hollow dendriform columns that were "stems standing tip-toe in small brass shoes bedded at the floor level". In the spirit of organic architecture, Wright thought it was very important that he design all the furniture, so he proposed this at one of the first meetings with the leadership of Johnson Wax in 1936. [...]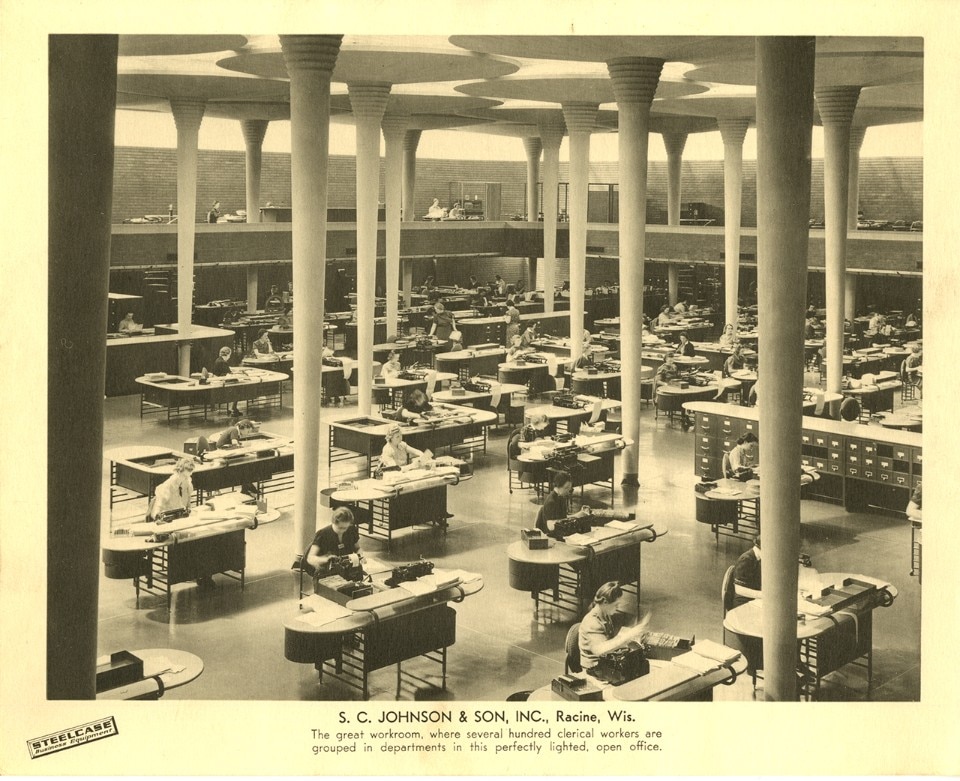 In November 1937, Wright sketched the first version of a desk and chair intimately wedded to the building in conception. Composed of straight and rounded forms, they reflect the orthogonal and circular geometries of the building. The desk's three work surfaces extend well beyond the aluminium frame (whose components had a cruciform section), displaying the cantilever principle used in the building. The stretchers in the frames align with the building's brick courses and glass tubes. The circular shapes of the chair echo the capitals of the dendriform pillars in the great workroom.
In addition to the shapes that make the furniture integrate with the interior, Wright introduced a number of features intended to increase the comfort of office workers. […]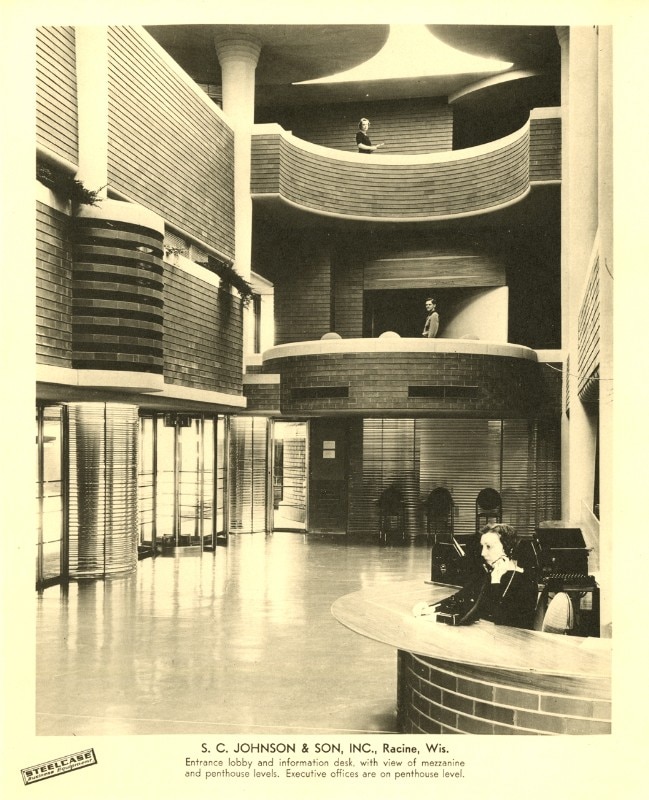 The materials used for the furniture were welded tubes of diecast aluminium (tubes were much cheaper than the milled, heavy sheet-aluminium indicated in Wright's drawing), magnesite, maple for the employees' desktops in the great workroom, and American walnut for the executives' desks in the penthouse. […]
"The ideas Wright developed for the Johnson Wax Company were very practical and years ahead of their time. When the new building opened, Life magazine gave it a big spread. Nobody had ever seen anything like it. We got permission to add the furniture designs to our line – and that was quite a concession, because Wright designed the furniture for the environment he had created. But it was so far ahead of its time, we never found another buyer," says David Hunting.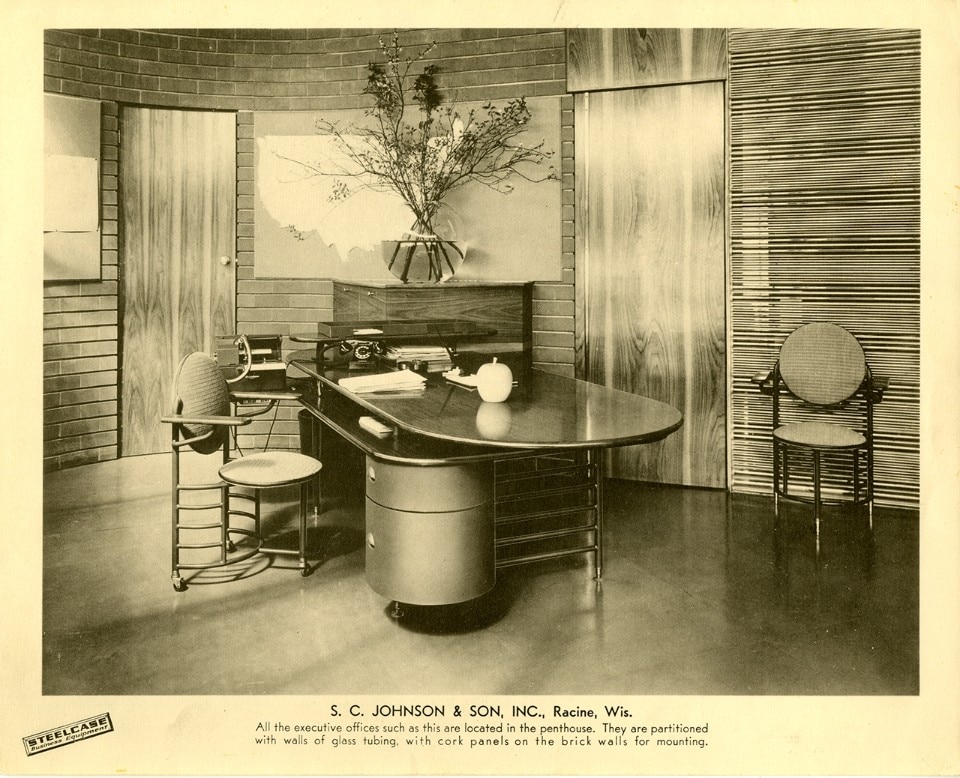 The concept of contract work was not yet defined as such back then, but it was definitely an early example of it. The Metal Office Furniture Company hired Stow-Davis to manufacture the wooden work surfaces, and another firm from Grand Rapids, the American Seating Company (then making tubular seats for its own chairs) to produce the frames. The fabric covering on the chairs was created by the Chase Furniture Company, and the Metal Office Furniture Company produced the sheet metalwork and finished and assembled the components.
Before it undertook this job, the Metal Office Furniture Company produced sturdy, standardised metal furniture that was very heavy. The collaboration with Wright led the company in a new direction, namely to develop the first modular and adaptable office furniture after World War II.