While it is true that online shopping has grown dramatically in recent years, it is also true that in an increasingly virtual world physical places can have the opportunity to assume more relevance. It is on this concept that Bershka has focused, on entrusting the design of its new store in Milan to AMO, the research and design studio which works in parallel to OMA.
Shops are no longer something to limit themselves to displaying goods, but "experiences", contemporary temples where fashion and architecture mix. Bershka, the famous fast fashion brand, plans to devote more attention to services, aiming to become an omnichannel hub. The flagship store in Milan will be the first to respond to this goal and to host functional islands that meet the different needs of customers.
AMO had to face the challenge of shaping this idea within a pre-existing historical space of 1872 square metres, which until the end of the last century had been a cinema. Opened around 1920 as the Cinema Provvisorio, it then became the Corso and finally the Ariston, closed in 2001 to become a shop.
The project, led by Ellen van Loon and Giulio Margheri of Oma, had a preparatory phase with the installation of a 1:1 mockup at the Barcelona headquarters of Inditex, Bershka's parent company. This is a space that may remain as a future reference for new restyling or openings of Bershka-branded stores.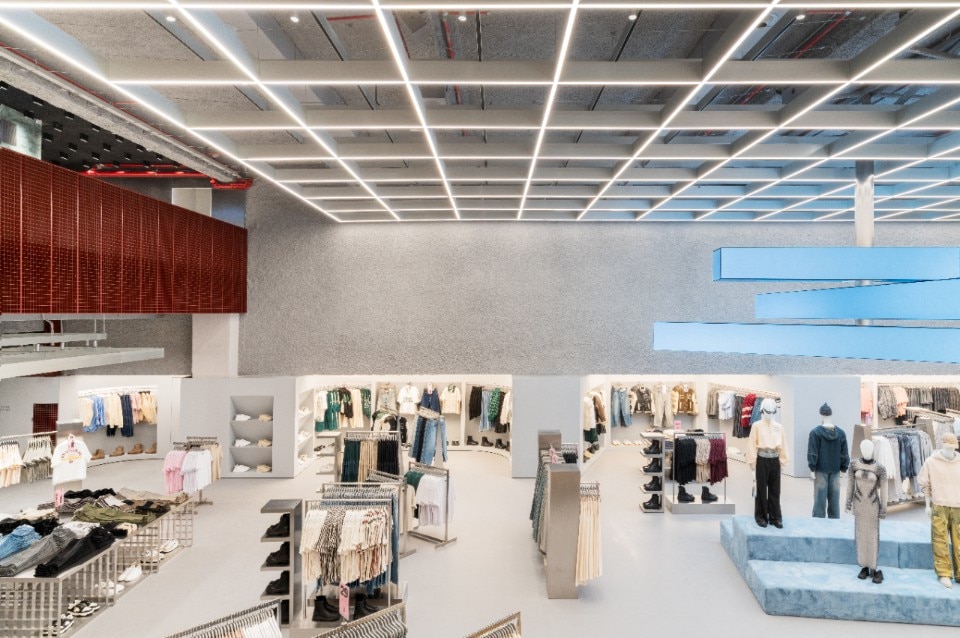 The new design establishes a new interface with the city, opening up the store to the street and the adjacent Galleria del Corso. Inside, customised routes and clearly distinguishable services make it easy to orient yourself, thanks to the strong visual identity provided by freestanding objects and dedicated areas. 

The choice of materials contributes to the diversification of the spaces: cork is the protagonist of the fitting lounge; fast and slow checkouts are easily distinguishable thanks to the use of red rubber for the former and pink resin for the latter; Plasticiet, a product of the well-known Dutch company for recycled materials, is used to mark the fast "islands".
On a predominantly neutral color base, rough surfaces alternate with many pastel-colored elements and the use of wood and metal for stairs, grilles, and panels with scrolling lettering.
Some spaces are designed to unveil niches, as in the horseshoe-shaped corridor overlooked by the store's more than thirty fitting rooms, or in the fitting rooms where peach colors and mirrors dominate, welcoming in small and medium-sized rooms designed for several people, reminiscent of the spaces of a 1990s disco club, in perfect accord with the predominant aesthetic of Bershka garments from the latest collections.