Fashion / Louis Vuitton meets Fornasetti at the Louvre
The enchanting rooms of the Louvre Museum in Paris, will host Louis Vuitton's Fall Winter 2021 fashion show. Nicolas Ghesquière, Artistic Director of Louis Vuitton's Women's Collections, will present the collaboration with Atelier Fornasetti and its creative imagery. Watch live coverage of the show on Wednesday, March 10 at 2 p.m. on Instagram or fornasetti.com.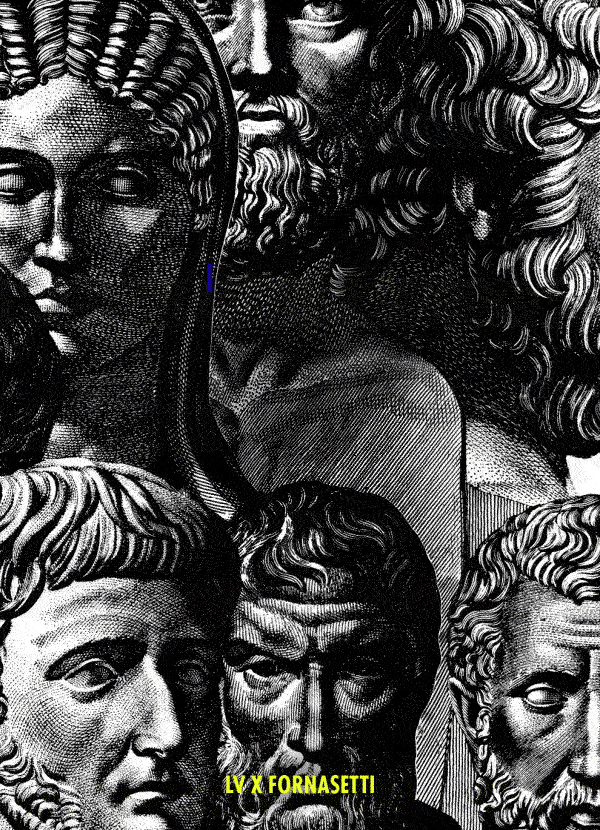 Design / Open call for the Istanbul Design Biennale
the Istanbul Design Biennial hosts a research programme titled Designing Resilience, in partnership with the Center for Arts, Design, and Social Research. The programme aims to work collaboratively with a selection of four women designers, curators, researchers, thinkers (two from Turkey and two from the US) who are actively investigating geopolitics to build new tools and systems for social, economic and mostly environmental resilience. Women practitioners and thinkers including designers, artists, writers, curators, researchers, and academics from the US and Turkey are welcome to apply for the programme until 28 April 2021. More info here.
Architettura / Golden Lion to Lina Bo Bardi
"If there is an architect who better than any other represents the theme of the Architecture Biennale 2021 this is Lina Bo Bardi. Her career as a designer, editor, curator and activist reminds us of the architect's role as a convener and, importantly, as a creator of collective visions. Lina Bo Bardi also embodies the tenacity of the architect in difficult times, whether characterized by war, political conflict or immigration, and her ability to maintain creativity, generosity and optimism in all circumstances." This is the motivation with which Hashim Sarkis, curator of the Biennale Architettura 2021 and the Board of Directors of the Venice Biennale have awarded Lina Bo Bardi the Special Golden Lion for Lifetime Achievement award of the 17th. International Architecture Exhibition of the Biennale di Venezia, which will open to the public on Saturday, May 22, 2021.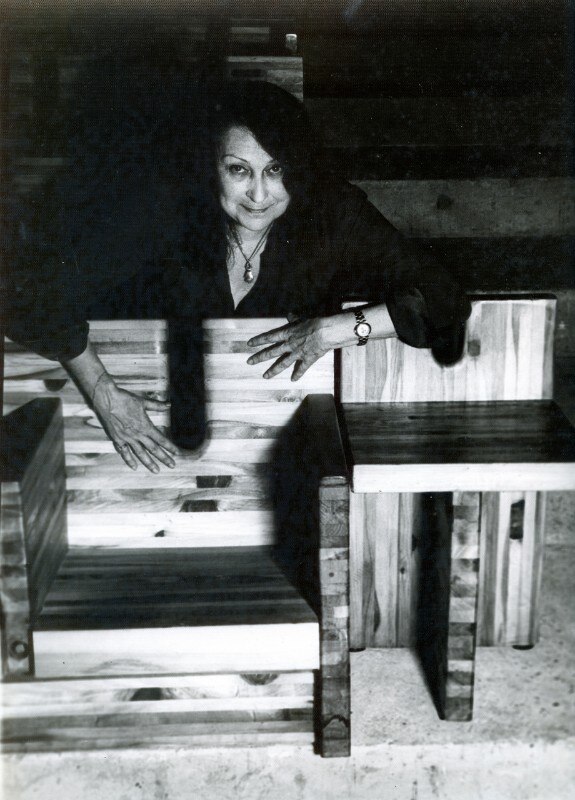 Exhibition / Archi-ville at Villa Noailles
The exhibition "Archi-ville. Hyères l'architecture de la ville en dessin (Archi-city. Hyères the city's architecture into drawings)" brings together eclectic works by various profiles of artists: amateur painters, experienced painters, high school students from Hyères, the villa Noailles' special guest or resident artists who created original artworks. The diversity of their approaches outlines the variety of Hyères' landscapes and is an invitation to discover them. From 13 March to 23 May 2021. More info here. 
Design / Swarovski Foundation call for creatives
The Swarovski Foundation announced the launch of Swarovski Foundation Institute: Creatives for Our Future, a new global grant programme designed with advisor the United Nations Office for Partnerships to identify and accelerate the next generation of creative leaders in sustainability. This global grant programme launches with a four-week open call for submissions from diverse, young talent (age 18–25) across creative disciplines including fashion, art, design, architecture and engineering. Selected grantees will receive a bursary, personal mentorship, educational training and industry networking access in support of their developing practices, and will be invited to present at the UN in September 2021. Worldwide applications will be accepted from 9 March to 9 April, 2021. Find out more here.  
Design / A forest will grow in the square of Somerset House in London
Artist and designer Es Devlin, London Design Biennale's Artistic Director, has chosen Resonance as the theme for the next London Design Biennale, which up to 50 countries and territories will respond to in their installations and presentations from 1 to 27 June 2021. For the occasion, a forest with 400 trees will be planted in the central square of the complex. Find out more here.
Art / Metro Pictures closes permanently
Metro Pictures announced that it will close toward the end of 2021 due to "a demanding year of pandemic-driven programming, and the anticipated arrival of a very different art world." Metro Pictures was founded in 1980 by Janelle Reiring, formerly of Leo Castelli Gallery, and Helene Winer, formerly of Artists Space, at 169 Mercer Street in New York. The gallery's inaugural exhibitions featured artists such as Cindy Sherman, Robert Longo, Troy Brauntuch, Jack Goldstein, Louise Lawler, Sherrie Levine, James Welling, Richard Prince, and Walter Robinson – artists who would later be identified by critics and historians as Pictures artists.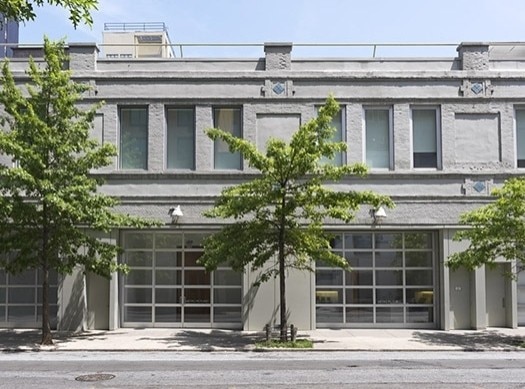 Design / Margaret Atwood live Zoom from Triennale, Milan
As part of Triennale Upside Down's online programming, appointments continue for "Media Explosion. Around the Human" with an interview with Margaret Atwood on Wednesday, March 10 at 6 pm. Media Explosion, presented by Triennale Milano and NABA, Nuova Accademia di Belle Arti is a cycle of four meetings, curated by the philosopher Leonardo Caffo and Amos Bianchi, NABA Media Design and New Technologies Area Leader, whose first protagonists were Joanna Zylinska (February 10) and Stefano Quintarelli (February 24) and which, in addition to Margaret Atwood, will have Lev Manovich as its next guest (March 24, 11 am). Registration here.
Architecture / Office project by Kengo Kuma & Associates in Milan presented
"Welcome", the project signed by Yuki Ikeguchi, partner of Kengo Kuma & Associates, was presented today, March 4, at the Triennale of Milan. It is a large office building in Via Rizzoli, Zone 3, near Parco Lambro. The design stems from an idea of "horizontal expansion and cascading effect of each block" with roof gardens and covered squares that are also accessible by the community. It is characterized by green terraces and a load-bearing structure in wood and glass for a "greater accessibility and transparency that blends the interior environment with that of the street." (MG)
School / Harvard GSD's March 2021 online public program
The Harvard University Graduate School of Design launched 10 public talks from March 1 to 29. Names invited: Ilze and Heinrich Wolff / "Homage and Refusal"; Giovanna Borasi in conversation with the Founding Editors; Julie Bargmann / "Modesty"; Thaisa Way, Edward A. Eigen and Raffaella Fabiani Giannetto with "Think like a Historian, Imagine like a Designer: A Conversation on Landscape History and Design Education"; Ananya Roy / "Undoing Property: Feminist Struggle in the Time of Abolition"; Catherine Seavitt Nordenson / "The Miasmist: George E. Waring, Jr. and Landscapes of Public Health"; Ana María León and Torsten Lange with "Bodies of Work: Activism, Gender, Architecture". More info here.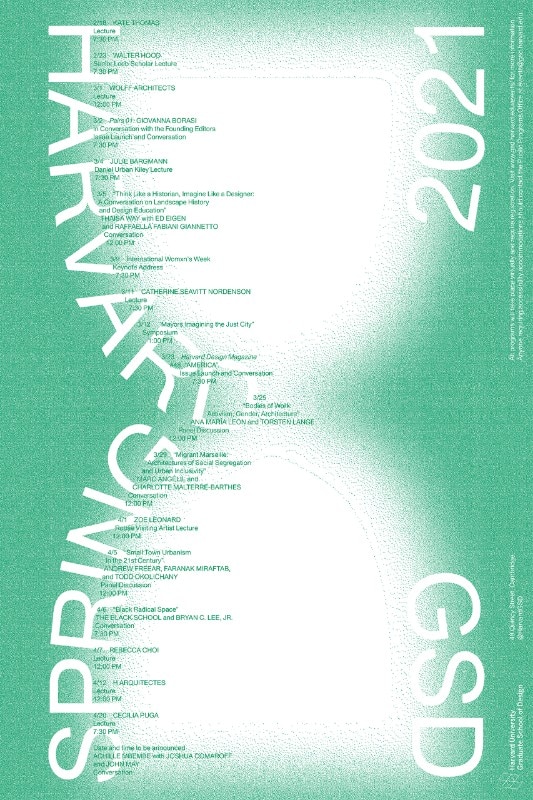 Art / JR at Palazzo Strozzi, Florence
From March 19, 2021 Palazzo Strozzi will change its face through the intervention of artist JR, called to reinterpret the facade of one of the symbols of the Renaissance in Florence through a new site-specific installation entitled La Ferita (The Wound), which will propose a reflection on the accessibility of places of culture in the era of Covid-19.
Book / Reinier de Graaf's novel The Masterplan
OMA announces the release of Reinier de Graaf's second book. Chronicling the trajectory of an architect craving for recognition, The Masterplan unfolds as a fictional reconstruction of an architectural dream blown to dust by bigger forces. When asked to design the capital of a young African republic, Rodrigo Tomás sees the opportunity of a lifetime. Eager to outshine his famous father he accepts, but he soon discovers that not all is what it seems… 

Film / Climate Action Film Festival
The Climate Action Film Festival® brings together activists, filmmakers, and communities to witness and celebrate stories of climate action. CAFF's mission is to amplify voices and inspire further action in addressing the climate crisis, locally and beyond. From 2 to 21 March 2021. Register here.
Art / First edition of FIAC online viewing rooms
From March 4 to 7 professionals, collectors and art lovers can discover an exacting selection of modern and contemporary art galleries, among the most emblematic of the international scene. 212 French and international galleries, both emerging and established, specializing in contemporary art, modern art and design, from 28 countries, take part in FIAC Online Viewing Rooms, with 5 international curators invited to each make their own selection from artworks presented by exhibitors and 7 Parisian and international institutions will join with a programme of online talks, exhibitions and films. More info here.
Architecture / Trump's order to "neoclassicfy" U.S. federal buildings is revoked
Joe Biden revokes the "Making Federal Buildings Beautiful Again" executive order by Donald Trump's administration which consisted in designing all new federal buildings costing more than $50 million with a Neoclassical style. Excluded from that "President's Committee to Re-Beautify Federal Architecture" were architects, engineers, art or architecture critics, and anyone else involved in the building process. We have talked about it here. (MG)          

Events / Milan Museum City 2021
Milan invites citizens and enthusiasts to rediscover its artistic heritage from March 2 to 7, 2021. For one special week more than 85 museums will be the protagonists of meetings, exhibitions and events, both in presence and digital, all united by the theme "Museums take care of the city". The event, promoted by the City of Milan | Culture and carried out in collaboration with the Association MuseoCity, was created to raise awareness of the richness of the artistic heritage of the city's museums and enhance their cultural function. More info here.
Art / Niki de Saint Phalle at MoMA PS1
MoMA PS1 announces the first US retrospective of American and French artist Niki de Saint Phalle (1930‒2002). From the very outset of her career in the 1950s she defied artistic conventions, creating works that were overtly feminist, performative, collaborative, and monumental. The exhibition features over 200 works that highlight Saint Phalle's interdisciplinary approach and engagement with pressing social issues. Saint Phalle produced fantastical and figurative houses, parks, and playgrounds. These structures were charged spaces of imagination from which she envisioned experimental societies emerging, places "where you could have a new kind of life, to just be free." Curated by Ruba Katrib (curator) with Josephine Graf (assistant curator).
Schools / Domus Academy: open call for 40 scholarships
Domus Academy Milano presents 10 open calls for projects to obtain over 40 scholarships for the Master courses starting in September 2021, thanks to the collaboration with partners such as Alessi, AKQA, 10 Corso Como, Lissoni&Partners, Technogym, Vogue Talents. Each call has a dedicated jury that will evaluate the projects submitted, which will then compete for the scholarships. Deadline for submission of projects: April 9, 2021. More info available here. (MG)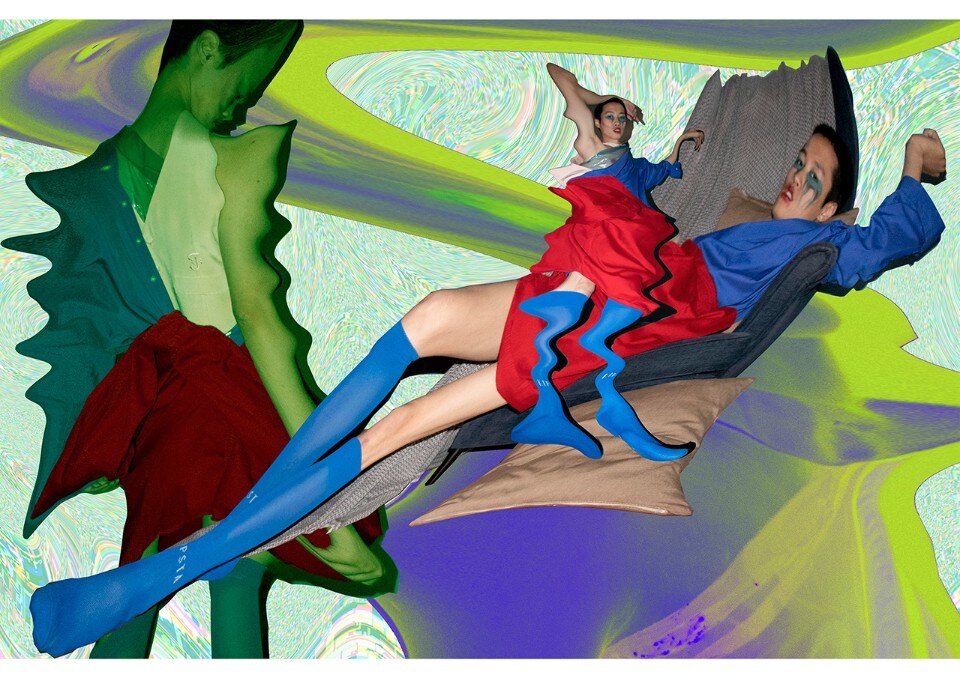 Exhibitions / Smithsonian celebrates its 175th anniversary with exhibition "Futures"
The Historic Arts + Industries Building at the Smithsonian museum complex reopens after nearly 20 years with a major exhibition exploring the future. The building's large rooms will be divided by themes: Past Futures, Futures that Work, Futures that Unite and Futures that Inspire. The exhibit will blend art, technology, design and history, inviting visitors to dream big and imagine not just one but many possible futures on the horizon. The exhibition will open in November 2021, in collaboration with architect David Rockwell and the Rockwell Group.