For Forest. The Unending Attraction of Nature is the title of the monumental and provocative public art intervention by Klaus Littmann that, for two months from 9 September to 28 October, will transform the Wörthersee stadium (capacity: 30,000 spectators) in Klagenfurt, the largest city of Carinthia, into a thick forest of 300 trees.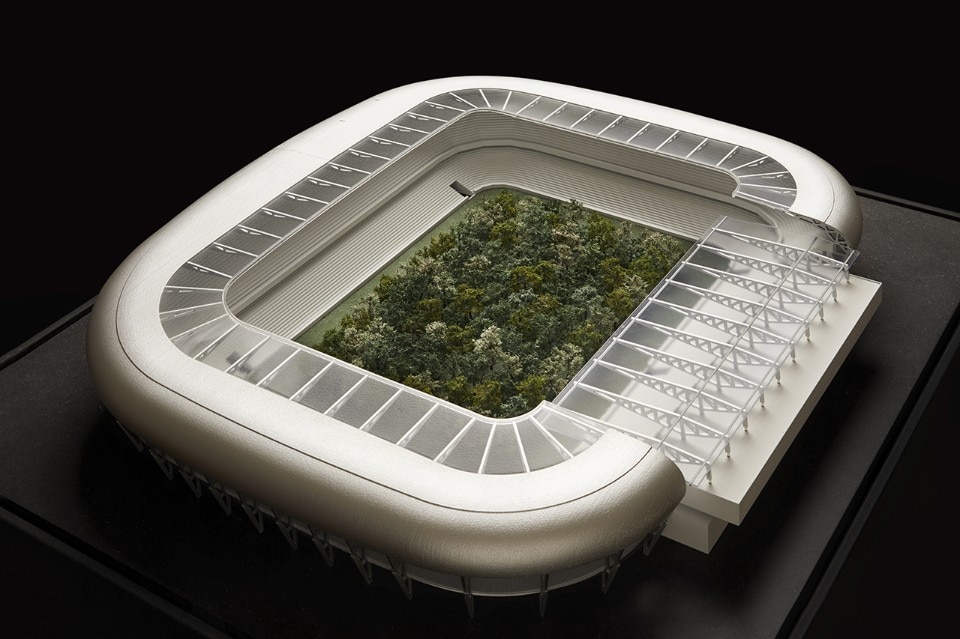 The goal, according to the artist from Basel – who studied with Beuys and is known as a contemporary art mediator for having worked with, among others, Christo, Buren, Roth and Tinguely – is "to challenge our perception of nature and question its future".
The trees – adult plants between 30 and 40 years of age, some weighing up to 300 tons – will be transplanted over the field, onto a metal net, and give the impression of a native Central European forest. The project also engages the Swiss landscape architecture studio, Enea Landscape Architecture.
Klaus Littmann, For Forest, works in progress
"It's a project I've been following for 30 years," explains Littmann. More precisely, from the moment he discovered the dystopian drawings of Max Peintner (Hall, Tirol, 1937) with the idea that for us to admire nature – in a future that is maybe not too far off – we might be forced to go to a place specifically for this purpose, like a museum or a zoo. Various topics are faced: from a reflection on climate change to our perception of nature and our management of it (which in Austria is not taken lightly, since it is the European country with the greatest forested surface area). In fact, the work will be accompanied by a dense line-up of activities and debates, plus an educational space.
For Forest, a private initiative with private and public collaborators, will be inaugurated on 9 September and stay open to visitors from 10 am to 10 pm. In late October, the trees will be replanted in a location nearby.
Opening photo: Max Peintner, The Unending Attraction of Nature, pencil drawing, 1970-1971, hand-coloured by Klaus Littmann in 2018, unique print from series.
Event title:

For Forest. The Unending Attraction of Nature

Artist:

Klaus Littmann

When:

9 September – 27 October 2019

Where:

Wörthersee Stadion, Klagenfurt