Ricardo Bofill
A substantial 300-page monograph in large format retraces Ricardo Bofill's career in the year of his 80th birthday (5 December). An architectural outsider, visionary builder and one of the most radical designers of the 20th century, Bofill was expelled from university for his political views. Far from considering a different vocation, he has, for more than 50 years, been building spectacular architecture that disobeys the rules and defies fashion, while asserting the right to be original, as in the Fábrica, an abandoned former cement factory on the outskirts of Barcelona turned into his iconic office and the Muralla Roja, a spectacular maze of apartments filled with colour close to Alicante.
Ricardo Bofill, Gestalten
Book title:

Ricardo Bofill

Editors:

gestalten & Ricardo Bofill

Publisher:

gestalten, Zurich

Pages:

300

Format:

24.5 × 33 cm

Publication:

March 2019

Price:

€ 49.90

ISBN:

978-3-89955-940-8
The Uninhabitable Earth
Is the Earth's future truly far worse than we think? A new and much-awaited book by David Wallace-Wells is an impassioned and well-researched call to action. The impact of global warming is not only about rising water levels argues the deputy editor of New York magazine in his book. Increasingly frequent and devastating fires and floods could make many parts of the world no longer inhabitable by the end of this century. The only way to save the planet is by transforming politics, culture and our relationship with technology.
Book title:

The Uninhabitable Earth. Life After Warming

Author:

David Wallace-Wells

Publisher:

Tim Duggan Books, New York

Publication:

February 2019

Pages:

320

Price:

27 $

ISBN:

9780525576709
The Design of the Castiglioni Brothers
Edited by professor and design historian Dario Scodeller, this book explores the work and collaboration of the three Castiglioni brothers: Livio, Pier Giacomo and Achille. It stresses their focus on research which continues to provide an effective model, from the very first experiments immortalised in the courtyard of the Porta Nuova office in the 1960s to the objects, lamps and furnishings that have become timeless icons. The book is completed by critical contributions by Fiorella Bulegato, Elena Brigi, Daniele Vincenzi, Alberto Bassi and Alessandra Acocella, and personal accounts by their children, Livio's Piero, Pier Giacomo's Giorgina and Achille's Carlo.
Dario Scodeller, Il design dei Castiglioni, Corraini
Book title:

Il design dei Castiglioni – Ricerca Sperimentazione Metodo

Editor:

Dario Scodeller

Publisher:

Corraini, Mantova

Format:

19 x 24 cm

Publication:

January 2019

Price:

40 €

ISBN:

9788875707507
Why Materials Matter
A catalogue of possibilities and in part a manifesto for a better design future, Why Materials Matter shows us how to consume, fabricate and design today. It also asks us to imagine a world of sustainable solutions, centred on reuse and recycling, that transform industrial waste, draw on science or expand the potential of everyday materials. Eindhoven designer Billie Van Katwijk has, for instance, designed a range of handbags and accessories using cows' stomachs, a waste material that to her eyes has undeniable aesthetic properties. Sruli Recht, an Israeli craftsperson based in Reykjavík worked for three years on a research project that led to the first translucent cow-skin that could be used for a clothes and accessory collection. Sustainable design increasingly means learning from nature, as in the case of Davide Piscitelli's wearable lichen that monitors the air-pollution levels around us.
Why Materials Matter. Responsible design for a better world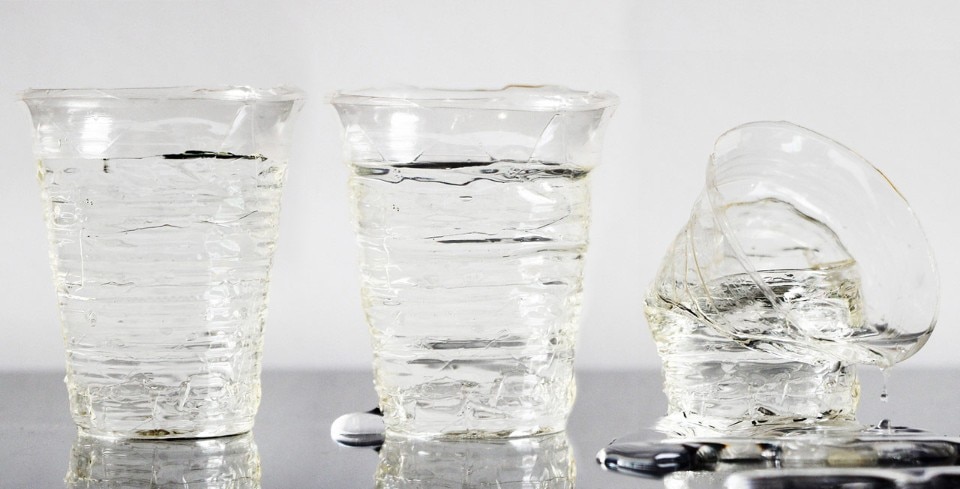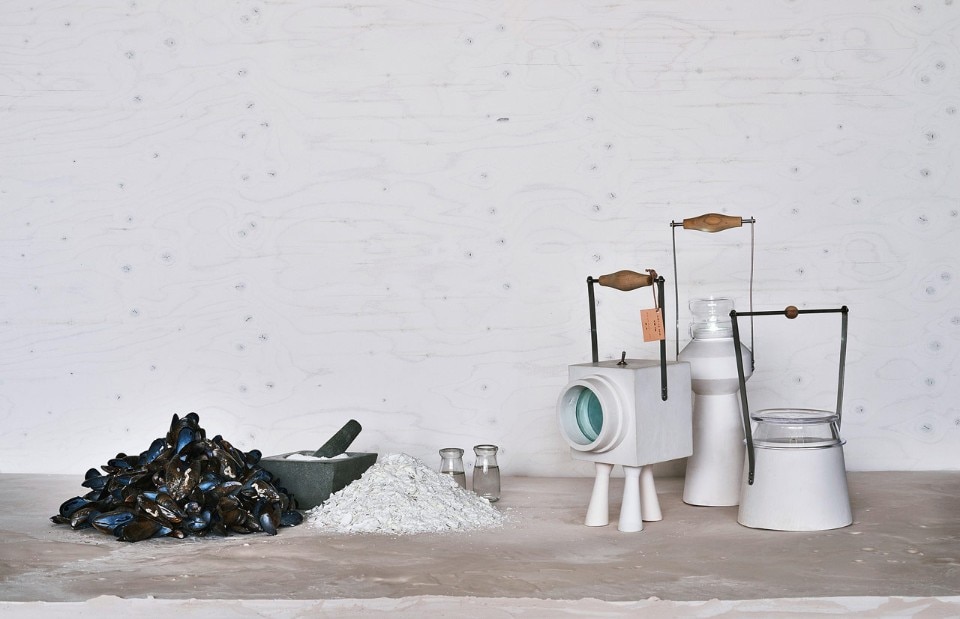 Mussel Shell Plast
Phoebe Quare grinds mussel shells into a powder which she uses as a plaster to create lanterns for the inhabitants of Bere Island.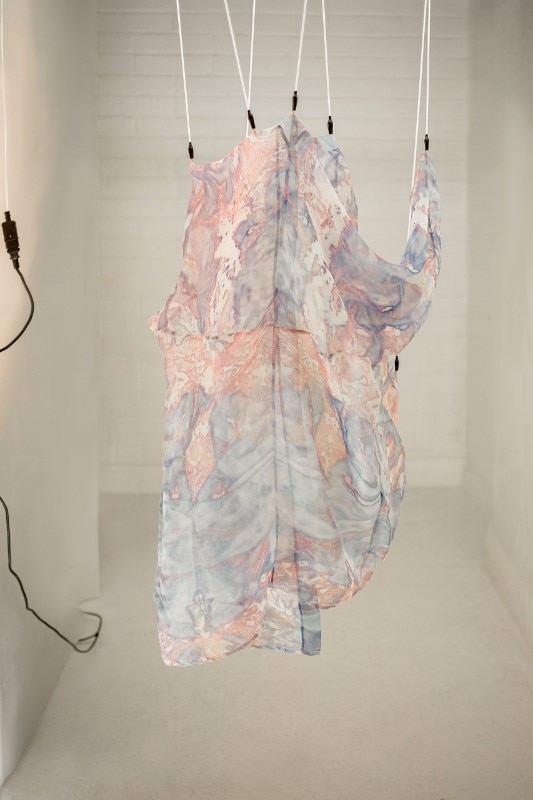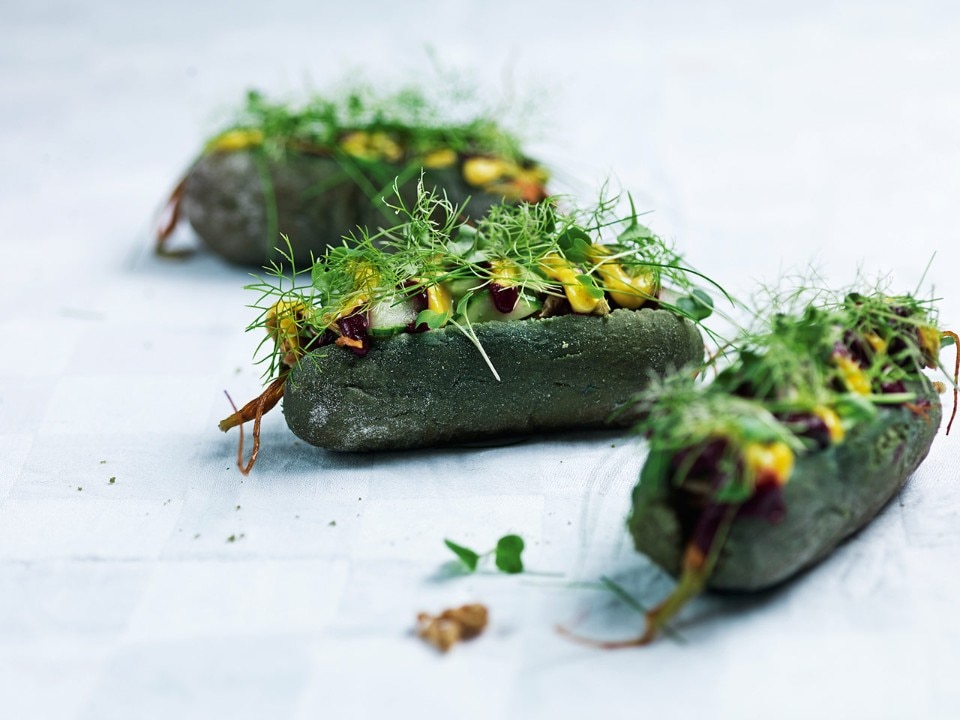 Microalgae
Edible energy: Simon Perez, SPACE10's chef-in-residence, developed a Dogless Hotdog using the algae spirulina.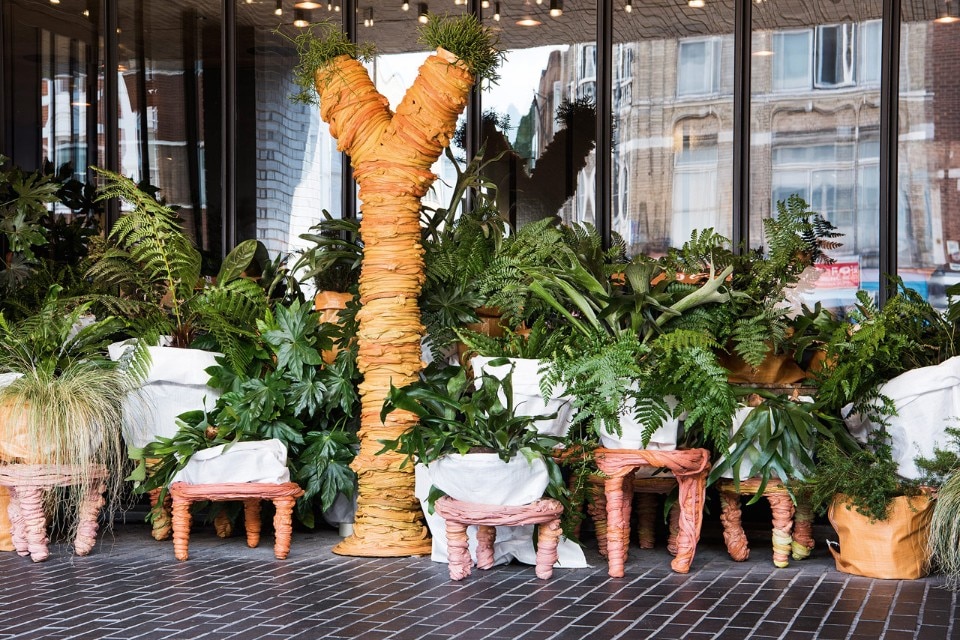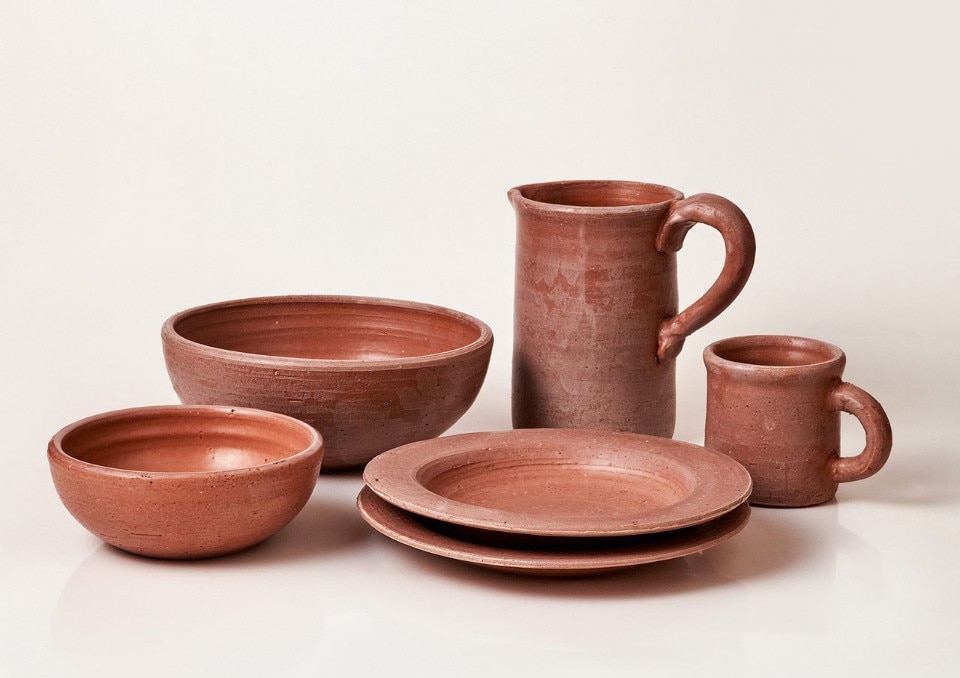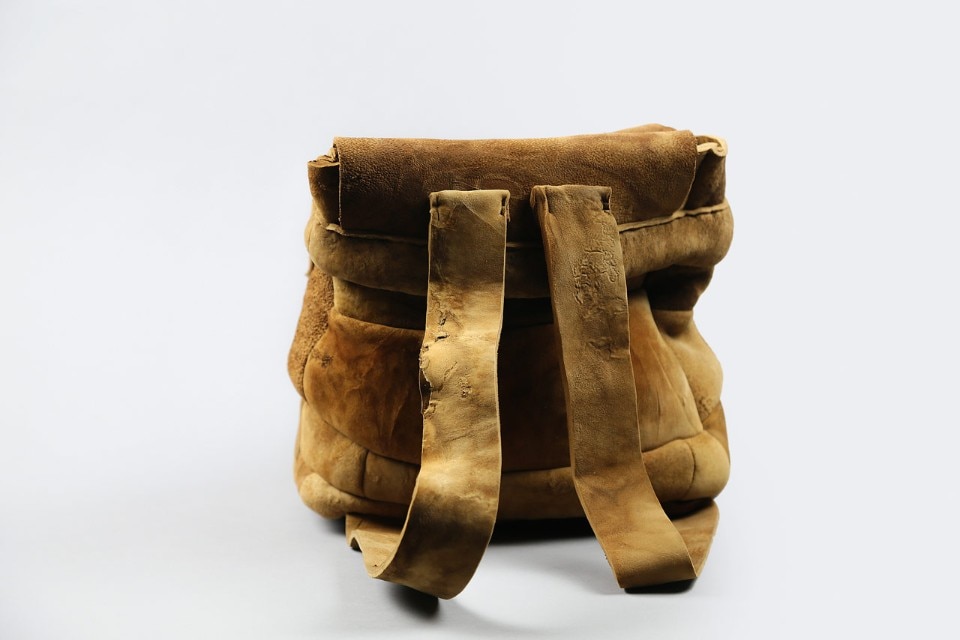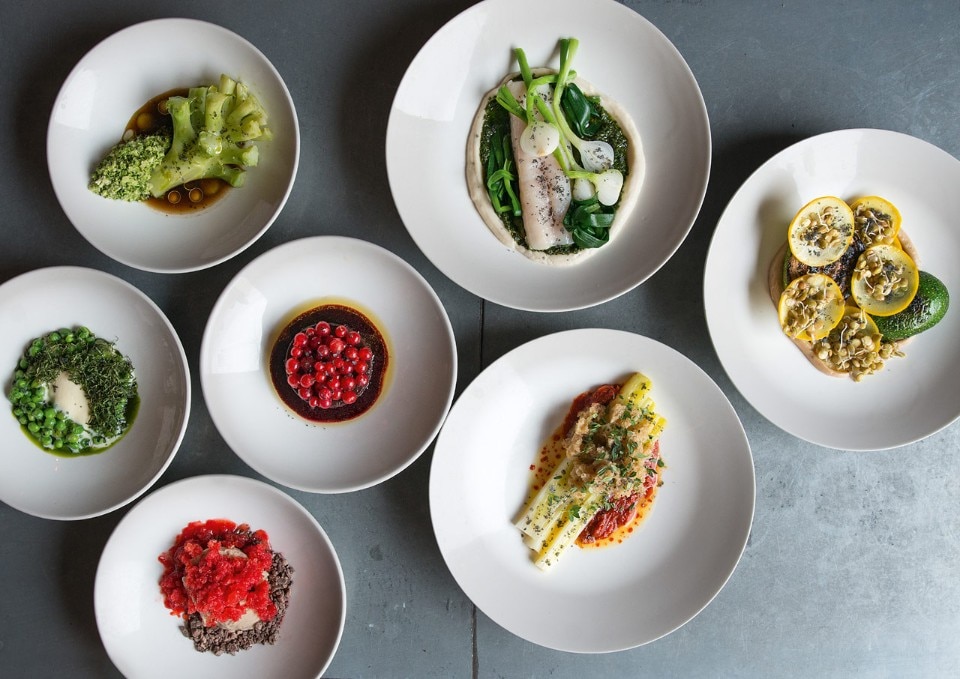 Zero Waste
The people at Silo are redefining how we eat and cook by adopting a zero- waste methodology. The restaurant uses a nose-to- tail approach to produce.
Book title:

Why Materials Matter. Responsible Design for a Better World

Author:

Seetal Solanki

Publisher:

Prestel Publishers, New York

Pages:

240

Format:

24 x 30 cm

Price:

50 $

Publication:

September 2018

ISBN:

978-3-7913-8471-9
Your Guide to Downtown Denise Scott Brown
Published in conjunction with an exhibition at Architekturzentrum Wien last autumn, this book by Jeremy Eric Tenenbaum employs previously unpublished material to cast a fresh gaze on the work of the architect, urbanist, theoretician and teacher Denise Scott Brown. A colourful and explosive guide exploring her life – from her childhood in 1930s' South Africa to her studies in England and career in the United States – it also reveals her complexity and thought.
Book title:

Your Guide to Downtown Denise Scott Brown: Hintergrund 56

Author:

Jeremy Eric Tenenbaum

Publisher:

Park Books, Zurich

Pages:

173

Price:

36 €

Format:

16.5 x 24 cm

Publication:

January 2019

ISBN:

978-3-03860-127-2