The LafageHolcim Awards are given every three years to the most sustainable architectural designs. Begun in 2003, this year they hit a new record for the number of projects entered – more than 5,000 – but more interesting was the fact that most of them came from architects under 30, many still students. This shows that sustainability has become part of the consciousness of the younger generations of architects, who see it as de facto a necessary part of architecture.
The growth in the symbolic value of the LafargeHolcim Awards – helped by the cash value of the prizes – derives from a fundamental rule, as underlined by its president, Rolf Soiron: the Foundation is totally independent of the firm that finances it, and this is possible because the conviction that the construction industry has a responsibility towards sustainability is part of LafageHolcim company culture.
In Soiron's view, if the industry itself did not make this a goal, the pressure of NGOs, activists and politicians would not be enough to tackle this issue, given the huge extent of construction's environmental impact.
This explains why two studios – BC architects and studies and TETRA architecten – were joint winners. Both created designs for Brussels, tackling the idea of the city in a truly innovative way, imagining a place which retains its productive activity.
This is an approach that goes beyond the model put forward by Richard Florida in his 2002 book The Rise of the Creative Class: And How It's Transforming Work, Leisure, Community and Everyday Life. In his view, in the face of the disappearance of productive work from cities, the use of these spaces by young people, creatives in particular, represents a model that could lead to the regeneration of currently derelict city districts. Via the presence of young creatives – a term now in common usage – new productive enterprises could be developed, integrating the communities of residents with the new arrivals. This idea has been taken on by many public administrations, which have supported and financed the process. Initially it seemed beneficial, but the arrival of the "creatives" rapidly led to an increase in prices and the forcing out of the residents. Prices then rose to the point where even the "creatives" had to leave – a process of gentrification that has been seen in cities in recent years. Florida himself has rethought his ideas, almost apologising in a new book out this year – it is a pity that the Euromediteranée 2 project in Marseilles seems to be continuing in this direction.
The idea of the Belgian architects envisages a city that is a complete living organism, one able to integrate, not expel, productive activities and open them up to residents. BC architects and studies have designed a waste processing plant available for city use, with green spaces for citizens and a building that can be adapted for different purposes. TETRA architecten's idea involves the regeneration of a cement factory so that it can be left where it is, along the Willebroek Canal, today an integral part of life in the city.
 
Third prize went to ZEDfactory with a design that is at once sustainable, serious and provocative. The idea is to use open-air carparks to resolve a series of problems in London. Prohibitively expensive housing has meant that key professionals in public services, such as nurses, firefighters and public transport workers, among others – as well as students and commuters – can no longer afford to live there. The solution proposed by the architects is a prototype prefabricated house: it has zero impact in terms of land consumption – it is intended to be built above a car park – construction system and energy production. It is powered by solar panels that will also be able to recharge any electric cars parked there. The interiors, as Bill Dunster said with an amused smile, are designed for working people, not hipsters. But the project is fascinating and seems on the way to finding the financial backing that would convince city authorities of its feasibility.

Leaving aside the winners, Acknowledgement prizes were given to four designs. One is a new theatre that reuses a pre-existing structure in Bucharest, Romania, by Asociatia Culturala Grivita 53. A second is by the Madrid-based architects Agi Architects – they have designed the buildings and covering for an archaeological dig at Pontevedra in Spain. The Zurich-based studio Karamuk Kuo Architekten have worked on an archaeological site too, designing flexible structures for the Roman dig at Augusta Rurica in Switzerland. Lastly, Paris-based NP2F have designed a recreation centre that is both spacious and bold.
The Next Generation prizes focus on and support young designers. Winners this year were two Poles, Malgorzata Mader and Jakub Grabowski. Anna Andronov, from Russia, came third, and Frédéric Bouvier, from Switzerland, fourth.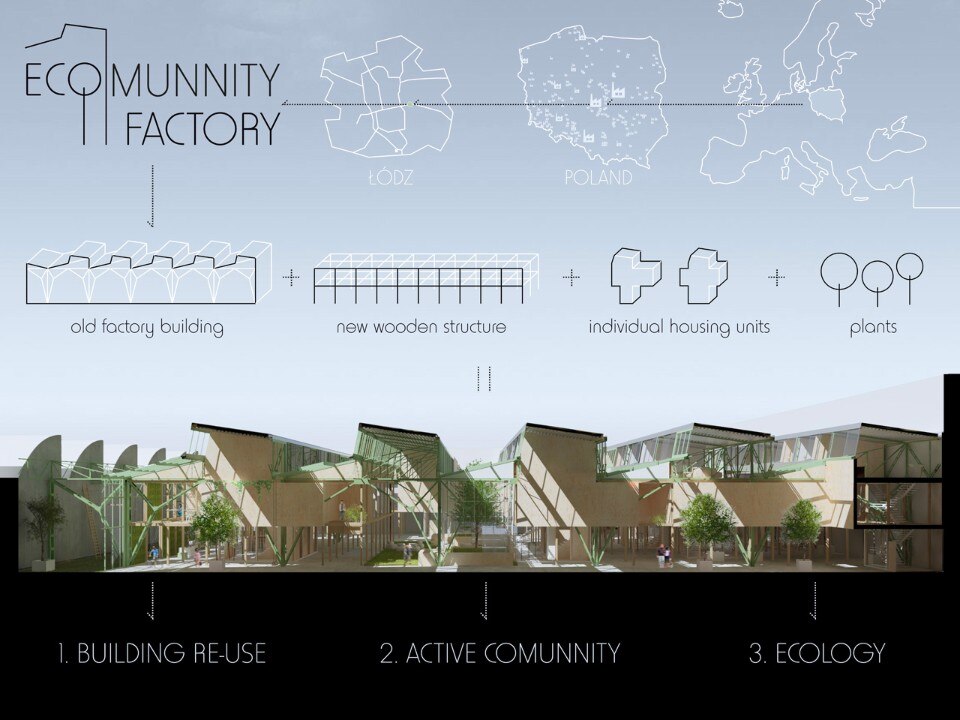 Since around half of the projects supported by the prizes given by the LafargeHolcim Foundation for Sustainable Construction are actually built, all the designers chosen have a good chance of seeing their work realised in physical form. Because of this, this year for the first time, the LafargeHolcim Building Better Recognition prize was awarded; this certifies that one of the winning projects from a previous cycle which was subsequently built satisfies sustainability criteria. The prize went to Gilles Delalex and his team from the Paris-based Muoto Architecture Studio. The architects have shown they can manage the services for eight university faculties in a highly efficient, low-cost building.
The prizes are becoming a cross-section of the global state of architecture, of how architects are thinking. The winners of the challenge are, of course, happier than those who are not so successful, but they are all engaging with it.