London-based practice Studio Gil has recently designed the ToyBox , a giant toybox for children, which was featured in the recent Ten Plus One exhibition at The Gopher Hole , in London.

This portable installation is an interaction device for young children, consisting of 6mm MDF laser cut pieces which can be assembled and disassembled following a sequenced tag system. The entire construction system relies on pressure joints for structural integrity, eliminating the use of adhesives, dowels, screws or nails.

The 150 x 75 centimetre box frame supports three "landscapes" at different heights. These "landscapes" act as a surface and support frame for a series of interactions and games accessed through a screen running along the perimeter of the box.

Interactions and games were carefully chosen and strategically placed in response to ergonomics and the level of inquisitiveness of children at various ages. For instance, babies may use the frame to pull themselves up, toddlers will use it responding to colour, sound and touch, and older children will respond to games and videos.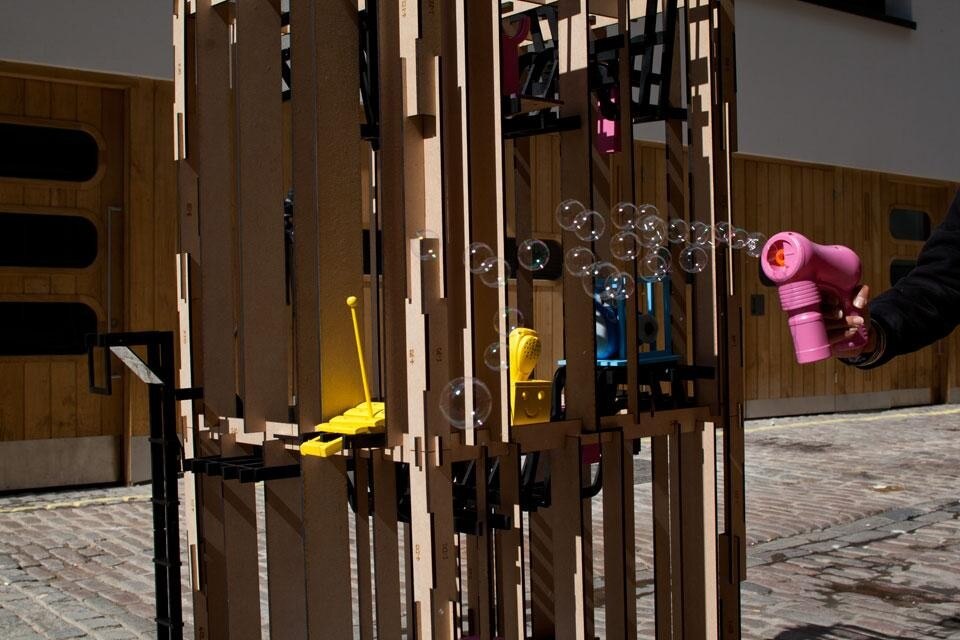 Notions of scale and social interaction were also introduced with periscopes (projecting images of the surroundings from an adult's eye level) and Polaroid cameras (both as a means of documenting moments but also to celebrate the novelty of an instant photograph). Other interactions included were games of Noughts and Crosses, xylophones, noise makers and a bubble gun.
Studio Gil: ToyBox
Architects: Studio Gil
Project Team: Pedro Gil, Christo Meyer, Dan O'Keefe
Location: London, UK
Completion: 2012