Articulated around a spatial device combining pure geometries, tension between spaces and rhythmic sequences are the characteristic features of a flat in the centre of Milan, recently renovated by studio Llabb Architettura. The 60 square metre space is meant to be explored: constantly transforming, it features sliding panels that hide or show rooms according to the needs of the owner, a professional dividing his time between the cities of Milan and Genoa. 
The renovation project has valorized the existing flat by knocking down the central walls and shaping a larger space that houses living area, kitchen and dining room.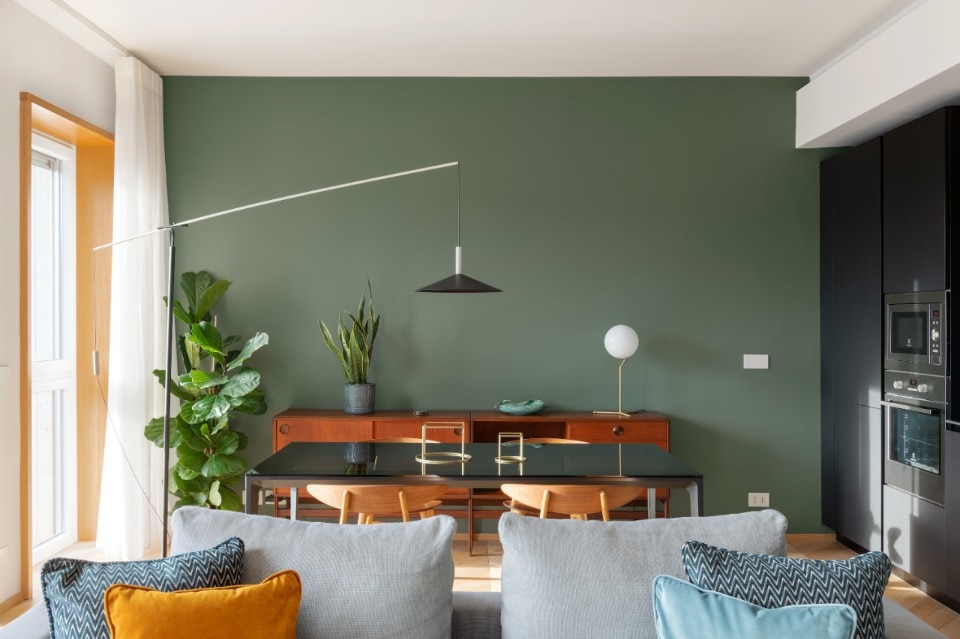 A functional wall clad in glossy Alp green stoneware separates the living room from the sleeping area and becomes the pivotal element for the whole space: equipped with a couple of sliding doors characterized by opaline glass semicircles, it is used as a bookcase compartment, thus demonstrating its versatility. When not in use, the white doors with their geometries can define a circle in the green green marble pattern of the wall, similar to an opalescent moon, while concealing the shelves. 
The protagonist of the space is undoubtedly natural light, flooding the space through a series of six south-facing windows in a linear sequence: their role becomes the valorization of the various textures, surfaces and masses of the project, from the parquet floor to the tones of green on the walls.