An apartment in Dablice, a municipal district of Prague, Czech Republic, is located within a 1970s housing complex distinguished by standardized, prefabricated houses. The apartment, poorly lit prior to construction, was renovated by Papundekl architects, who shaped a versatile subdivision of space and inserted glass-cement partitions.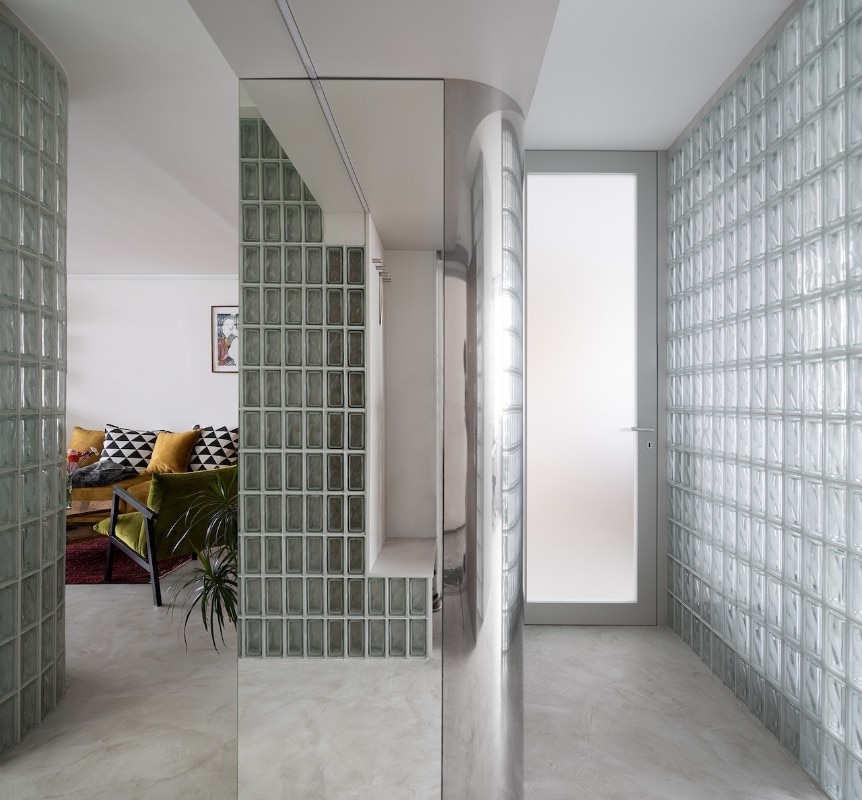 Sunrays, passing through the glass, can thus illuminate the entire house, transforming it: in fact, the semitransparent bricks that characterize the project also have excellent acoustic parameters and can be used in curved partitions and arches, allowing flexibility and dynamism.
Central to the design and distribution of spaces is the bathroom block, entirely covered with glass, around which both the living room and the kitchen are developed. 

The tones used are neutral, enhanced by the reflections of the walls: on the floor is gray polyurethane, chosen in place of the pre-existing linoleum, while in the living area the raw concrete walls of the building stand out. 
For the furnishings, the studio designed a modular wood system attached to the ceiling, which can be configured in ever-changing ways and is ideal for complementing the space with its warm tones – a solution that transforms and adds fluidity by also integrates switches and sockets.
Project :

Apartment with glass-block walls

Location :

Dablice, Prague, Czech Republic

Program :

Private apartment

Architects :

PAPUNDEKL ARCHITECTS (Jan Bárta, Šimon Bierhanzl, Marek Fischer)

Area :

67 sqm

Completamento :

2022