This article was originally published on Domus 1072, October 2022.
Both a space for employees and a showroom for a company that makes and processes plastic materials, Mini Break (Show)room is one of the many designs resulting from changes accelerated by the pandemic: that of searching for greater well-being at work through hybrid environments.

In this case, however, the project and its designer Francesca Perani had to face a few additional challenges, because these 19 square metres are not in chaotic open-space offices, but on the ground floor of an 800-square-metre processing factory.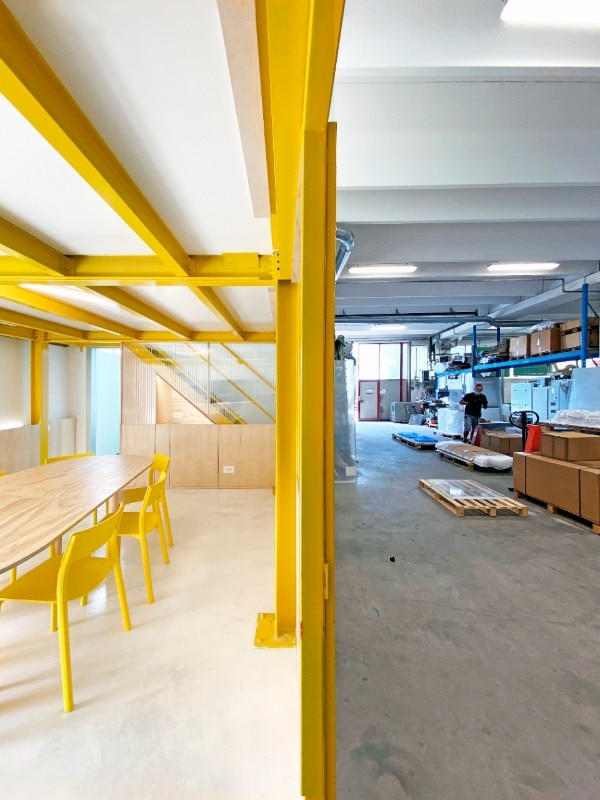 Inserted below a mezzanine, wrapped in the iron beams of the industrial plant, this space was previously used for storage. The metal structure was painted yellow (for safety reasons), making this intervention almost a graphic gesture. The partition panels are made in methacrylate to let in as much light as possible, while the customised furniture is in pine plywood.

As well as being cost-effective, this solution enables the creation of a soft environment, an acoustically sheltered "cocoon". Also in pine plywood is the large table at the centre of the space, which can be used for meetings with clients and for taking a break. Beneath the stairs, which from the exterior lead to the upper floor, is a kitchenette equipped with a triangular-shaped niche that, along with the built-in LED backlit system above the boiserie, showcases products