This article was originally published on Domus 1062, November 2021. 
"I'm under siege. The Knights of Malta are hunting me down". Luigi Serafini jokingly welcomes me into the entrance of his palazzo near the Pantheon where he has lived since 1987. Scaffolding makes access to the 15th- century staircase hard.
"Work here never actually started. It's just a way of persuading the tenants to leave, but I'll take on the Ministry of Cultural Heritage to officially recognize my artist's home-studio". I cross the threshold. An explosion of colour. Red and white prevail. "These are street-sign colours. I associate them with my childhood, taking trips on the highway with my parents". Before reaching the kitchen I notice a painting by Andrea Mantegna. "A reproduction of mine when I was 16. And I made that small painting with flowers in Pedaso when I was 11. I owe it all to my grandmother, she gave me the gift of colour. My dad, an engineer, was terrorised by my inclination for art". He points out a polyptych by Serafino dei Serafini. "I'm always in touch with he past, our ancestors. Traces of our history".
Luigi Serafini's knowledge of history is encyclopaedic: from Trajan and Diocletian to Sixtus V, Milan under Spanish occupation to Slavic influences on Adriatic culture. Few boast his life experiences. Raised in Rome but a true globetrotter. "In 1971, while I was studying architecture, I travelled the US for four months, penniless. Two days in one place, then off again. Back then there was a spirit of searching, of sharing, and this gave rise to my Codex . I was unaware of Ginsberg and Kerouac. We constantly moved around. It was the dawn of the Internet, Arpanet. More bit than beat".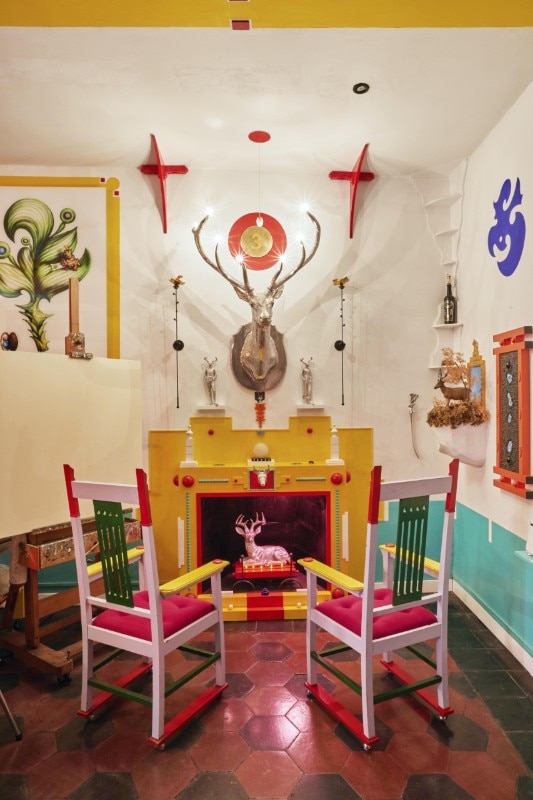 Among the many figures he encountered, the poet Paolo Soleri stands out. "He was wrinkly, like a turtle. He would sit at the centre like a guru amidst his followers. I was struck by his constant references to a Jesuit, Teilhard de Chardin". In the kitchen we sit on chairs that arouse instinctive curiosity. "They are prototypes of the Suspiral I designed in 1982, in my post-Memphis I period. Philippe Starck liked them". Leafing through the new edition of the Codex to be released in October, Serafini lingers on the aficionados and friends who came from that book: Italo Calvino ("taciturn"), Federico Fellini ("a charmer"), Giorgio Manganelli ("ah, his metaphysical ranting"), Fabrizio Clerici ("he wandered in the realm of shadows, neither dead nor alive"), Leonardo Sciascia ("an entomologist, with his investigator eyes"). Entomology is a passion of Serafini who hangs drawings of huge beetles on the doors of his home.
"Be careful not to mistake them with the cockroaches in Rome; they played a vital role after the war: they liberated the historic centre, favouring the migration of people toward other neighbourhoods. Tourists then overturned this order of things, but the pandemic wiped them away, too. Now I can enjoy in silence the spectacle of Bernini's fountains in Piazza Navona". Serafini is galvanised by the subject. "How beautiful the Rome of John Ruskin was. I had the privilege of seeing it, with ruins left as ruins, with all their charm, their own reasons to exist, their cats. Without interventions, or the stubbornness of archaeologists whom I describe as sadistic anatomopathologists, without a poetic guide leading them on. Look at the Roman Forum: it's like an endless worksite, with tourists wandering about, like bricklayers without a foreman"
Never any animosity, causticity, in the thoughts of Serafini who has the gift of the gab. "This is the Codex in the Chinese deluxe version. It's the forged version in print the publisher gave me. When it was presented in Beijing, I thanked everyone, saying I was honoured by the forgery. I saw two officials from the Party, evidently infiltrators, grow pale in the face".
Leaving the kitchen, I come across a small painting by Serafini depicting a simil-detective with dark glasses and a wolf dog peeping forth from under his trench coat. "My tribute to Roland Topor who, with Arrabal and Jodorowski, made an incomparable trio, the Panique collective. I also must admit, I fed on pan y Luis Buñuel, whose film The Milky Way I must have seen hundreds of times. He called himself an atheist, por gracia de Dios ". Heading towards the entrance, I am struck by a headless man-ball of yarn with a pair of Nikes.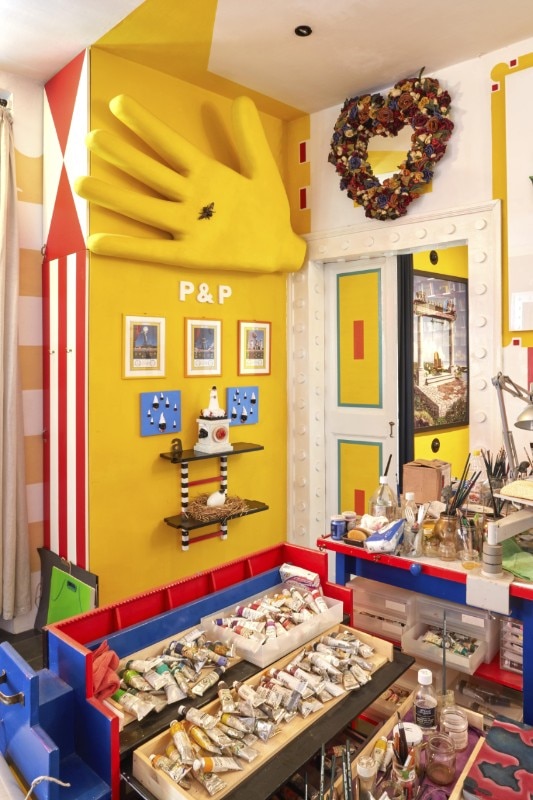 "It's Sul filo di lana, a work of mine from 2003 for a show curated by Philippe Daverio in Biella". Alongside, an enormous hoop that revolves by remote control. "It's Ora Oceanica, a nod to Godard's Alphaville. Another cult classic, with amazing quotations by Borges and Pascal". I cross the library, I leaf through a Code of Hammurabi in cuneiform with facing text in Latin published by the Pontificio Istituto Biblico in the 1950s, testifying to Serafini's obsession for alphabets, signs, numbers. Before reaching his studio, I notice a skeleton above that reminds me of Gino De Dominicis. "Gino was a true artist. No doubt. A real madman. Born from a cosmic egg". Serafini dedicated a painting to him, ¡Que Viva Gino!, with De Dominicis resting on his deathbed, dressed in white, with a hovering red phallus, along with mozzarella in carrozza, some cans of Simmenthal, and an artist's crown. Serafini is an architect, designer, stage designer, painter who cannot be pigeonholed. Rétif à la capture according to Les Inrockuptibles. "No, simply an artiste confidentiel," he adds, smiling.
Opening image :

Luigi Serafini's home-studio in Rome. Photo Simon d'Exéa