At Barrio das Colónias in Lisbon, amidst Art Deco constructions, studio DC.AD in collaboration with Mariana Peralta renovated the ground floor of a 1930s building to host an Asian food restauran. The 70 sqm available are defined by an informal and familiar atmosphere, through the use of colors, textures and privacy tricks.

After the demolition of the existing internal partitions, the longitudinal space has been exploited to accentuate the geometry of the volume available, supporting the fluidity of the space with tables and functional spaces, from the folding door of the entrance to the patio at the back of the building, previously not accessible. The kitchen, on the other hand, was positioned as a central, open element, corresponding to the space with the lowest ceiling height.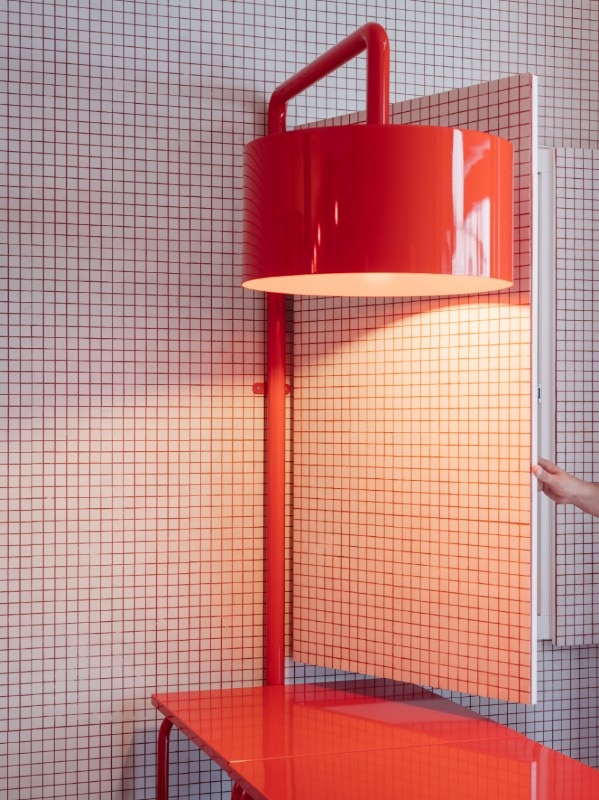 The choice of mosaic tiles for the complete cladding of the space stemmed from the desire to produce a single-material spatial effect, where the cladding of the functional spaces blends with the shared ones. Although only one material is used, its possibilities allow the creation of different environments changing the color of the tiles and the mortar that joins them. This way the two colors used for the palette reverse with lighting, creating balanced atmospheres: one that brings daylight and the other darker for the evening. The two types of wall covering meet in the toilets, through a geometric composition in the shape of a staircase, as if they were sewn together.
Project:

SUN TAN

Architects:

DC.AD + Mariana Peralta

Design team:

Catarina Mascarenhas

Plant styling:

Isabel Theodora

Typology:

restaurant

Client:

Sun Tan

Location:

Lisbon, Portugal

Completion:

2020