In the heart of a district created to house the emerging Milanese bourgeoisie at the turn of the 19th and 20th centuries, where the old Lazaret once stood, architect Gino Guarnieri chose to recover the attic of an eclectic neo-Romanesque building dating back to 1913 as a home and studio for himself and his family. Today the area is an institutional centre of the city undergoing major urban transformations as well as vibrant ethnic and cultural liveliness.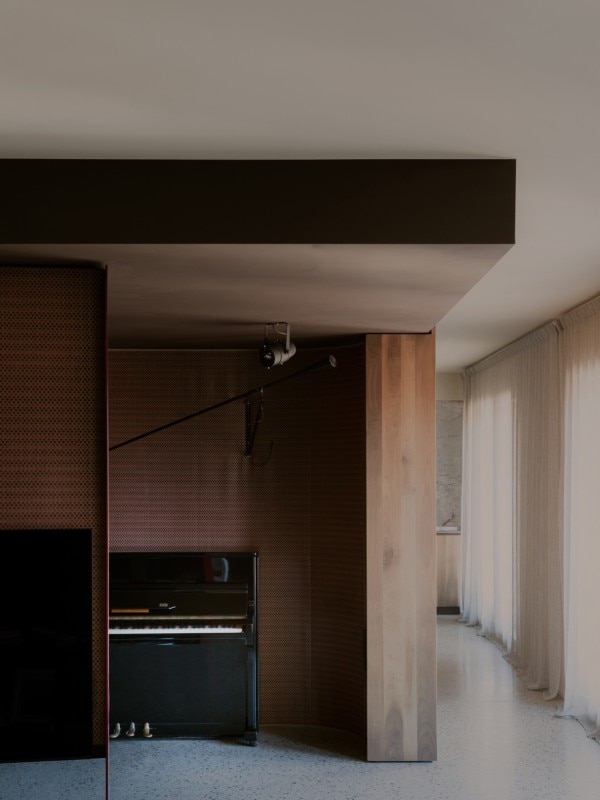 An almost entirely double-pitched wooden structure transforms the terraced roof resulting from the demolition of the previous roof in just a few days.

The intervention, both decisive and discreet, characterised by the use of a contemporary language with essential lines, is dictated by respect for and enhancement of the compositional elements of the existing building, the relationship with neighbouring buildings and the rigorous alignment with the windows on the floor below. The only free and playful gesture is the creation of a patio completely invisible from the outside, overlooking the sky and the old red brick fireplaces of the adjacent building.
The layout of the interior is the result of the architect's ongoing research into the themes of domesticity and space in the home for the contemporary family.
The living area, organised around a lacquered iron and wood furniture unit, is a system of convivial spaces, a succession of communicating and shielded rooms, each with its own function and identity, each one with its own different objects, finishes, dimensions and use of light.
The sleeping area, organized along an equipped distribution corridor, houses the master bedroom and three bedrooms with personal bathrooms, one for each child. Three essentially neutral and equal environments, sufficiently equipped to be real, ideal and symbolic containers of their growth.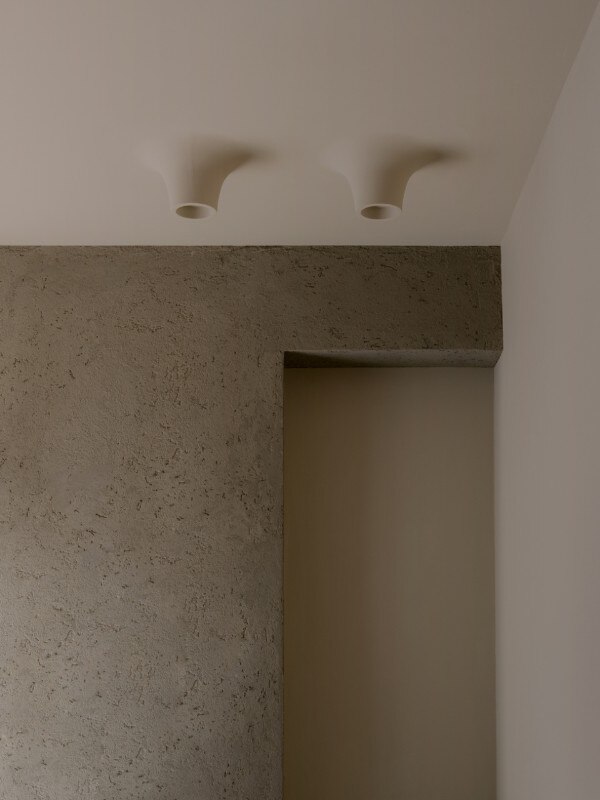 The obvious reference to the traditional bourgeois Milanese home and its masters can be seen in the refined choice of finishing materials and the accurate design of the furnishings.
Single-material floors in conglomerate cement mixed with sanded stone present in every room of the house and outdoor plasters that cross over to the interior, are combined with natural wood panelling, velvet coverings used for hallways and anterooms and the coloured and veined marble, used both as traditional bathroom coverings and decorative panels in the dining and sleeping areas.
Project:

via Settembrini 9

Program:

Recovery of attic in historical building for single-family residence use

Architects:

studioAmilano

Project team:

Gino Guarnieri, Jacopo Agnolazza. External collaborator Luca Mercatelli

Area:

228 sqm

Location:

via Settembrini, Milan

Completion:

2020

Structures:

Ferraro Wooden houses

Custom-made furniture:

Arbusta Furniture

Door and window frames:

Cobola Srl