Right near Piazza Navona, in one of Rome's most densely populated areas, Palazzo delle Pietre is a new destination: 12 luxury flats for rent inside a 15th-century palace repurposed in a detailed and respectful way, even though not philological. The stones that lend their name to this residence come from the private collection of Carlo Mazzi: fragments of ancient sculptures, inlaid friezes, travertine capitals and doorways. The result of a passion inherited from his great-grand dad and nurtured over time, the "stones" make a visit to this ancient palace even more special; the president of Prada, with his wife Patrizia and children Barbara and Luca, have transformed this place into exclusive flats and their own home.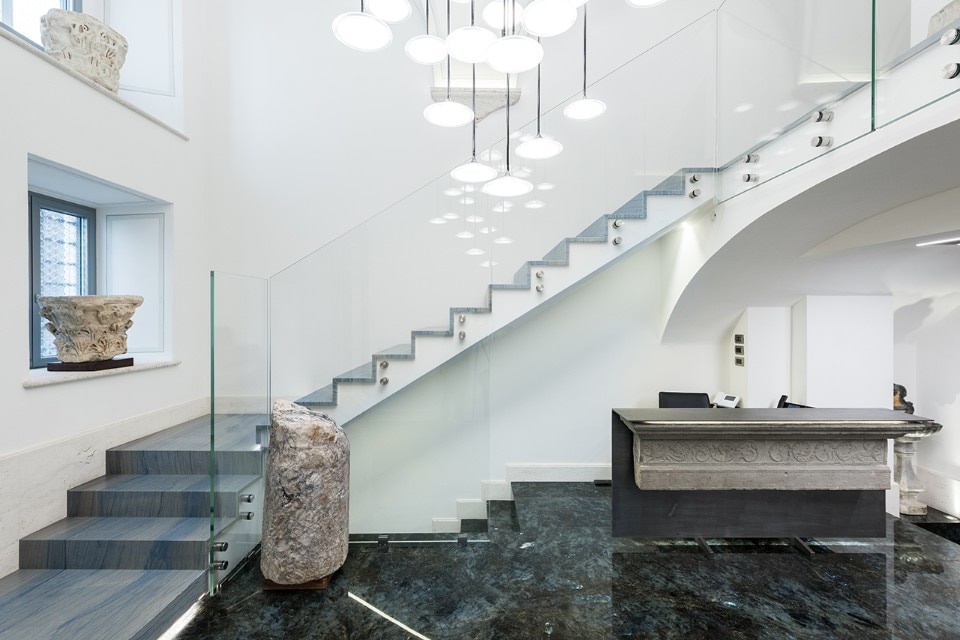 A truly charming residence, intended to be a holiday home or for more or less short stays, the Palazzo delle Pietre offers its guests 24 sleeping accommodations and exclusive hospitality far from home but with all personal comforts and privacy (including shopping delivery and 24/7 concierge service). On seven floors and 2,500 sq m total, with apartments measuring 40 to 130 sq m each, plus a spa and a gym.
The renovation was done by Romina Fava and Maurizio Pappalardo, from mp2a architetti associati. Lasting over five years, "the restoration work was extremely complicated," they explain, "due to the serious structural damage and the decay of the walls, which had to respect strict guidelines". The intervention including demolitions, above all regarding successive and superfluous additions, kept the dimensions and peculiarities of the main spaces, but was able to include a sophisticated service system. The intermediate crawl spaces offered the opportunity to display the "stone" collection, found alongside the customised furnishings made by artisans in Tuscany and Rome, plus Artemide lights, De Padova and Alivar furniture, Kartell accessories.