Stefano Casciani: Dear Maldonado, this is quite thrilling for me. Do you remember that I interviewed you some 30 years ago?

Tomás Maldonado: Vaguely.
We talked about schools and design education in Italy and elsewhere. I was 22 and still a student when I interviewed you, Sottsass and Mari. The conversations were published by Alessandro Mendini in Modo magazine, which he had founded that same year, in 1977.
Then maybe you will have the insight to understand what interests me and not publish something that is a modified version of my thoughts.
[…]
Do you still like living in Milan? Do you pass much time here?
I'm here now and I spend a lot of time painting.
How many paintings do you make per month?
It's hard to say. In this new phase, my paintings are smaller than before. I've done 80 so far.
Why did you take up painting again after almost 50 years? Your first new paintings are from 2000.
When I went to Germany in 1954, I interrupted my artistic endeavours to dedicate myself to a different type of experimentation. At the Hochschule für Gestaltung in Ulm, I wanted to transfer my previous investigations into the arts to teaching. When I returned to Italy, I continued to cultivate more of my interests – semiotics, language, linguistics and philosophy of science and technology. I always wanted to contribute some kind of innovation.
So could we say your recent works aren't merely a return to painting, but a new instrument to explore reality?

I believe so. In this sense, in each of my new paintings there is an inventive component. Each represents an attempt to introduce new elements of experimentation. One thing I'm sure of is that now, at almost 90, I'm still doing what I've always done, since the age of 20, with the same passion and discipline.
[…]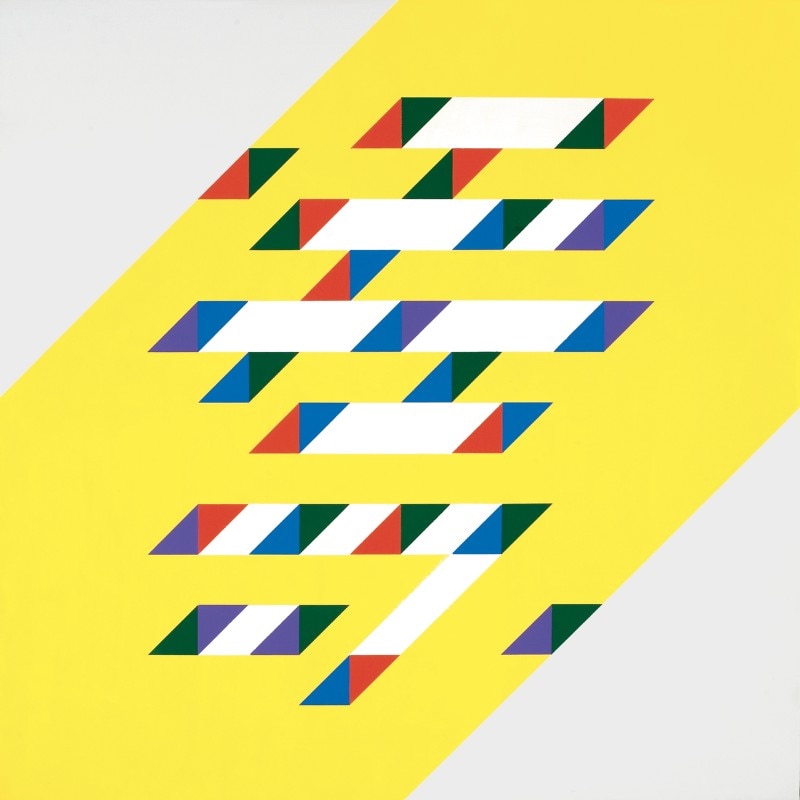 I have no doubt about that. Speaking of the Ulm School, of course we cannot review its whole history here, but when I reread your book Disegno Industriale: un riesame I found a reconstruction of the Bauhaus events that highlights the extreme importance of Theo van Doesburg's role in the school's evolution, with his controversial and "revolutionary" stance. Just for fun, also in relation to the history of the Ulm School, do you feel more like Van Doesburg or Gropius?
That's an interesting question. Last year I held an inaugural speech in Weimar for the 90th anniversary celebration of the Bauhaus. The organisers asked me to call it "Is the Bauhaus still relevant?" It was the same title I'd given to a paper I wrote in 1961, where I sustained that, yes, the Bauhaus is still relevant in part.
Then in the conference I argued the opposite, and this obviously caused some irritation among the Bauhaus fans present, but also enthusiasm among the young attendees.
I can imagine. There must have been a certain degree of agitation among the old supporters of the Bauhaus ideology.

In any case, when I analysed the Bauhaus phenom- enon, what I found most interesting was the role of Hannes Meyer, who was the last real head of the Bauhaus, disregarding Mies van der Rohe's suc- cessive appointment. Meyer had a highly Marxist vision of the relationship between design and society. So in my speech I defended Meyer's posi- tion instead of Gropius's, who became a formalist precisely under the influence of Van Doesburg's work.
So is the Bauhaus still relevant?
For a certain period, I thought it remained appli- cable, but now I'm no longer convinced. I still admire what happened there, also considering that it pratically all came about at the hands of 20- and 30-year-olds. But we cannot think of the Bauhaus methods as a solution to the problems facing designers today.
[…]
What was Italy like in the late '40s, when you came here for the first time?

Extremely different from today. I arrived in Genoa by boat on 25 April 1948, after a long trip in third class. The ship carried both passengers and cargo. It docked in many ports of South America and Europe before arriving at its destination.
So I guess you were 26. It must have been an unforgettable experience...

No doubt about that. Although more than 60 years have passed, I remember practically every detail – the most fascinating and the most grotesque.
Is there a particular one that you'd like to share with us? You're famous among your friends for your long anecdotes of life, in the best Latin-American literary tradition.
One day, when we were still crossing the ocean, I received a curious invitation from the captain to have lunch in first class. I still don't know why. I suppose it might be that my appearance was more presentable than that of my comrades in misadventure from the bowels of the ship. I decided to accept. I put on the best suit I had and went up.
On deck, I discovered a group of Italian passengers who, I later found out, were returning to Italy as tourists for a visit to their homeland. To my unspeakable incredulity, I found these distinguished gentlemen, impeccably dressed in white, shooting furiously at seagulls (as you know, seagulls have an inborn habit to follow ships) with guns they had brought from Argentina. Afterwards, the captain explained to me that they were uncertain about the outcome of the elections underway in Italy. If the Communists should win, they wanted to be ready to defend themselves and their wives upon arriving in Genoa.
Well, the Communists didn't win, and I must admit I was disappointed. I was still a member of the Argentinean Communist Party at the time.
For how long were you editor-in-chief at Casabella?

Four years, from 1977 to 1981.
Was there a kind of "collective" helm between you, Omar Calabrese and Pierluigi Cerri?

Yes, the collective had an important role.
Speaking of magazines, at a recent public conference at the Milan Triennale, you made a comparison between Domus and Casabella during the period when the respective editors-in-chief were Mendini and yourself. What was the comparison?
At that time, Domus and Casabella expressed two completely opposite cultural visions, yet they had something in common. Both, each in its own way, refused to render homage to "continuity". Domus under Mendini was a window onto the liveliness of pop themes and graphics. My Casabella aimed at interpreting the need to redefine, in a broad sense, the role of design in a profoundly changed society. This direction was much appreciated by students and young architects, but less by readers who regretted seeing the traditional format changed.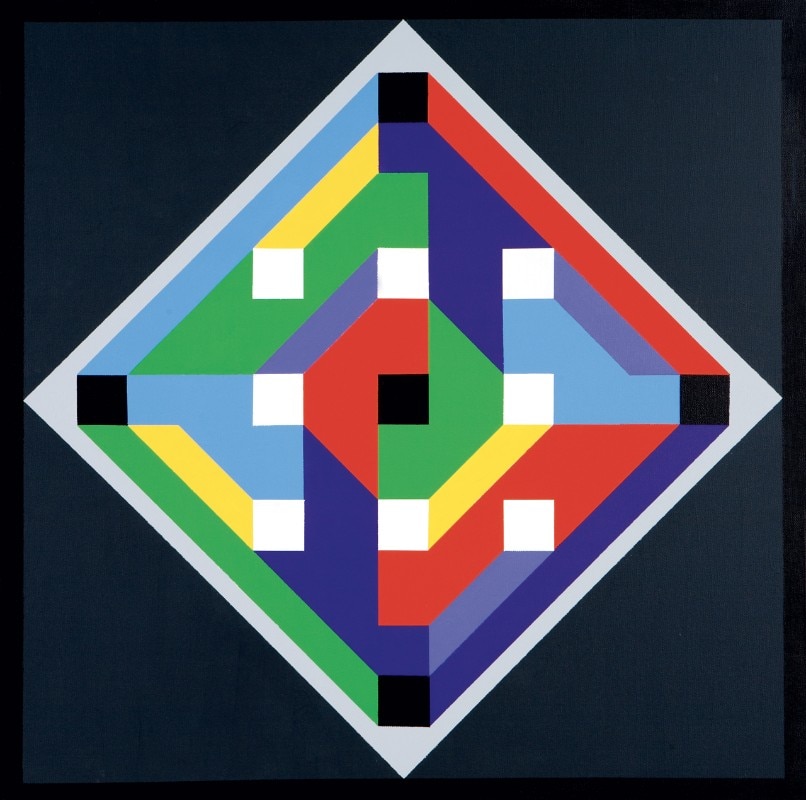 I was still a student and read Casabella with much attention. I've kept a few issues, like the one on the Hochschule für Gestaltung in Ulm and the one on the Bauhaus. Do you think that formula would be viable today?
No, I don't. Nor do I think that Mendini's formula for Domus in those years could work nowadays. Are you looking to reproduce it?
No, we won't be repeating it.
Indeed, times have changed. There's no longer room for what Alessandro did, or for what I wanted to do, not even for people like Gregotti who are still anchored to the idea of modernism's continuity. There seems to be space only for a strictly technological life made up of super-rapid information. But I don't know what is conveyed by publishing information on buildings in Dubai or new buildings in general that are published just because they are new. I'm interested in knowing how all of you see this situation. It's an interesting challenge to figure out what to do with an architecture magazine at this moment, don't you think?
For now, I can only say that the Domus format will be more reflective and calm, also visually. We'll take our time and space to reason and analyse. Always presenting the mainstream is uninteresting, and we don't want to engage in the frenetic chasing of information that is typical of the Internet syndrome.