We met with Rossana Hu and Lyndon Neri during Milan Design Week to hear about the latest objects they have created. Their studio, co-founded in 2004 in Shanghai, presented a series of products on this occasion: the Umu collections for Ariake, 98.6 °F for De La Espada and Ren for Poltrona Frau, the April chair and the Intersection collection for La Manufacture, The Weekend Series chairs for Very Wood and the Zai handles for Ento. These are objects born from different stimuli, but they all descend from an idea of space. Says Rossana Hu, "Any kind of thinking that underlies our designs is inseparable from the fact that we are architects. It is the same foundation on which our way of conceiving living is based: we are interested in everyday life, the poetry that springs from small things, and discovering new things through the past." This orientation of the duo is also evident in their latest architectural achievements, such as The Walled (2017), the Aranya Art Center (2019) and the Fuzhou Tea House (2021).
The Shanghai-based studio rediscovered "an interest in marginal things", she tells Domus: it was during the pandemic that collaborations with these companies began, some recently established, others small in size and with a strong inclination towards craftsmanship. When, for example, La Manufacture artistic director Luca Nichetto involved them, he did so telling them that "the brand was trying to do something new", says Lyndon Neri.
The duo says that asking themselves what role they wanted to play in design was a fundamental step, from which it was natural not to tie themselves to established brands, which already have a long list of products created by important figures. Instead, they decided to "reverse this perspective, supporting emerging or smaller brands with our work, which are also those who have suffered most from the economic consequences of the pandemic", says Neri. "We also abandoned some bigger projects, because we realised that we were only being called upon for our name." – adds Rossana Hu – "When we choose to work with a brand, it is because its history and identity count. When meeting these clients for the first time, you immediately perceive a different approach in the way of doing things".
To understand what they mean, they tell us about their first architecture project in Italy. They describe these clients as passionate about their work and attentive to detail: "they are the fourth generation of managers of an accommodation facility built in the 17th century, later modified in the 19th century. From the first meeting, it was clear to us that we were not working for a large hotel chain". It is while talking about this new direction that Neri&Hu mention a recurring feeling in the early years of their career: "we also passed through the position of emerging architects: when we first came to the Salone from China, we did not find a welcoming environment. We had the feeling that we had to 'push' and it was thinking back to that moment that we decided on new criteria for choosing whom to work with".
Many of the projects they have designed for this Milan Design Week are seating. "The first question we ask ourselves when we design a chair is whether the world really needs another chair", says Lyndon Neri. "The action we might consider complementary to sitting is walking: the world continues to produce shoes, because walking is a condition inherent to humans". Shoes are designed specifically for each type of movement: for running, marathon running or jumping, Neri continues. The same goes for sitting down: you do it for work, for studying or for having a coffee and a chat. 
We don't know if our pieces will ever become classics, but we avoid settling for the taste of the moment, referring instead to a precise idea of what we want to achieve.
For Wittmann, for example, the studio designed Block, a sofa with essential, almost primitive lines. Its design starts with a series of 'blocks', which the studio wanted to give a certain elegance. "We don't know if our pieces will ever become classics, but we avoid settling for the taste of the moment, referring instead to a precise idea of what we want to achieve," continues Rossana Hu. La Manufacture's Intersection chair, on the other hand, is almost monastic, perhaps precisely because it was conceived during lockdown; April, another chair for the French brand, surprises instead because it is so small: "we wanted it to be compact so that it could disappear under tables or be stacked, since domestic space has become even more important".
For Neri&Hu, the current separation between the different design scales is extreme: "we are fascinated by the idea of a total design". Rossana and Lyndon tell us that during their stay in Milan they visited Gio Ponti's church of San Carlo, amazed at how the project reached every detail, and how they feel this dimension is in their DNA. The studio has always made custom furniture for the spaces it designed and sometimes these have then gone into production. "We recently finished an Italian-Japanese restaurant in Paris called Papi. We couldn't find the right pieces for this interior, so a chair was born, which we then produced with De La Espada". At the beginning of their careers, furniture was never detached form the architectural projects: it is only in the last 6-7 years, says Hu, that "people ask us to do this and we do not hide the fact that at the beginning it was difficult to think of an object without having a space as a reference. It is like the difference, in fashion, between prêt-à-porter and haute couture: in the first case, you design without knowing who will wear that item, while in the second, being made-to-measure, you have a relationship of a certain kind with the client".
Finally, among the objects presented at this Design Week are the handles for Ento, an object that they again designed as a custom object for architectural projects, – without a certain dissatisfaction with the way they were manufactured. "Conceiving the collection Zai was not easy, precisely because so many architects have addressed the subject. At one point it seemed that between Gae Aulenti, Rem Koolhaas, Walter Gropius and Gio Ponti everything had been done!". So, they decided to go back to the very idea of the hand, which translates into a minimal line, but which does not neglect certain softness. 
Any kind of thinking that underlies our designs is inseparable from the fact that we are architects.
"Now we can use them for our architectural projects," they say. At the end of our conversation, Lyndon Neri and Rossana Hu again reaffirm an approach closer to 'impression' rather than 'performance'.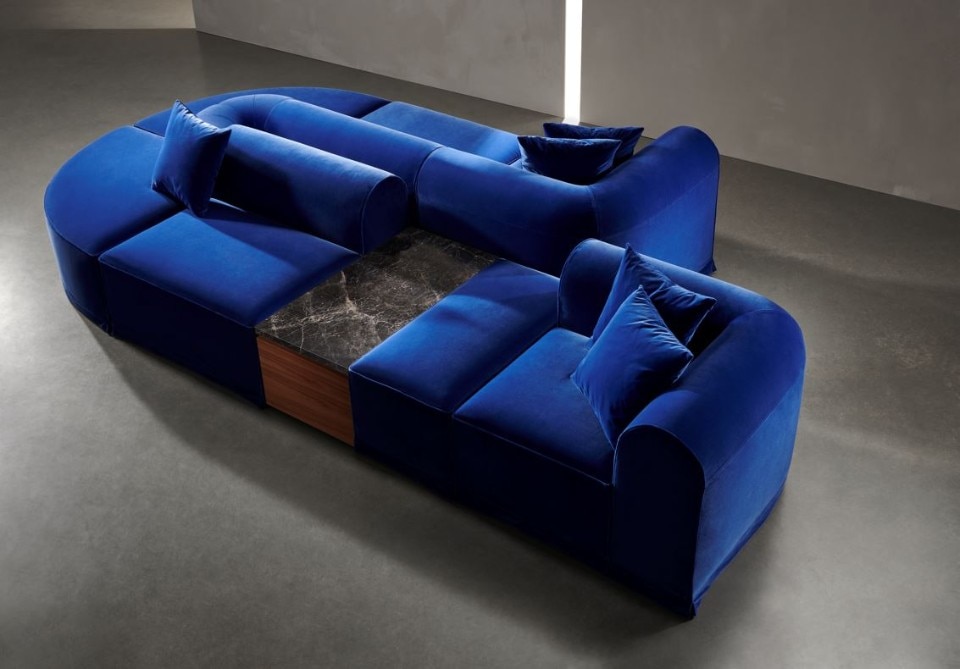 Opening image: Neri&Hu, Intersection Collection for La Manufacture. Photo studioblanco