In contemporary China the culture of the dragon, with its values of identity and memory, seems to be succumbing to the pace of the transformation that is taking place in the country.
However, this conflict is calmed by Neri and Hu intervention, which proposes a marketing operation on the one hand and a rediscovery of local history on the other.
After being dismantled from its original location in Anhui province and restored, a valuable wooden structure from the Qing dynasty (1644-1912) belonging to the home of a high-ranking official is acquired by a major group of real estate investors and transported to the Chinese metropolis.
The group, together with the government, launched a public-private operation and asked the designers to create a building to preserve the "relic" and to host, in the short term, the spaces of a showroom for real estate sales and, in the immediate future, a tea house open to the city: this last function will tie a thread with the traditional tea culture of the Fujian province which Fuzhou is the capital of.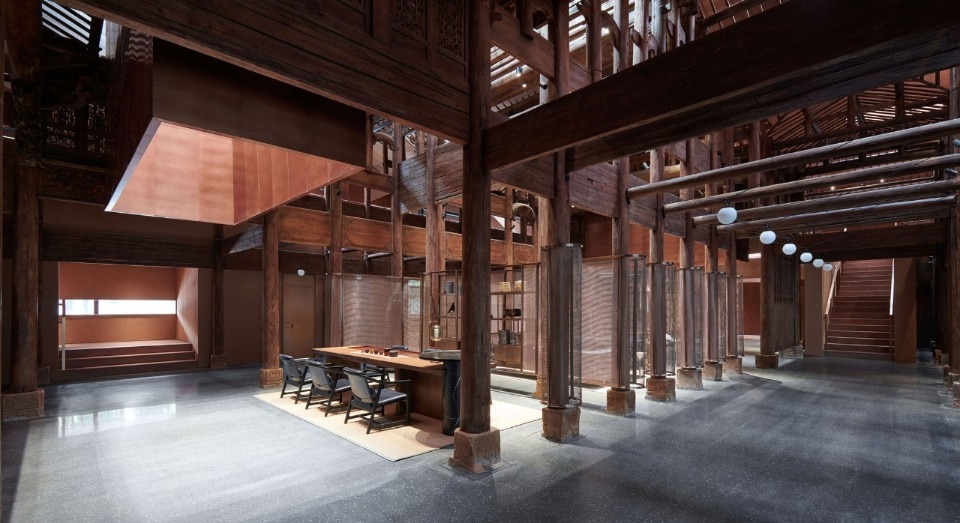 Around this fragment of history the studio designs a building that stands on the water, a reference to the Jinshan Temple built on the Wulongjiang River and associated with the city.
The envelope consists of a pigmented concrete structure and an articulated copper-clad roof. The heart is the full-height central space that houses the relic around which the three-level building unfolds.
The entire architecture is conceived as an exhibition route: visual glimpses from the elevated walkways allow the woodwork details to be appreciated from different perspectives.
A theatrical lighting almost Bernini-like, aimed at emphasizing the solemnity of the scene, dramatically crosses the space by penetrating it from the zenithal slits and from the suspended metal roof.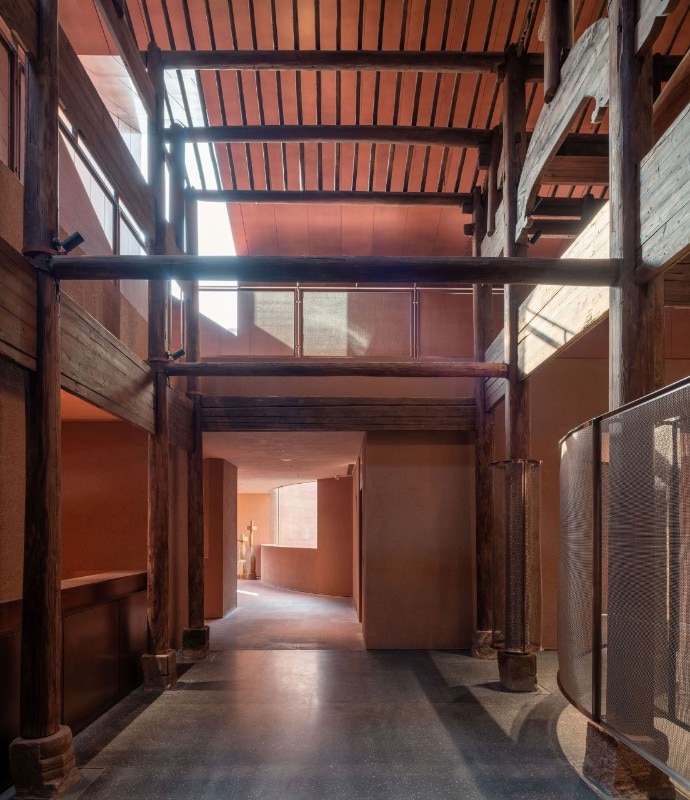 Among the multi-storey towers, the dragon still breathes and embodies the yang, the fertile and creative spirit that here generates a new balance between past and present.
Project:

Relic Shelter

Studio:

Neri and Hu Design and Research Office

Senior Architect:

Scott Hsu

Project team:

Jorik Bais, Yinan Li, Kathy Hu, Fong Huang, James Beadnall, Ivana Li, Jesper Evertsson, Du Shangfang, Bingmiao Li, Evelyn Jiang, Junho Jeon, Ath Supornchai, Haiou Xin, July Huang, Becky Zhang, Greg Wu

Local Design Institute:

Fujian Boyork Architectural Design co.ltd.

Lighting Consultant:

Shenzhen MATT Lighting Design & Consulting co.ltd.

General Contractor:

Mingzhu Construction Engineering Group co. ltd.

Client:

Yango Group Fuzhou

Location:

Fuzhou, China

Area:

1,800 sqm

Completion:

2021