This article was originally published on Domus 1072, October 2022.
For Jean Prouvé (Paris, 1901 – Nancy, 1984), the celebrated and pragmatic French designer, a project took on meaning if it aimed to satisfy the needs of society. His training as a metal worker and his skill in crafting materials, together with his political activism during the Resistance movement in France, led him to create easy-to-assemble furniture as well as prefabricated, portable constructions, such as housing for refugees, that could be built quickly. His designs were accompanied by detailed, precise instructions, where he quantified the number of people and the amount of time required for assembly.

Prouvé worked with sheet metal, personally assembling and welding the elements. The wealth of expression of his language started from the engineering aspects, from the cost of materials and production times, in order to achieve those accessible and "useful forms" that accommodated mass production and a notion of modernity.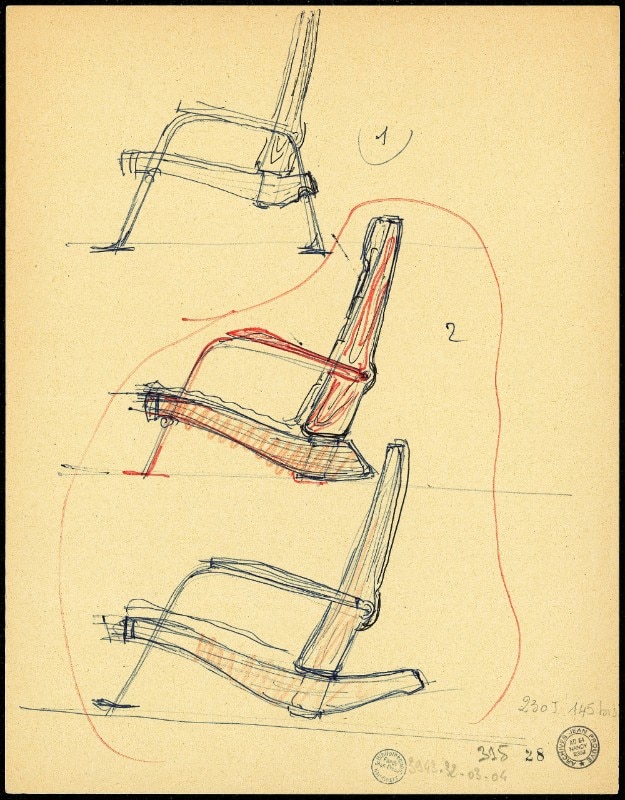 There's a charming, wooden-frame lounge chair with a high and inclined backrest in tubular steel that dates back to 1948. It appeared in the pages of Domus in June 1953 (Domus 283), in a form that would later evolve, as part of a proposal for "mass[1]produced furniture" for living rooms. The chair was succinctly described in all its components – "with detachable foam padding" – alongside shelves, chairs and tables that would become the signature style of his practical and streamlined designs. The lounge chair strikes a balance between different materials, which Prouvé skilfully combined thanks to his expertise in craftsmanship and a desire to explore functional design. With their bold silhouette, the rear legs support the weight, while the front is lightened by the legs in tubular iron. 
Only a few original pieces have remained in circulation, but today the chair has been reissued by Vitra, which for over 20 years has been manufacturing furniture by Prouvé while enhancing his work, in a fruitful dialogue with his daughter Catherine. The archive drawing – held at the Centre Pompidou in Paris – presents his ideas on the static role of the legs, a distinguishing structural element. The unique silhouette expresses the chair's sturdiness and role in distributing the weight – features that define the Kangourou lounge chair, evoking the strength and stability of the rear frame. Today it is offered as a limited edition, in natural oak wood and metal. It comes in two types of upholstery, including a bouclé in Bleu Marcoule, a bright shade of blue, and Blanc Colombe, both selected from those proposed by Prouvé himself for a 1950s design.