Madrid, Eindhoven and Milan united by authentic design. Where authenticity means above all not betraying one's own research and demonstrating continuity also in working and human relationships. Today, independent designers are required to be consistent, and must know how to spread their principles far beyond the object they create. The exhibition-manifesto curated by La Cube and Salvatore Peluso at Camp Design Gallery in Milan offers a shelter against the pitfalls of a hysterical market, and guarantees a protected passage to those designers, architects and artists who are "independent" by constitution, who question the fundamentals of the discipline, with a cohesive attitude.
The Italian word "Movimento" (movement, ed.), title of the exhibition, is associated with its meaning of "any phenomenon of aggregation and mobilisation of individuals who, as a result of socio-economic changes, develop consciousness about their social group identity and actively engage to achieve a change in their condition." The figure of the curator, as Peluso explains, here is understood as a community organiser, who does not have a political role, but is a catalyst in society for various kinds of projects: a figure that ensures autonomy to designers, and who is able above all to listen and bring people together. Milan therefore welcomes the tried and tested methods of other cities such as Eindhoven – the mecca of indie design – and Madrid – strong in the fusion of art and design – to launch an alternative model to the big round that is Salone del Mobile.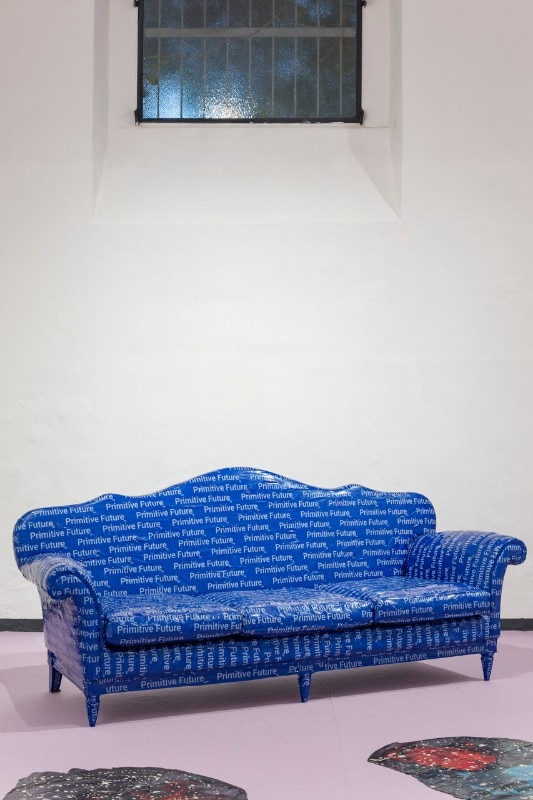 The works of the nine studios on display are the result of various types of research: from the idea of comfort, to the obsession with unique pieces, from the synaesthetic object to the semiotic one. We find stools made of silicone scales that look like dinosaurs, a bed to sleep like monkey, an antique sofa made wrapped in electric blue adhesive tape, 'living' ceramic vases that win over the resistance of their mould, a lamp that comes from primitive gestures and the interpretation of the interpretation of the interpretation of a textile design project that analyses the concept of reference. The protagonists of this first edition are Andrès Izquierdo, La Cube, Lucas Munoz and Ines Sisitaga from Madrid; Elissa Lacoste, Tellurico and Shahar Livne from Eindhoven and Parasite 2.0, Matteo Pellegrino and Plstct from Milan.
Exhibition title:

Movimento

Gallery:

Camp Design Gallery

Curated by:

La Cube, Salvatore Peluso

Designers:

Elissa Lacoste, Shahar Livne, Tellurico, Andrés Izquierdo, Inés Sistiaga + Lucas Muñz, La Cube, Matteo Pellegrino, Parasite 2.0, PLSTCT

Opening dates:

7 November 2019 – 20 December 2019

Address:

Via Giovanni Segantini 71, Milan