Food, the final frontier for design? From traditional cooking to nouvelle cuisine, the attention given to the presentation of food has always made a difference around the table. A well-known Japanese saying suggests that one eats first with the eyes and then with the mouth. So it is no coincidence that it is the Land of the Rising Sun that developed the art of sampuru, colourful dishes that restaurants put in their shop windows to promote what the kitchen actually serves up — in some cases they are even more attractive than the real ones. For a few years now, the world has been enjoying the possibility, albeit remote, of trying out dishes by a genius of applied science such as Ferran Adrià, who has also referred to architecture in his dishes, dedicating equal time and energy to presentation and taste. The result meant full bookings for his small restaurant El Bulli on the bay of Roses, a few hours from Barcelona, known to surprise even the most refined palates before closing a few years ago.

Food is ever more present in the online world and cooking is enjoying a moment of new and widespread popularity. Perhaps the reason lies in a renewed interest in what one eats and how one eats it; but can design also contribute to improving people's diets? The first discerning and complete investigation into the design of food appears at the MART museum in Rovereto, where Cristiana Collu has recently taken the helm, with the exhibition Food Project. The Shape of Taste, curated by Beppe Finessi, an exhibition project that represents an attempt, through a display of over 200 engaging objects, to stimulate in the visitor a different kind of aesthetic and sensory perception: a selection of works "to eat with the eyes, taste with one's gaze and perceive with all the senses" is how the museum describes it. The media has been reporting on good food for years now, exploring every technique and application, and the parallel with design appears increasingly apt: mass-produced food or limited-editions?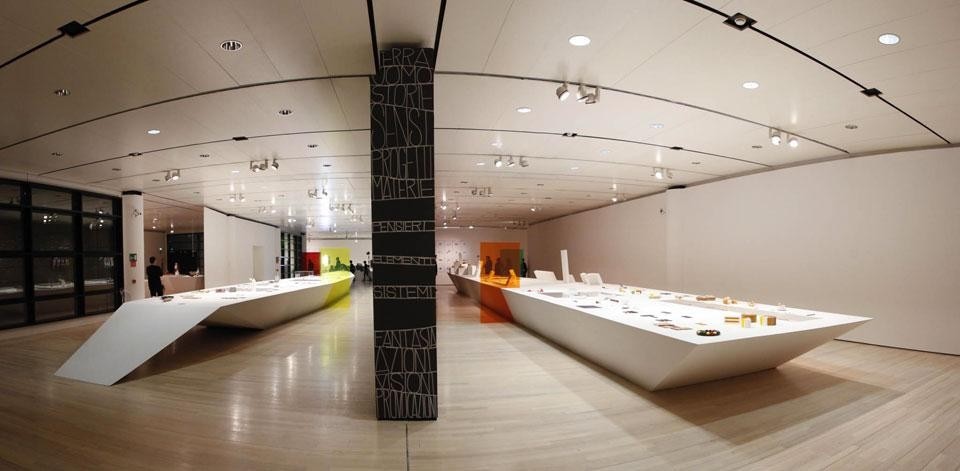 The continuous and articulated experimentation of Michelin-star chefs could well represent an example of food in limited edition — compared perhaps to a limited edition chair? —, produced for a few and served in the temples of top international gastronomy. One could write pages about mass-produced food, conceived by industrial manufacturing, constituting for some a dubious resource beyond the extent of prejudging the naturalness of the raw ingredients. In the USA, most of the poorer members of the population can only afford McDonalds: while it is true that it is not the healthiest choice, it is equally true that you can have a meal for a few dollars. As Paola Antonelli says, "in too many regions of the world the simple availability of food is still today a question of life and death. In others where food and wellbeing are abundant, it is part of the system of symbols that make social life and basic communication possible."
For Beppe Finessi, for whom "everything is design, even (and above all) food", the exhibition has been developed starting with the architectural structure of more traditional dishes before moving on to the contribution of great Italian chefs, to then focus on the construction of a new gastronomic aesthetic with top names like Carlo Cracco — with books on food —, Massimo Bottura — with his homage to the greats of international culture, such as Thelonius Monk —, and Gualtiero Marchesi — with his gold and saffron risotto and open lasagne. These are joined by the liked of Davide Oldani — with his delicious caramelised onion —, and Davide Scabin — with his Cyber Egg.

The exhibition starts however with an orange, as an homage to the great Bruno Munari, who refers to this fruit treating it as if it were a project realised on paper by an industrial designer. Elsewhere, Munari wrote an heartfelt essay in listing all the utensils used in classic western cooking compared to the use of just wooden sticks for eastern countries: who knows how the geography of utensils changes?
If design should help us live better without resorting to the insect gratin by Susana Soares, what could be a more important issue to address if not our daily bread? What could be more edible than the everyday use of things?
The show's section on Anonymous Food sees a parade of arancini di riso, panettoni, lasagne, spiedini, strudel and olive ascolane — that require a process of ingenious and articulated making — as well as the many different shapes of bread, basic food for many, that all over the world represents different interpretations of the same design theme. When you get to the biscuit ice cream cone or the stick that holds up the industrial popsicle you're already well away, as in the making of maccherone rigato and the mould with removable layers for puddings — Ding 3000 with S-XL Cake, 2007. We are in 1925 when Haribo created the liquorice wheel, isn't it also a designed object?
There are some amusing interpretations in the show's Form with Function section, such as Paolo Ulian's 2004 Finger Biscuit, a biscuit to wear on your finger and dip in Nutella, and his 2002 chocolate ruler Golosimetro; Alexis Georgacopoulos's 2000 baguette with a handle; and Giulio Iacchetti and Matteo Ragni's Saltinbocca — the former has also created various textures for biscuits. Among the curiosities also lie a few Interferences — the title given to the section dedicated to project: everyday objects made with food, brought together in the exhibition as paradoxes or simply inspirational material. Notable are the diverse allusions to food and its making like the Gaetano Pesce's 2004-2012Spaghetti Bowl that looks like rolls of spaghetti in tomato sauce, or Bless Design's Candy Sun Glasses .

The food revolution has brought with it new professions: we now have food designers. One of them is Spanish designer Marti Guixé who presents his Menu Degustació. Guixé has been a real revolutionary and trailblazer in this field for over ten years. His projects include the 2001 Fish Snack System, the 1997 Techno Tapas and the 1997 Edible Pen, made from a liquorice stick.
The architecture of food is also an expression of the times in which we live: some examples worth mentioning could be the carpaccio (invented by Giuseppe Cipriani in 1963), 1990s molecular cooking, the return to traditional cooking 2010 and onwards, up to contemporary sugar necklaces. And if "eating is a bit like thinking", as in Aldo Colonnetti's essay in the exhibition catalogue, eating is also writing: here we have Nendo's 2007 Chocolate Pencils. Then we have a chair made from bread (the 2007 Poltroncina di Pane) and another made entirely from rice (the Sedia di Riso, from the same year), both by Riccardo Blumer.

A number of projects place the spotlight on disturbing aspects of the future of food like Dominic Wilcox's 2009 Genetically Modified Egg, an egg with a square base that stands up on its own, or the decorated yolk in Matt Brown's Printed Egg. If design should help us live better without resorting to the insect gratin by Susana Soares, what could be a more important issue to address if not our daily bread? What could be more edible than the everyday use of things? Maria Cristina Didero

Through 2 June 2013
Progetto Cibo. La forma del gusto ["Food project. The shape of taste"]
MART
Corso Bettini 43, Rovereto