The Cultural Foundation Kulturstiftung Basel H. Geiger (KBH.G) presents a new two-part project dedicated to nature as a work of art. The first, 'Arena for a Tree', is Klaus Littmann's latest artistic intervention, open to the public from 27 April to 24 May on Münsterplatz in Basel, Switzerland. The work is accompanied and contextualised by the exhibition 'Tree Connections', which can be visited from 11 May to 11 July at the Foundation's exhibition space.
In line with Littmann's artistic research, "Arena for a tree" and "Tree Connections" are both dedicated to and inspired by nature. Littmann's interest in the natural realm is well-known to the general public for interventions such as "For Forest - the unending attraction of nature" (2019), for which Littmann brought to life a real forest in the Wörthersee stadium in Klagenfurt, Austria.
In "Arena for a tree" a solitary tree is positioned in the centre of a public accessible arena. The basket-shaped structure imitates the irregularities and twists of a tree. With a diameter of 12 metres and a height of 8 metres, the Arena - designed in collaboration with Schnetzer Puskas Ingenieure - can accommodate up to 50 people. At first glance, the work might suggest a "denaturalisation" of the tree into a work of art to be contemplated and protected. On the contrary, the artistic intervention proposes to erect the tree itself as a symbol, an "ambassador" of nature, as well as a testimonial for the exhibition and its message. The tree was carefully selected by the Swiss landscape architect, Enzo Enea, not on the basis of aesthetic considerations but envisaging its possible integration into the Basel tree population and the long-term adaptation of its species to the altered conditions provoked by global warming.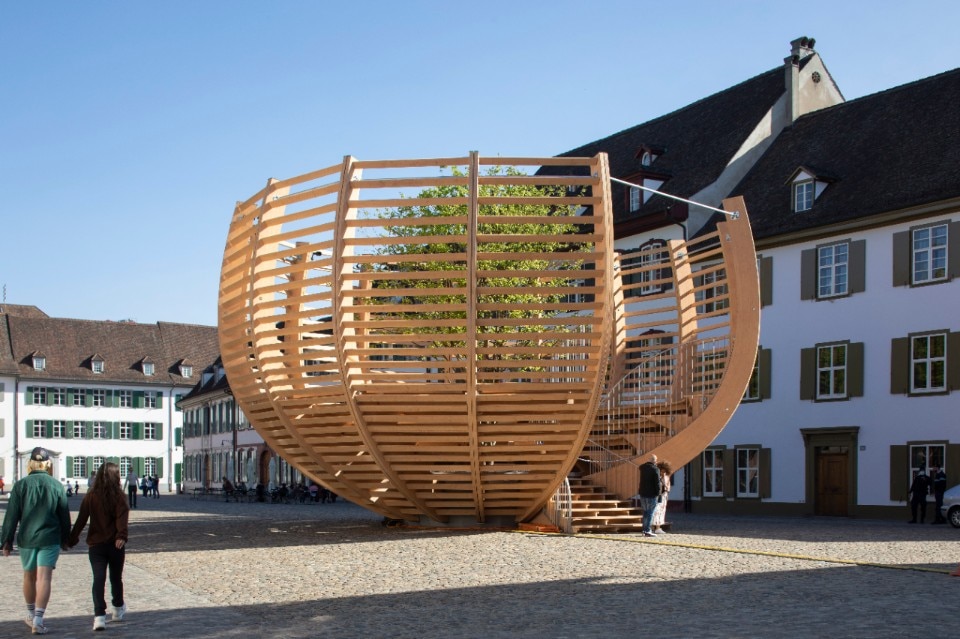 The exhibition "Tree Connections" in the KBH.G exhibition space presents around 75 works by 45 artists, including the Swiss Alexandre Calame and the German landscape painter Christian Friedrich Gille. The exhibition focuses on the figure of the tree and the natural landscape of the 20th century. "Tree Connections" features reliefs by Hans Arp, sculptures by Günther Uecker, Tony Cragg, Jannis Kounellis, Sol Lewitt, Giuseppe Penone, Vito Acconci, project drawings by Christo, objects by Meret Oppenheim and works by Joseph Beuys, who was Klaus Littmann's professor when he attended the Düsseldorf Art Academy in the 1970s.
As with all the projects by the Basel Cultural Foundation H. Geiger|KBH.G, the catalogue and admission to the exhibition are free of charge.
Title:

Arena for a Tree

Artist:

Klaus Littmann

Presented by:

Kulturstiftung Basel H. Geiger (KBH.G)

When:

from the 27th April to the 24th of May 2021

Where:

Münsterplatz, Basel