In Lee Friedlander's world, topics and planes interwine and overlap, and the common thread ends up resembling an intricate skein.
Much more than just a "serial photographer", Friedlander has been and still is a collector of collections, who accumulates accumulations that, taken as a whole, compose the puzzle of his and, to a large extent, America's obsessions.
From self–portraits to female nudes, from dogs to family portraits, from tv sets to desert plants, from monuments to people at work, the so called social landscape of a trivial and in-the-light-of-the-sun America enters Friedlander's life as well as Friedlander crosses America's life, its landscape trivial as a déja vu since the '60s.
Breaking out in 1967 among a new generation of artists — namely Diane Arbus and Garry Winogrand, with him in the seminal New Documents — for whom photography was both a tool of social inquiry and the expression of a private, pisychological drive, Friedlander is America's compulsive and oblique consciousness, and his latest exhibition deals with one of the most quintessentially american topics.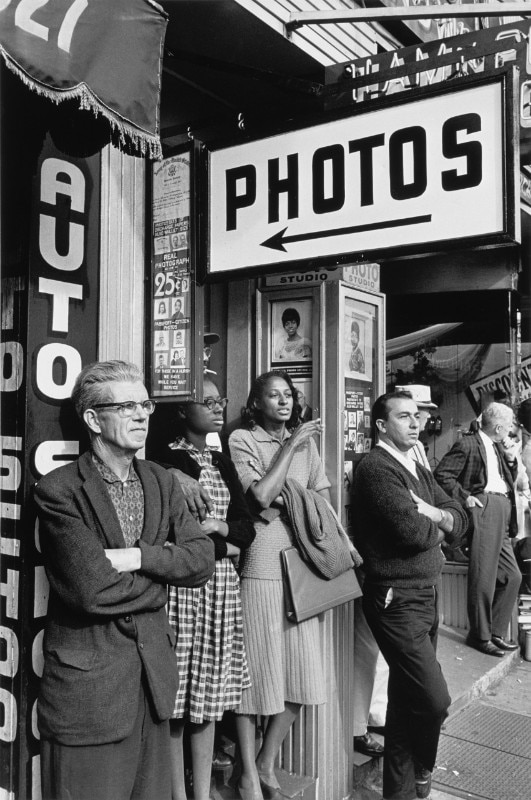 Simply entitled "SIGNS", and on display at Fraenkel Gallery in San Francisco until August 21, it is a fifty years long — and through the fifty states — roundup of billboards, advertisements, stickers, figures, painted writings, rough graffitti or neon signs which testify to a society pervaded by communication and consumption.
In Friedlander's all–embracing vision, though, each one of these information converse with lots of the themes he mostly cherishes, thus resulting in an interpenetration that allows us to see the complexity of his whole artistic achievement in every single body of work.
Title:

Lee Friedlander: SIGNS

Exhibition dates:

From July 11 to August 17, 2019

Venue:

Fraenkel Gallery

Address:

49 Geary Street, 4th Floor San Francisco, CA 94108