Having only opened on 26 September, Space Shifters has already received an unprecedented amount of attention – perhaps inevitable in the age of social media, as the exhibition sees the Brutalist Hayward Gallery building filled and framed with photogenic mirrored surfaces.
The exhibition's curator, Doctor Cliff Lauson, doesn't shy away from this simplicity, and describes the works as being as "aesthetically impressive as they are playful and pleasurable".
"Space Shifters brings together a leading group of international artists who explore how we perceive objects, their surrounding spaces, and each other," he said.
"These sculptures and installations together form a series of interlinked optical experiences across the Hayward Gallery that are as technically and aesthetically impressive as they are playful and pleasurable."
And perhaps it is this simplistic outlook that has made the exhibition so successful. After all, the Hayward is a public institution, set in one of the most central locations of London's Southbank. Engaging the general public is a must – and an exhibition that speaks simply on a surface level could be a fail-safe option. Already, hundreds of images of Anish Kapoor's Sky Mirror, Blue work have been shared. Set on top of one of the gallery's roofs, it reflects the clouded London sky, with a backdrop of its impactful skyline.
Visitors are welcomed into the exhibition by another of Kapoor's works – Non-Object (Door) (2008), a totemic, mirrored structure that alters the perspectives of its reflections.
This piece is overlooked by perhaps one of the exhibitions most dramatic examples of space-bending, created by Jeppe Hein. Commissioned specifically for the exhibition, the 360° Illusion V (2018) is a huge rotating mirror sculpture that presides over the first gallery as viewers enter the exhibition.
Sculptures by Josiah McElheny, named Interactions of the Abstract Body (2012), are dispersed around the gallery – but are activated by dancers who wear the mirrored wooden costumes and interact with their surroundings throughout the day.
The second gallery is accessed via a concrete ramp, where visitors will find a new commission by Daniel Steegmann Mangrané, which is inspired by the shape of the poured concrete stairwells. His work leads through to Alicja Kwade's WeltenLinie (2017) – shown for the first time since its premier at last year's Venice Biennale.     

In another room visitors can encounter some of the pioneering artists associated with the Light and Space movement, which originated in the mid-1960s in the Los Angeles area.
This particular period in time saw a group of American artists explore unconventional materials and fabrication processes – one of them being Helen Pashgian, whose installation of acrylic columns create shifting optical effects.    

Fred Eversley is also profiled in this area, with his coloured lenses through which viewers change their views of the surroundings. In the corner, is Larry Bell's ongoing Standing Walls installation (1969/2016), which employs various opacities of glass and mirrors to create the effect of different reflections and views.
Downstairs, Yayoi Kusama has populated an entire room with silver metal balls, while Monika Sosnowska has made use of the stairwell – installing a red steel handrail that appears to twist up towards the upper galleries and spread across its walls.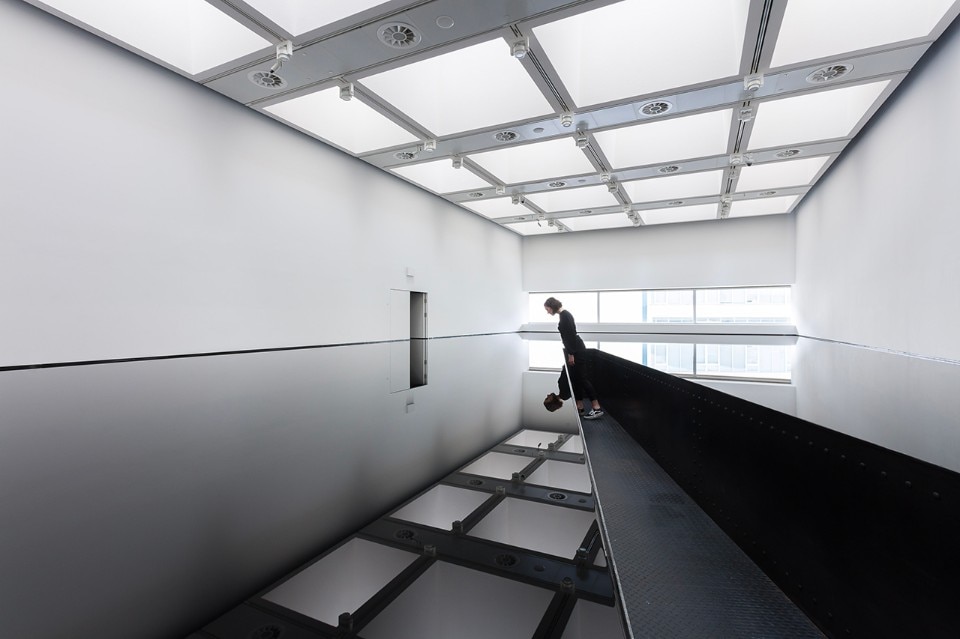 Highlights of the upper gallery include Sky Mirror, Blue (2016) by Kapoor and a recreation of Richard Wilson's monumental installation 20:50 (1987).
20:50 sees thousands of litres of recycled oil poured into a room, around a wast-high gangway that surrounds the viewer. The glossy liquid perfectly reflects the gallery's ceiling, creating a rather disconcerting effect – which could also be blamed on the oil's fumes.     

Ralph Rugoff, director of the Hayward Gallery said: "Space Shifters provides an exciting conclusion to the Gallery's 50th anniversary year. Spanning the past five decades – a period that parallels the Hayward's own history – many of the installations and new commissions in the exhibition respond directly to Hayward Gallery's distinctive volumetric galleries, drawing out aspects of the building's sculptural character and showing it to us in ways we would never have imagined."
Title:

Space Shifters

Exhibition dates:

26 September 2018 - 6 January 2019

Curated by:

Doctor Cliff Lauson

Venue:

Hayward Gallery

Address:

Southbank Centre, 337-338 Belvedere Rd, London, SE1 8XX