Let us not give in to the temptation to instinctively classify the experimental work of Ryoichi Kurokawa and give it the simple label of computer art. That could lead to an interpretation in the mode of the media theorist Marshall McLuhan ("the medium is the message"), limiting the wide range of possibilities that are being offered to us. The matter is much more complex. In truth, this artist's unusual approach to a specific technology that seems cold and detached allows him to reveal unexpected instances of its potential.
2.

Ryoichi Kurokawa

Work's on display at Galleria Civica di Modena, 2018
In the 1930s, the German philosopher Martin Heidegger wrote in The Origin of the Work of Art: "When a work is brought forth out of this or that work-material – stone, wood, metal, colour, language, tone – we say that it is made, set forth (hergestellt) out of it. On the other hand, the temple work, in setting up a world, does not let the material disappear; rather, it allows it to come forth for the very first time. The rock comes to bear and to rest and so first becomes rock; the metal comes to glitter and shimmer, the colours to shine, the tone to ring, the word to speak." Such is the perspective of the creating artist who casts a new light on the material he uses – in this case, sophisticated software, whose possibilities Kurokawa amplifies. Although it is not functional to the scientific aim for which it was probably developed, it shows the capacity to "set up a new world".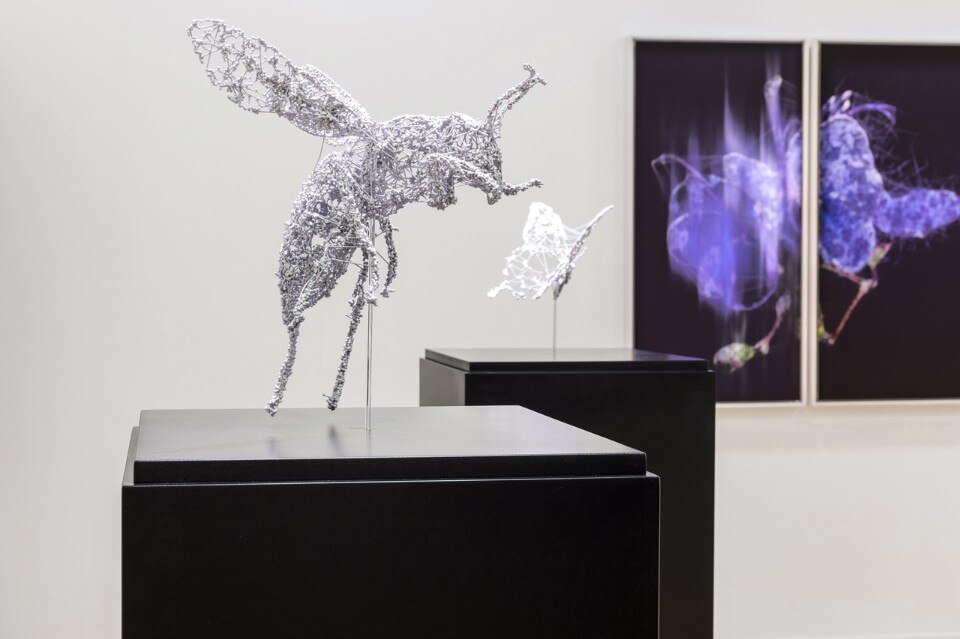 Surprisingly, Kurokawa's starting block is nature, making us take a jump back in art history by at least 500 years. But now, it has abandoned mimesis to concentrate on data originating from scientific observation. In the first room of the exhibition, this is seen in the audio-visual installation unfold.alt (2016). Thanks to his collaboration with the astrophysicist Vincent Minier, Kurokawa gained access to data held at the Institute of Research into the Fundamental Laws of the Universe (at the Saclay Nuclear Research Centre in Paris). These include measurements recorded by the Herschel telescope, which Kurokawa recombined to stage a fascinating audio-visual voyage that reconstructs the existence of a star in the opposite direction, from extinction to birth.
A similar logic was used to create ad/ab Atom (2017), which is based on images captured on a microscopic scale by probes, obtained by working with the International Iberian Nanotechnology Laboratory in Portugal. Also this installation remixes data to generate a synaesthetic environment where seven screens and four audio channels construct a sensorial piece of architecture.
What Kurokawa does is recompose nature. He starts with what surrounds us, decodifies it scientifically into an abstract construct of the human mind, and then uses digital means to generate unusual, real, physical environments
What Kurokawa does is recompose nature. He starts with what surrounds us, decodifies it scientifically into an abstract construct of the human mind, and then uses digital means to generate unusual, real, physical environments in which we can move around, see, hear and feel (sometimes the sound vibrations can be perceived on a tactile level). Another new image of nature is found in lttrans (2018), where Kurokawa visualises the movements of three-dimensional models of plants and flowers. It is the result of research on air-flow during the transition from laminar (meaning regular) to turbulent flow, a phenomenon that is especially studied for aerospace and chemical applications. Kurokawa developed it further by applying an algorithm that creates curious abstract imagery. He then chose to fix it in print, making it immobile.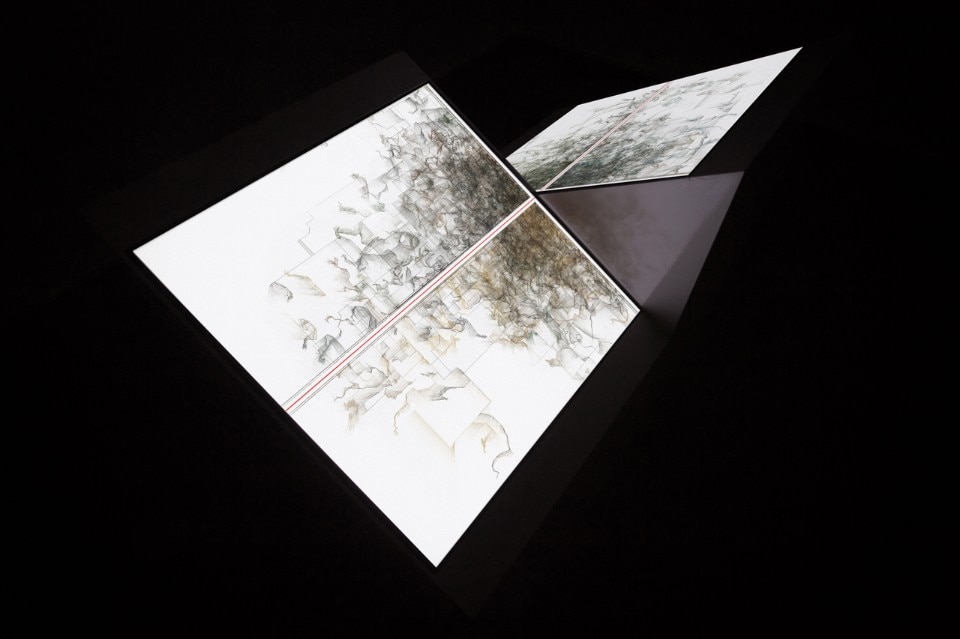 The exhibition includes the exploration of technological potential applied to the more traditional artistic medium of sculpture. Renature (2015) is the title of a series made by laser welding three-dimensional biological models. It represents insects with the typical aesthetic of images given by molecular structures. Oscillating continuum (2013) is a hypnotic audio-visual sculpture with a refined design that uses digital means to recreate pictures and sound from an unspecified group of data.
This updated translation of artisanal tradition is also found in the last series of work, elementum (2018), where crumbled fragments of dried flowers are reconnected to one another by traced lines. This work is overtly linked to the artist's native Japanese culture. It contains references to oshibana, the art of using pressed flowers to create a picture, to wabi-sabi, a world view centred on the acceptance of transience and imperfection, and to kintsugi, the art of repairing broken pottery with gold lacquer.
Title:

Ryoichi Kurokawa, al-jabr

Opening dates:

14 settembre 2018 - 24 febbraio 2019

Venue:

Galleria Civica di Modena - Palazzo Santa Margherita

Curated by:

NODE festival