Through September 3, 1,500 mirrored stainless steel spheres composing Narcissus Garden by Yayoi Kusama's (Japan, b. 1929) will be on view in a former train garage of a U.S. military base. At Fort Tilden, the site-specific installation (conceived originally in 1966, as an unofficial installation and performance at the 33rd Venice Biennale), is the third iteration of Rockaway!, a free public art festival presented with Rockaway Artists Alliance, Jamaica Bay-Rockaway Parks Conservancy, National Park Service and Bloomberg Philanthropies.
Rockaway! 2018 is a continuation of MoMA PS1's ongoing collaborative programming alongside the Rockaway Artists Alliance that began with collaborating on rescue efforts immediately following Hurricane Sandy in 2012 and continued with the VW Dome 2 in 2013; Rockaway! in summer 2014, which featured solo projects by Patti Smith, Adrián Villar Rojas, and Janet Cardiff as well as a group show at the Rockaway Beach Surf Club; and the second iteration of Rockaway! in 2016, featuring a site-specific outdoor installation by Katharina Grosse.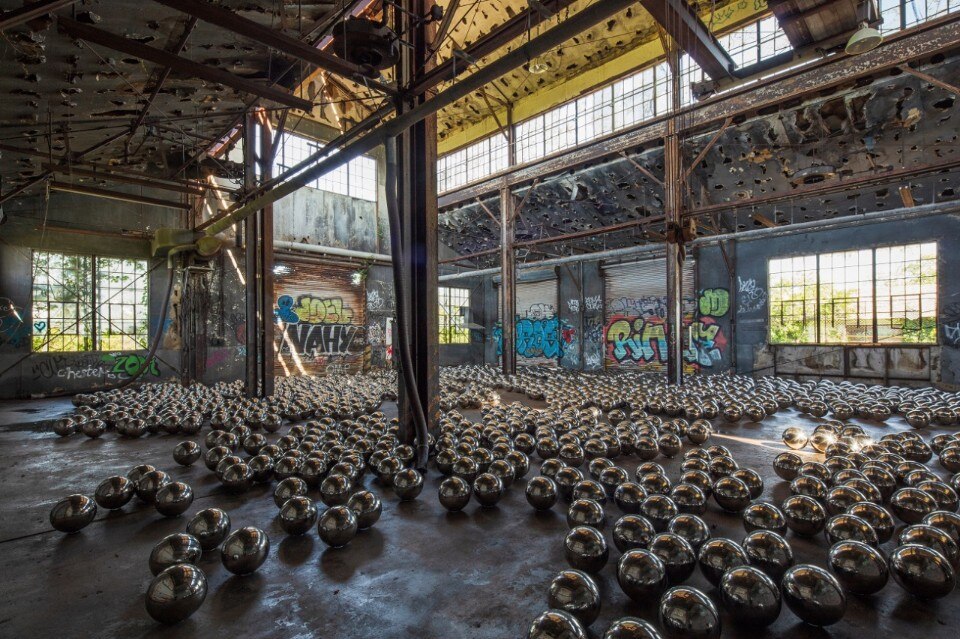 At the moment, Narcissus Garden reflects the ramshackle beauty of Fort Tilden and draw attention to the industrial history and urban natural environment that makes up Gateway National Recreation Area, as the devastating damages inflicted on many buildings in the area by Hurricane Sandy in 2012. Six years after those calamity ravaged the Rockaways, the vulnerable landscape is still fighting for rebuilding and resilience. Recently, eleven blocks of one of the most popular beaches in Rockaway Park were closed due to erosion following a heavy storm in March.
The silver spheres of Narcissus Garden, originally made from plastic, were sold by Kusama herself, who stood among them, barefoot and dressed in a gold kimono, alongside yard signs inscribed with the words "Narcissus Garden, Kusama" and "Your Narcissism for Sale." The action, would later be seen as a pivotal moment in Kusama's career as she transitioned from installation towards the radical and politically charged public performances that would be the focus of her work in the late 1960s in New York City.
Installation title:

Yayoi Kusama. Narcissus Garden

Opening dates:

From July 1 to September 3, 2018

Curated by:

MoMA PS1

Venue:

Gateway National Recreation Area at Fort Tilden

Address:

169 State Road, Long Isdland City, New York