It really seems that the time has come. But the time for what? To visit the latest Maurizio Cattelan exhibition. And why, you might say? Because he decided so. To close out in style, he thought of his venue in Frank Lloyd Wright's inverted cone thrust in the heart of Manhattan like a sword in the stone. All of his work—years of acrobatic production by one of the world's greatest and most internationally recognized living artists—can be viewed in this excellent space. And what will happen after the Guggenheim? No more Cattelan? We are sure that he will not cease to plunge more sharp blades into the heart of the art world, like Nona Ora, Him or the children hanging in Piazza 24 Maggio in Milan in 2004, a piece that is still widely discussed. What can we say? With barely suppressed anxiety, we look forward to the next move by this most unpredictable chess player.

But while we are waiting, we can go see All—the title of the New York exhibit—and revisit his story made up of composed whispers and breathtaking shouts; his work has always led people to stare at themselves mercilessly in the mirror and see human atrocities and weaknesses, breaking down the taboos of a society which Cattelan does not deny being part of, but which, like a modern-day jester, he has managed to expose with frozen tears and a barely suppressed smile.
At the center of the Guggenheim exhibition is the artistic life (because we know nothing about the other one) of a man who was able to penetrate the depths of our reality—a successful endeavor if we think about so many people who look presumptuously upon the surface objects, barely seeing anything they should see. But All is not merely an exhibit. It is a massive new piece unto itself; the exhibition design has all of Cattelan's projects hanging like salamis from the roof of the architecture, suspended as if to signify the fragility and futility of life always hanging on by a thread. It is only natural that his "last" show should only be astonishing, like all his shows that came before.

Maria Cristina Didero: Who is Maurizio Cattelan?
Maurizio Cattelan: Given the fact that I once referred to myself as an "imagination worker," retirement seems to be the most appropriate goal.

The number one rule in life?
Everyone has to die.

Number two?
Everyone wants to die as late as possible.

You have been called post-modern, post-studio ... do you identify with any art movement?
We all seek immortality.
What are your references?
My family.

What is an artist's fundamental quality?
To think of death as a resource and not as a limitation.

What tool is essential for you to complete a piece?
It was the phone.
The answer is within you, and it's wrong.
Which of your pieces is your favorite?
All and none. Once they are out in the world, they follow their own paths and begin to walk on their own two legs.

And a piece that is not yours that you detest?
I detest only my work.

Your ideal home?
My house has always been completely empty.
Would your home be different if it were anywhere else?
Wherever it is, my house would always be empty.

Tell me a story about your home.
I sleep very well in my house. There are only two chairs and a table. A closet full of white tee shirts and black jeans. I also have shoes that I use every day because I have to.

What is your favorite corner?
The elevator.
Does art play a special role in your home?
No, but I think it has in my life, or so they say.

Do you love order or disorder?
Both, but well balanced.

Where do you relax?
At the park, like a good pensioner.

Is there a special place you design, think, write?
Also at the park, and never alone.

Are you a collector?
I collect lies that are more or less related to reality.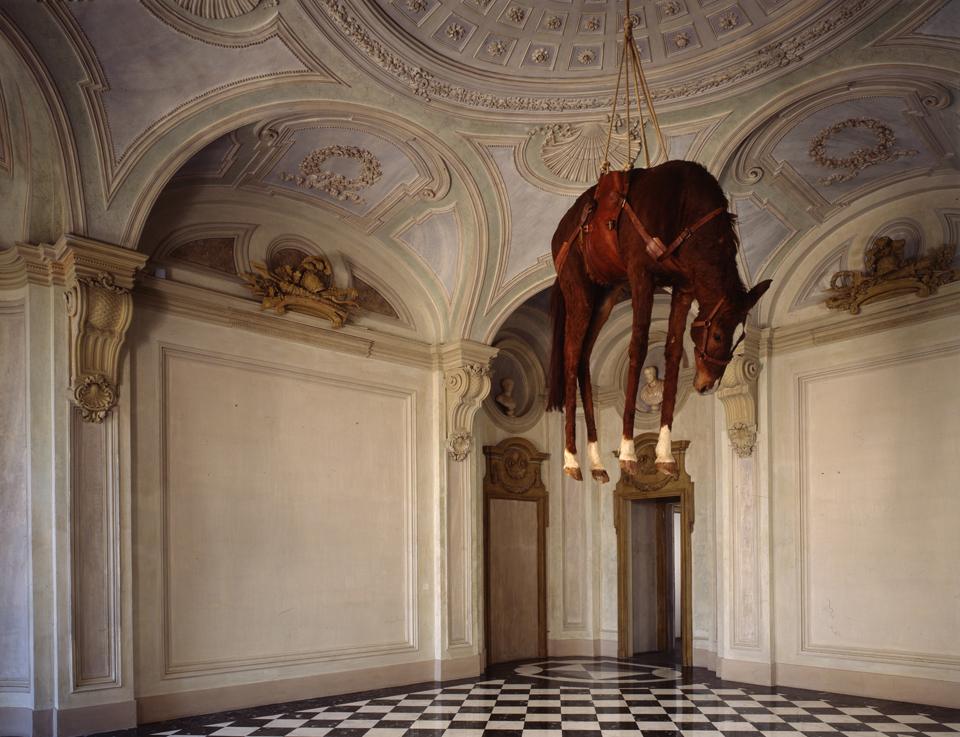 Leave or come back?
If you don't leave you don't come back; but there are some people that leave and never come back and others who have never left but always come back.

Dogs, cats or no animal?
All the animals that I have are already stuffed.

Do you have an object or work of art that you never part with?
I would never part with my jeans, otherwise I would have to go out in my underwear.
Which is your favorite European city?
Atlantis.

What other European cities do you like to visit?
I travel a lot but in the end I always prefer to bike around the neighborhood.

Which neighborhood, in which city?
The one I'm in at that very moment.

What European city would recommend to a creative person?
The answer is within you, and it's wrong.
The best time to work?
None in reality, but we always work until the day we retire, which for me seems to have finally arrived.

Where you would like to live?
In my house.

What trip do you dream of taking?
To discover a corner in my neighborhood that I don't know yet.

What are you reading now?
My unauthorized autobiography by Francesco Bonami. I am trying to understand myself.

Maurizio Cattelan: All
4 November 2011–22 January 2012
Solomon R. Guggenheim Museum
1071 Fifth Avenue, New York