Pelin Tan: The curators of the 12th Istanbul Biennial worked with architect Ryue Nishizawa in order to create new pavilions for the solo presentations of artists and group exhibitions' spaces. How did you experience the relation between the design of the exhibition and the art within?
Nikolaus Hirsch: Together with Jens Hofmann and Adriano Pedrosa, Nishizawa created a strong intervention in old depot buildings close to the Bosporus. It reminds me of Rémy Zaugg´s ideal art museum of his dreams (Das Kunstmuseum, das ich mir erträume oder der Ort des Werkes und des Menschen, 1987) but also of some of SANAA's museum designs such as the 21st Century Museum in Kanazawa: a multitude of autonomous spaces within a large container. This strategy produces individual, intimate spaces for the artworks, it creates micro-environments. From within these spaces are "white cubes", from the outside they form a "micro-urbanism" of exhibition architecture.
Like a small city on its own, this exhibition somehow inverted and interiorized the specifically urban concept of the previous Istanbul biennials. Given that the Istanbul Biennial doesn't have a fixed venue, this year's spatial-curatorial decision to concentrate on one spot, the depot, has a strong impact on the exhibition itself and the way it changed the character of the Istanbul Biennial as a whole.
Can you elaborate on this spatial strategy?
Previous editions of the Istanbul Biennial had developed strong urban, quasi-site-specific strategies: WHW's Greek school in 2009, or Hou Hanru's politically charged Atatürk Cultural Center in Taksim Square (2007) or Charles Esche's and Vasif Kortun's diverse spaces in Beyoglu (2005). The tight relation between artistic and social-political sites of production was what made the Istanbul Biennial unique in the increasingly inflationary world of biennials. Now, the biennial has pulled back from the fabric of the city into the safe haven of the depot buildings; into a rather autonomous situation, the former "free zone" of the harbor. It s a pragmatic choice: the largest empty building in the area of Beyoglu, right next to the Istanbul Modern museum.
But it is more than this: It is as if the Istanbul Biennial became a bit more like other biennials: a rather self-reflexive, autonomous field. One might regret this but it might be a necessary, logic step. Istanbul has arrived. After the crisis of 20th century, it has become a global city of the 21st century.
For the biennial this seems to suggest a move from a specific to more generic, museum-like environment. This move no longer follows the belief in the inherent criticality of a site. Maybe one has to go beyond the all-too-often nostalgic idea of the local. Welcome to the generic! And now to discover the specific in the generic.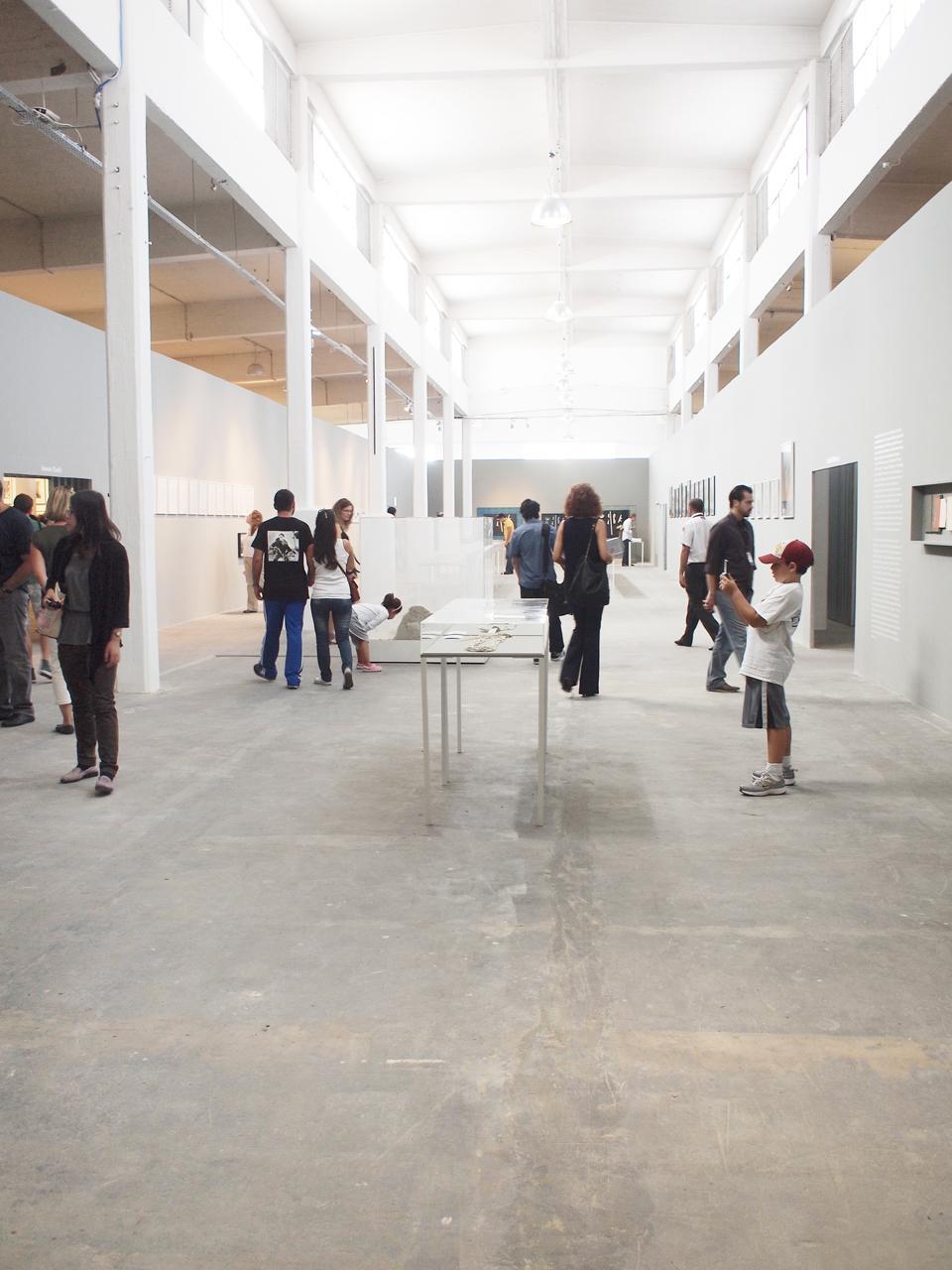 I experienced works such as Cevdet Erek's Ruler and Rhythm Studies, 2007–2011 and Untitled (History) as both conceptual and physical placement in space. I perceived both experiences of time and narrative of time via Erek's work, as seemingly intended. What is your opinion about how the art works materialize in space?
The political objects of maps, passports, blood and weapons are exquisitely presented in Nishizawa´s white boxes. Jens Hoffmann and Adriano Pedrosa have conceived the biennial around five Felix Gonzalez-Torres works—Untitled (Bloodwork—Steady Decline), 1994; Untitled (Ross), 1991; Untitled (Passport #II), 1993; Untitled (History), 1998; and Untitled (Death by Gun), 1990—from which they developed discrete thematic spaces as group exhibitions. Around those there are smaller solo spaces for intriguing art works like Martha Rosler's Bringing the War Home (1967–1972). One question remains: what is the home of the artwork?
Display is not only a question for the architectural discipline but one that more and more artists see as an integral part of their work.
As an architect, what is your view on designing a space for an artwork or collaborating with curators? What do you think are the possibilities of the relation between spatial design and presentation of artworks?
From my own practice as an architect and curator at the Portikus I can say: there is no recipe. First of all it is crucial to understand that you do not need an architect for the exhibition of artworks. As Jan Verwoert and I called it on the occasion of his curatorial project in Sheffield: one option is about "debriefing the architect".
Depending on the artistic approach and curatorial concept of an exhibition it can make sense to think about a specific display. This can happen in the way Jens Hoffmann and Adriano Pedrosa worked with Ryue Nishizawa: a clean distribution of labor between curator, artists and architect. Despite its strong visibility the architecture of display remains in the domain of service. Yet, display is not only a question for the architectural discipline but one that more and more artists see as an integral part of their work. This was obvious in the last Venice Biennial when artists Song Dong, Monika Sosnowska, Oscar Tuazon, and Franz West created architectural structures in which the work of other artists could be shown. In this case display is not a mere background but an artistic intervention in its own right. You can even go further: For the European Kunsthalle, we developed a strategy of "Institution Building" (so the title of the book I co-authored with Markus Miessen, Philipp Misselwitz and Matthias Görlich), with artists designing an exquisite-corpse-like museum, trying to merge the concepts of "exhibition" and "museum", ultimately dissolving the difference between served and serving, between container, background, and art object.
You have been very familiar with Istanbul's urban, architectural and social role of the city of Istanbul for years. How do you imagine the cultural industry of design and art for the future of this city? How does Istanbul, the city itself, inspire its potentialities for this development?
Istanbul has definitely moved on the map of the art and design world. Art and design have become triggers for urban transformation. Museums like Istanbul Modern and SALT are built, galleries such as Rampa with their new, vast basement space in Nisantasi, are trying to reach Chelsea scales. This is a phenomenon that is familiar from London's Hoxton and Berlin's Mitte. In Istanbul's Beyoglu district, things seem to move in this direction, yet there are particular differences. Urban transformation does not happen smoothly, but usually provokes resistance. Like it or not—by large parts of the population, galleries are less seen as the avant-garde of culture than as the avant-garde of real estate. In the Tophane neighborhood, in close proximity to this year's Biennial venue, there were attacks on galleries a year ago.
Yes, it was full of debates about neighborhood and art galleries but there was not really deep analysis what was the source of such an antagonism. The people from the neighborhood attacked the galleries, which were launching their openings in Tophane district.
It is a striking thought: the gallery attacks happened in September 2010, exactly between the 11th and the 12th Istanbul Biennial. Like a counter rhythm, filling the biennial gap.