Building in a nature reserve is almost an oxymoron but, beyond rhetorical figures and preconceived dissonances, this house in the El Torón Reserve on the coast of Oaxaca, on a 30-hectare conservation site, is an artificial element so integrated into the landscape that it seems to have always belonged there.
The complex, designed by IUA Ignacio Urquiza Arquitectos and set on a wooded slope, is composed of four independent buildings arranged according to the existing orography and vegetation: the main block houses the common areas while the other three ones house the bedrooms and services. The slope of the single-pitch roofs follows the course of the terrain and the treetops, allowing the buildings to fit discreetly into their surroundings.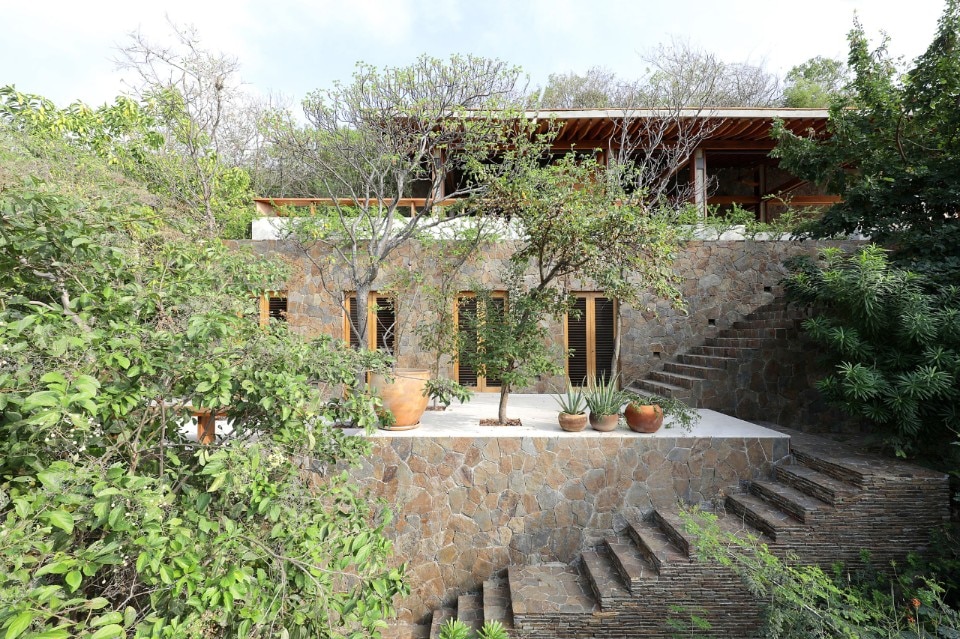 The main goal of the project is to guarantee the highest visual and fruition connection between domestic and natural space: for this reason, the central element of the design is, more than the tangible and tectonic architectural volumes, the open spaces connecting the buildings and blurring the boundaries between interior and exterior. The main volume houses a linear succession of spaces — dining room, living room, terrace and swimming pool — in a continuum protected by a large roof, opening on three sides with no door or window, where it is easy to imagine forest animals peeping out. A sequence of terraces, stairways and walkways weave fluid trajectories that frame spectacular views of the landscape and lead to private rooms.
Particular attention is paid to reducing the ecological footprint: 80 per cent of the existing trees on the building site have been replanted, and logistical measures have been taken during the construction phase so as not to compromise the existing vegetation and pathways in the park; the study of openings and cross-ventilation flows favours micro-climatic comfort and reduces energy expenditure.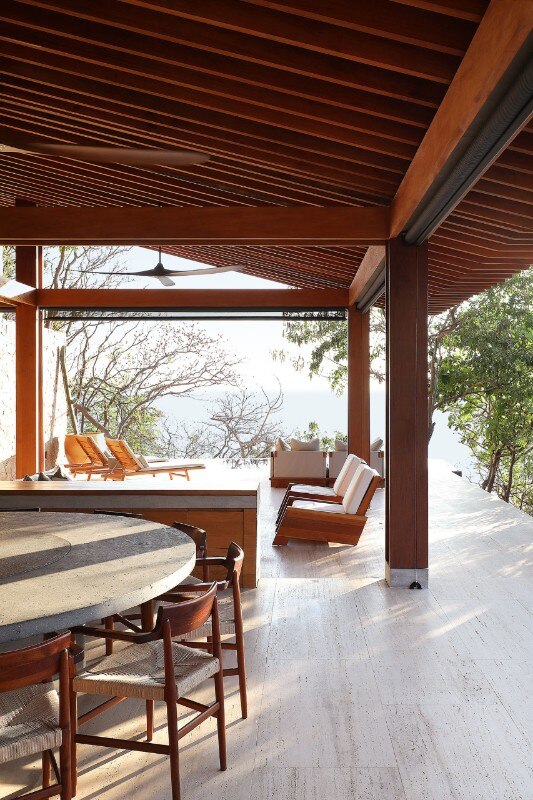 Locally sourced materials, undergoing minmum treatment and processed by local craftspeople — local rough-hewn stone, cement, rough travertine in walls and floors; tropical wood, teak and clay in structures and roofs; linen and cotton textiles in upholstery — give a rough and straightforward aura to the interiors, enriched with essential furnishings designed for everyday use in the name of authenticity and durability.
Design team:

Ignacio Urquiza Seoane, Michela Lostia di Santa Sofía, Anaís Casas

Structure:

Ricardo Camacho

Engineerings:

Bio-e, Alejandro Lirusso

Interior design:

APDA (Ana Paula de Alba)

Development:

Alonso García Cano, Santiago Gaxiola