This article was originally published on Domus 1069, June 2022.

In the landscape of the Parque Pudú private nature reserve, set among forests, rivers and volcanoes, artificial interventions can only be carried out "on tiptoe" and in respect of the area's cultural heritage and construction tradition.
This is the case of this residence, which takes the form of a bare hut-style volume recalling local larch granaries, with their steeply sloping roofs that facilitate the flow of rainwater and free up spaces for the storage of large quantities of fodder. The building, which has no external walls in the true sense of the term and a facade measuring approximately 30 metres in length, is delimited by inclined surfaces marked with carefully moderated openings. Devoid of any form of ostentation, the structure expresses an introverted and reserved approach to design, with a clear functional connotation. In addition to the home of the forester (Aladino) and his wife, the building includes a warehouse and a reception and information area for visitors.
The construction is raised from the ground by about one metre via a series of piles that reduce the impact on the ground and allow the existing watercourses to flow unimpeded towards the nearby expanse of water. The system of triangular wooden frames is inspired by the region's method of air-drying wood, and is stiffened by transversal beams. This base structure rhythmically punctuates the facades and emphasises the building's longitudinal course. Furthermore, to avoid the process of deformation caused by humidity, the local workers adopted traditional techniques of joining and assembly for the various wooden elements.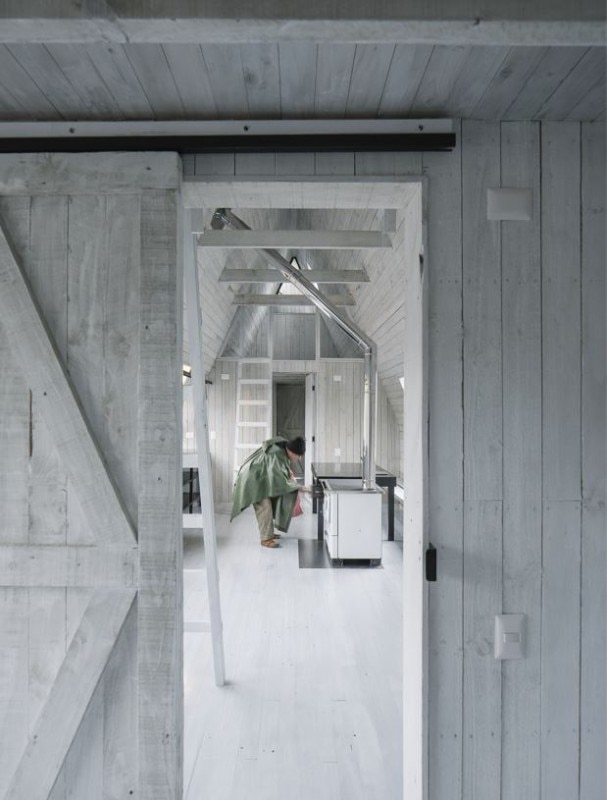 The dark tones of the painted panels on the roof recall the shades of larch shingles of traditional buildings burnished by time. This material can no longer be used today due to the protective restrictions concerning the alerce trees – an endemic species of larch – but with this application it is nonetheless visually referenced.
The interiors, meanwhile, are characterised by a succession of spaces – some of which are full-height, and others are divided with mezzanines – connected by a series of central doors. In this way, the building without corridors optimises the use of the rooms and avoids hierarchical connotations. The light-coloured untreated wood cladding on the interiors helps to spread the light entering through the openings of controlled dimensions. The building has a sober, almost frugal character in both functional and figurative terms, and thanks to the deliberate "aphasia" of the few simple architectural signs it conveys the archetypal idea of a shelter.
Project:

Casa Aladino

Architect:

Iván Bravo Arquitectos

Project architects:

Iván Bravo with Martín Rojas

Contractor:

Constructora Sur Austral

Client:

Parque Pudú

Site area:

150,000 m²

Built area:

100 m²

Cost:

€ 56,000

Design phase:

2020

Construction phase:

2021