John Ruskin said that "we must give a historical dimension to architecture today, preserving that of past eras as the most precious of inheritances": in particular, for the British critic, ruin – understood as a point of no return beyond which architecture "serenely" loses its artificial connotation to return to the "Sublime" thanks to its intimate fusion with nature – is a wealth to be preserved without those transfigurations imposed by a deforming restoration that, by replacing ancient stones, only models a copy of what once was.
This is the logic behind Corsican architect Amelia Tavella's approach to the rehabilitation and extension of the Saint-François convent, built in 1480 and long since in ruins, of which the project has scrupulously preserved the vestiges, returning them to a contemporaneity that does not alter or destroy but relates past and present as interconnected elements of the same evolving process.
The complex, perched in the wild Corsican landscape amidst rocks, woods, olive groves and small villages, appears as a fortress in which the passage of time and inactivity have allowed nature to freely take possession of the building, almost acting, before its resurrection, as a protective "armour" and structural support, like the roots of a fig tree that have become an integral part of the façade.
Here, the architect chose to conserve the ruins and replace the missing part of the volume with a perforated copper structure that re-proposes the silhouette of the pre-existing building, while declaring the contemporary character of the ex-novo building as the site of a cultural centre ("Maison du Territoire").
The choice of copper was justified by the material's durability and ability to transform over time from a tactile and chromatic point of view, allowing the composition to narrate an evolving tale beyond any intent of "crystallising" history.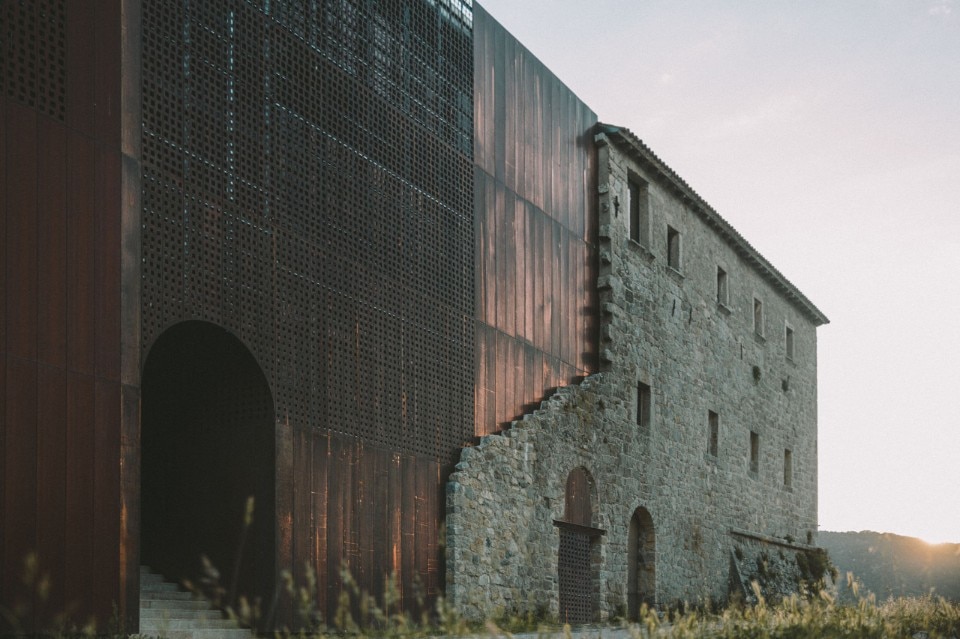 The walls of the copper building, perforated with small panels that allow light to filter into the interior corridors, evoke the suggestion of a mashrabiyya – the traditional grid used in the architecture of Arab countries to facilitate natural ventilation and control lighting – or of the stained glass window of a church, with vibrant plays of light and shadow projected onto the interior stone walls.
A work that, tiptoeing in the footsteps of the past, exudes love for the place and its historical memory, for the building and its natural transformation from what it was into what it will be and into what it will one day no longer be, in the intimate conviction of impermanence as the only possible form of reality.
Project:

Réhabilitation et extension of the Convent Saint-François

Architectural project:

Amelia Tavella Architectes

Location:

Santa-Lucia di Tallano, Corsica, France

Area:

1,000 smq

Construction:

Collectivité de Corse

Completion:

2022