Casa Santa Teresa is a residence on the Corsica Island, on the Route des Sanguinaires in Ajaccio. Conceived by architect Amelia Tavella, winner of the Corsican Architecture Award in 2019, this vacation house is inspired by the memories of her childhood: Casa Santa Teresa, a renovation of a building from the 1950s, is set in a favorable position facing the sea and the beach, valuing beauty and silence.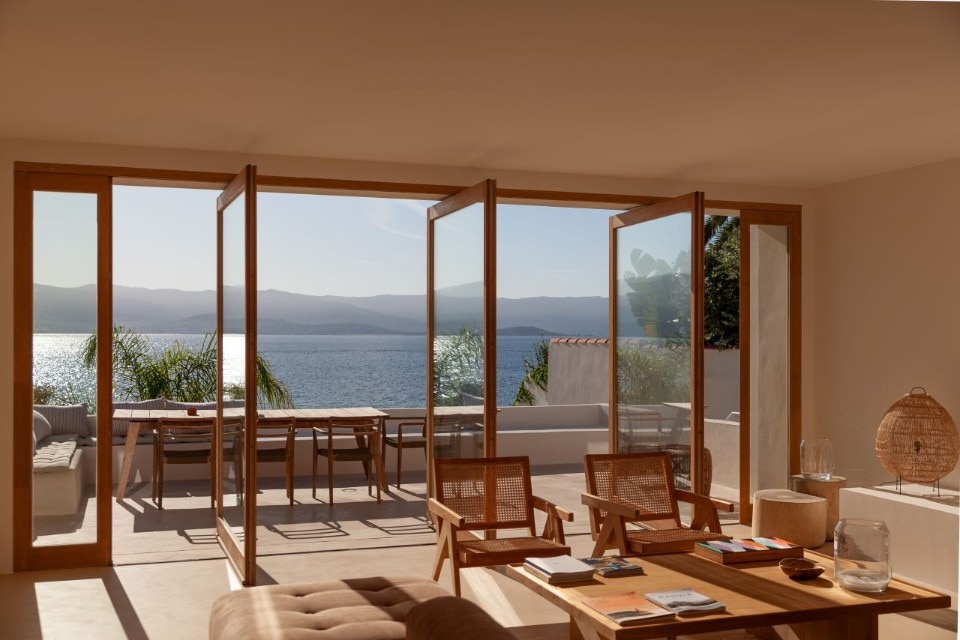 Light is free to circulate in the environment thanks to glazed framed openings, pivoting doors and the absence of partitions, allowing ideal views towards the landscape. The villa is organized on three levels: the ground floor is provided of a direct access to the beach, a swimming pool and a patio covering an outside kitchen area; the actual entry to the house, on the first floor, is reachable by an outdoor stair leading to a terrace which ensures a connection with the exterior.
Inside, a clear space is characterized by white arches and niches, volumes for seatings and fireplace, secret alcoves leading to the upper rooms: wood is the only element interrupting the general lightness. The second floor includes a bedroom and is completed by another terrace. The presence of nature and plants is a focus point of the architect's project. Tavella works on original spaces without modifying anything and merges architecture with nature, like she explains: "When I build, I don't defeat. There is no betrayal: I proceed by inclusion".
Project:

Casa Santa Teresa

Location:

Route des Sanguinaires in Ajaccio, Corsica Island

Program:

Vacation house

Architects:

Amelia Tavella Architectes