This article was originally published on Domus 1059, July and August 2021.
Pierre-Antoine Gatier Born in Boulogne-Billancourt, France, in 1959 and an architect, Gatier graduated in museology from the École du Louvre in 1983 and the École de Chaillot in 1987. In 1991, he opened his own practice in Paris and helped develop projects to restore and upgrade major monuments such as the Domaine de Chantilly, Villa Medici, home of the Académie de France in Rome, the Bourse de Commerce, Eiffel Tower and Opéra-Comique in Paris.
In Western societies, the idea of preserving architecture for future generations is the product of years of growing awareness. The process was triggered by a belief in the importance of conserving exceptional examples of historical architecture and other art forms. Several key stages can be identified in this long history. The practice was first embodied by the artist, painter and architect Raphael who was entrusted with the conservation of marbles and antiques by Pope Julius II. Symbolically speaking, the antiques and, in particular, the sculptures discovered in the 16th century formed the basis for the practice of restoration. These works were often incomplete when they were unearthed in Rome during the Renaissance and underwent intervention to restore their integrity. What might have appeared to be a branch of art history came to form the basis of lively debates about the heritage from the 19th century onwards. Should creative additions be made to sculptures, such as those carried out by Le Bernin, or should talented practitioners who respect the original piece be preferred? Transcending the conservation of sculptures alone, the drive to preserve the heritage has taken hold of our monuments and architecture. 
The understanding that our history is written over centuries has provoked a passion for architecture in each of us. These days, conservation encompasses not only the ancient, mediaeval and classical periods, but also the 19th and 20th centuries. The ability to appropriate architecture that is "already there" requires an extensive understanding of both history and memory. Conservation must be grounded in historical and cultural science. The practice of restoration today is based on philosophies and doctrines developed over many centuries. The 1964 Venice Charter provided a philosophical framework for us all to use, seeking to establish collective, universal rules that transcend personal intuition. Restoration practices continue to be underpinned by respect for materiality and authenticity, requiring architects to adhere strictly to the work in place and to adopt a minimalist approach to their intervention. Research and practical work go hand-in-hand. Every project must be designed with a focus on mastering knowledge and transferring skills. Above all, as in the case of Raphael and the sculptors who brought his dream to life, interventions must be rigorously defined. 
Any work undertaken must respect historical authenticity and enhance readability. When something must be added to the building to provide for a new use, its contemporary nature must be highlighted. Although deontological rules offer some guidance, there is no framework to guarantee the success of a project combining both conservation and creation. Only the conviction that both approaches – creating and conserving – are equally important and mutually enriching paves the way for projects that convey the heritage and drive future restorations. The practice of restoration benefits from prominent role models that offer food for reflection; they each bear witness to a specific cultural and political context but every one of them illustrates the fundamental challenge underpinning conservation and transmission. Giuseppe Valadier stabilised the Coliseum in Rome in the early 19th century using crude buttresses made from bricks, preserving the ruins and reconstructing the building's architecture. The political convictions of John Ruskin and William Morris caused them to reject the devastation of the industrial century and favour authenticity over restorations that would betray historical memory. 
The practice of restoration benefits from prominent role models that offer food for reflection; they each bear witness to a specific cultural and political context but every one of them illustrates the fundamental challenge underpinning conservation and transmission.
Viollet le Duc restored Notre Dame de Paris, France's quintessential national monument and a landmark for the city and nation. Major restorations following World War I reassembled monuments that had been destroyed and employed new materials such as reinforced concrete to restore permanence to their structures. Finally, Gae Aulenti's renovation of the Gare d'Orsay in Paris rescued a forgotten 19thcentury heritage site condemned to demolition. Each example is valid and today's architects should, perhaps, seek their own paths among these divergent practices. In our view, strict conservation is the only legitimate approach. It respects the legacy of history and attempts to minimise the impact of restoration. More broadly, the proper attitude is one that regards all architecture, including the most contemporary, as works to be preserved and accepts the modifications and transformations brought about by the passage of time in the case of older sites. Preserve architecture. All architecture. At the Fondation Le Corbusier, the ochre hue of the original plaster on the purist La Roche-Jeanneret house has been restored following scholarly work based on archival research and laboratory analyses, bringing back the colour of modernity that had been forgotten thanks to black-and-white photography.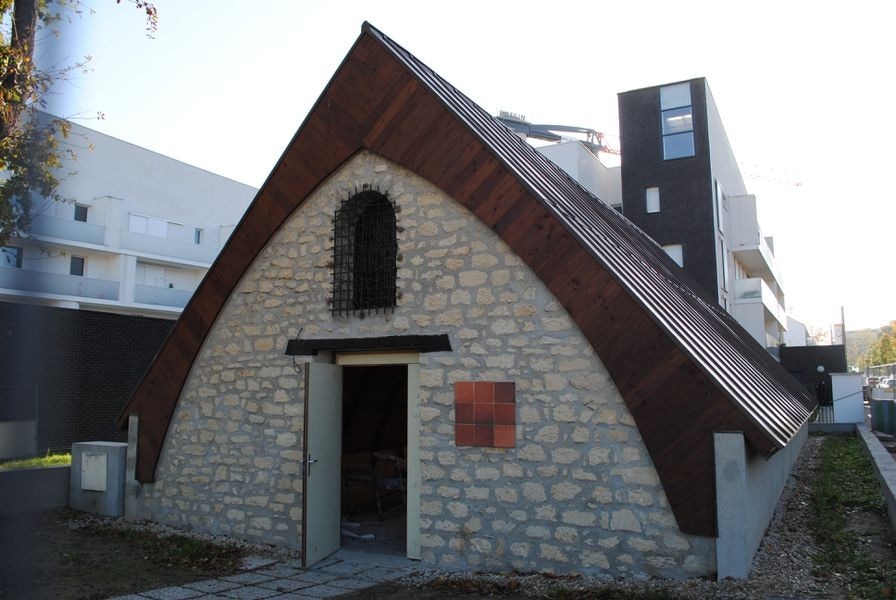 At the Fondation Vasarely in Aix-en-Provence, experimental work on the anodised aluminium curtain walls has enabled the rigorous conservation of these highly fragile yet emblematic objects by simply replacing the gaskets and Emalit glass, which continues to be produced by the factories in Saint-Gobain. As well as these 20th-century icons, earlier buildings have also been revamped in the contemporary era, representing a heritage that is too often neglected. At the Abbey of St Vaast in Arras, the 18th-century architecture must be preserved while simultaneously showcasing the reconstructions carried out from 1925 on to repair the damage caused during World War I. All this architecture, avant-garde included, was designed to last. Perhaps the greatest paradox of restoration is that of immensely fragile temporary buildings. The Notre-Dame-des-Sans-Logis-et-de- Tout-le-Monde chapel, standing alongside the camps built by Abbé Pierre and Father Joseph Wrésinski, is one such example. This self-built construction covered with fibre cement sheeting and shingles had to be stabilised to ensure that it endures in the collective memory and its permanence embodies hope. Every project is an adventure. Every project is a story that must be revealed via the conservation process.
Opening image: facade of the Fondation Vasarely in Aix-en-Provence, 1973-1976. A cultural and exhibition centre conceived, funded and built by the artist Victor Vasarely and protected since 2013, the building features anodised aluminium curtain walls, given a conservative restoration by Agence Pierre-Antoine Gatier with Jacques Repiquet, 2013-2019.