In Hobart, Tasmania, LIMINAL Architecture and WOHA have collaborated on the extension and refurbishment of the historic Theatre Royal, located in a culturally dynamic area of the city.
The design strategy combines the aspects of an intentionally "theatrical" new building, to emphasise the semantic and communicative nature of the intervention, with the conservation of the historic heritage through considerable sensitivity to the genius loci.
The new building is located between the historic buildings of the Theatre Royal and the Hedberg Garage, with which it is connected through glass volumes that denote the "detachment" from the existing building characterised by materials such as stucco, sandstone and brick.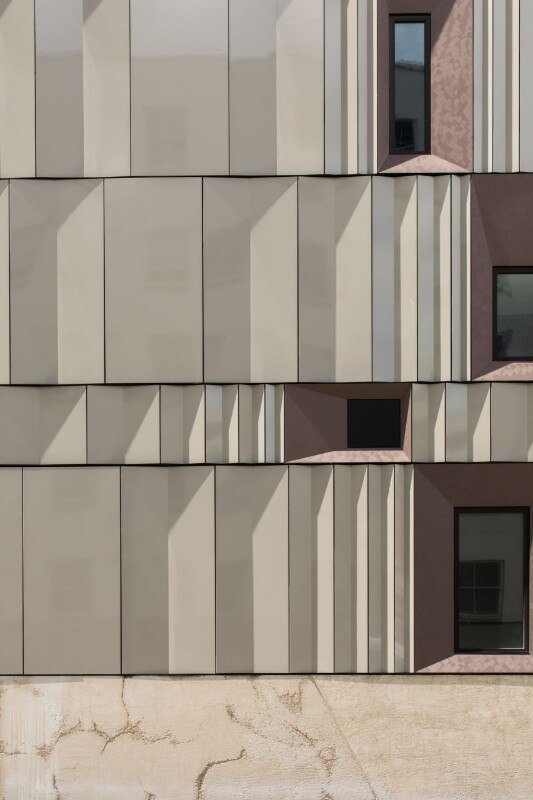 The complex includes a new home for the conservatory, spaces for shows and performances, creative laboratories, the raising of the two-storey Hedberg Garage and the insertion of a distribution system to ensure accessibility to all levels of the Theatre Royal.
Externally, the new building is wrapped in a metal sheet envelope, rippling like the waves of the sea or a shimmering curtain reminiscent of the silver reflectivity of the Tasmanian abalone shell.
Inside, visitors are welcomed into a microcosm where they can breathe in the air of the place and the spirit of the Palawa people. In n the foyer, the locally found bricks and other reclaimed materials, the black wood veneers and the design of the carpets evoke a warm and authentic space inspired by the native landscape and the suggestion of a tribal tale around a fire. Design elements inspired by Eduardo Chillida's sculptures and by the minimalist, dancing forms of musical notation further characterise the spaces. The different performance halls celebrate the use of local materials through essential design while the creative workshops are finished with industrial materials. Roof terraces provide informal spaces for outdoor performances with views of the waterfront.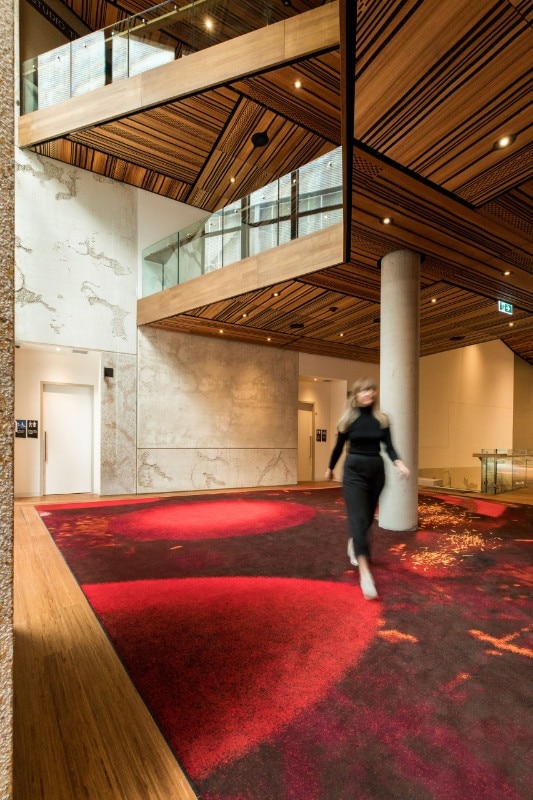 The project adopts innovative technologies to optimise the acoustic performance, from the study of the shape of the spaces to the use of mobile absorbent banners, curtains, diffusive panels and reflectors and sophisticated electronic instruments.
A refined work that offers users a powerful and evocative experience of cultural immersion, between tradition and innovation, local and global.
Project:

The Hedberg

Architectural project:

LIMINAL Architecture con WOHA

LIMINAL Architecture working team:

Elvio Brianese, Peta Heffernan, Jeremy Holloway, Christopher O'Brien, Bec Wilkie, Guy Edwards, Belen Chirivella Vina, Michaela Turner, Magdalena Lane, Minna Bright, Carly McMahon, Andrew Grimsdale, Ronja Scherer, Rosalyn Bermudez, Kathrine Vand, Janine Holt

WOHA working team:

Richard Hassell, Wong Mun Summ, Sim Choon Heok, Adithya Rangharajan, Mappaudang Ridwan Saleh, Dominic Broadhurst, John Paul Rodulfa Gonzales, Josephine Sanmaniego Isip, Paul Jeremy Richey, Ben Redmond, Chung Gyeong Oh, Dechatiwat Tanakrit, Gillian Hatch, Lee Hong Xuan, Günay Mahmudova, Muhamad Nicco Bin Homaili, Xie Yuhan

Client:

University of Tasmania in partnership con the Theatre Royal and the Australian and Tasmanian Governments

Mechanical, Hydraulic and Electrical Engineers:

Arup with JMG

Civil & Structural Engineers:

Arup with Gandy & Roberts

Quantity Surveyors:

DCWC/Matrix Management Group

Landscape architects:

Inspiring Place

Theatre Planning, Acoustics and Audio Visual:

Arup

Architectural Lighting:

Arup/Southern Lighting

Traffic engineering:

Howarth Fisher

Fire Safety:

Arup + JMG

Land surveyor:

Peacock Darcy Anderson

Heritage architect:

Forward Consultancy

Urban design:

Leigh Woolley

Planning:

IreneInc

Building contractor:

Hansen Yuncken

Environmental Sustainability Consultant:

Arup

Graphics and Signage:

LIMINAL Graphics withHolly Webber and Red Arrow